Back to overview
Where do Western Balkan countries really stand on democratic performance?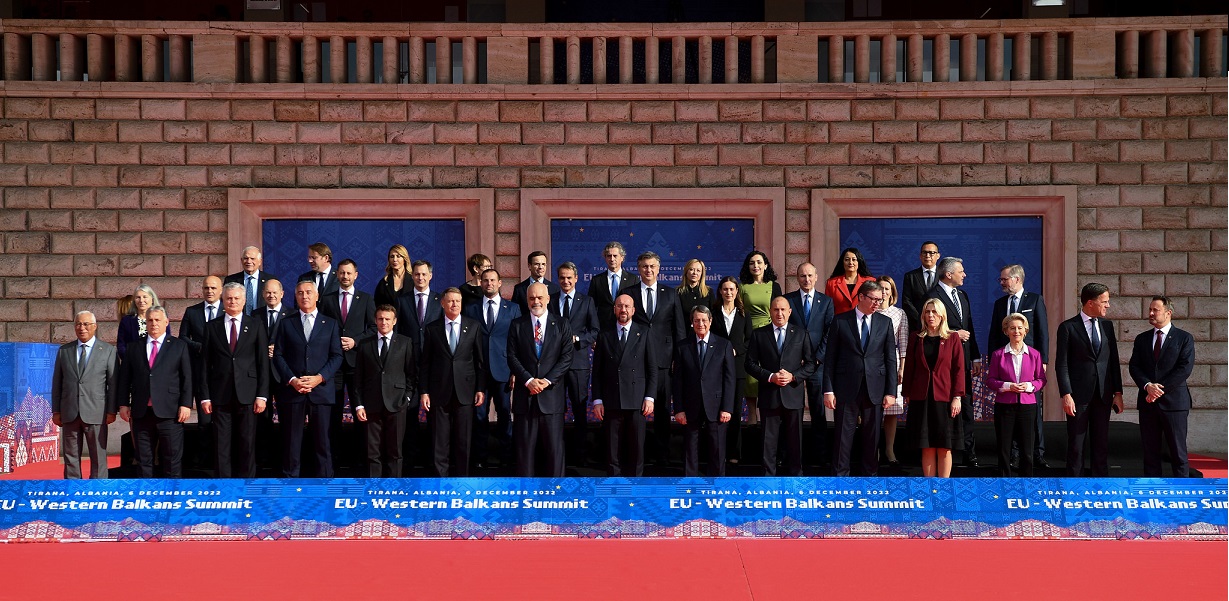 The "one-size-fits-all" approach doesn't work in the Western Balkans anymore. The region is often perceived as a homogenous microcosm of countries expressing the same grievances for years, rather inept at producing any fundamental changes, and stuck in purgatory. Using the catch-all term "Western Balkans" becomes increasingly challenging when discussing democratic trends in the region, because Albania, Bosnia & Herzegovina (BiH), Kosovo, North Macedonia, Montenegro and Serbia are each uniquely situated. These nations have gradually taken different trajectories. Recognizing these differences is pivotal to successful democratization, which is important not just for the countries' prosperity but also protection against Russian influence and authoritarianism. Acknowledging this unrecognized diversity could help the international community not only approach security-related issues in the region but also reassess the level of assistance and attention each country requires.
For starters, Russia's invasion of Ukraine has spotlighted the region's differences. Serbia, unlike much of Europe, is one of Russia's only allies, with high levels of support for President Vladimir Putin displayed by both the leaders and the public, influenced by years of propaganda and state-captured media. This is despite the European Union being Serbia's largest donor in support of reforms and despite other leaders' calls for Serbia to align with the EU's foreign policy. In the tripartite presidency of BiH, Republika Srpska's President Milorad Dodik has backed the illegal Russian referendums in occupied Ukraine and suggested the same could be applied in BiH following secession plans. Meanwhile, in Albania—a pro-EU country supporting Ukraine, Prime Minister Edi Rama has been criticized that his close ties with Serbian President Aleksandar Vučić are seen to be benefiting Serbia's hegemonic inclinations. Kosovo, North Macedonia and Montenegro have been mostly in line with Western democracies. International IDEA's Global State of Democracy (GSoD) data also confirm these countries' unique trajectories.
Figure 1. Democratic performance over time in the Western Balkan countries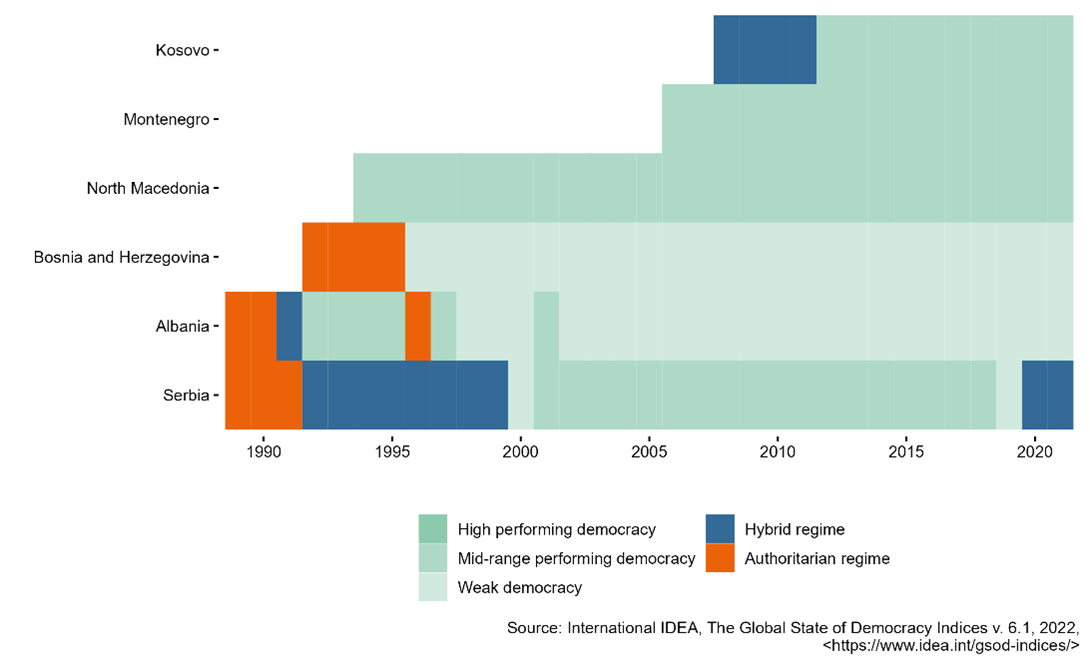 While no country in the region exhibits high democratic performance in any of the five GSoD attributes, Albania, Kosovo, North Macedonia and Montenegro recorded significant progress in certain areas over a ten-year period, as opposed to BiH and Serbia, which did not show any significant improvement. Kosovo has the highest share of significant increases (in three indicators), while Serbia has experienced the highest share of declines (in all indicators).
Notably, GSoD data reveals the region's common struggle with corruption—the only attribute of democracy with low-performers.  
Figure 2. Performance of the Western Balkan countries in the attribute of Impartial Administration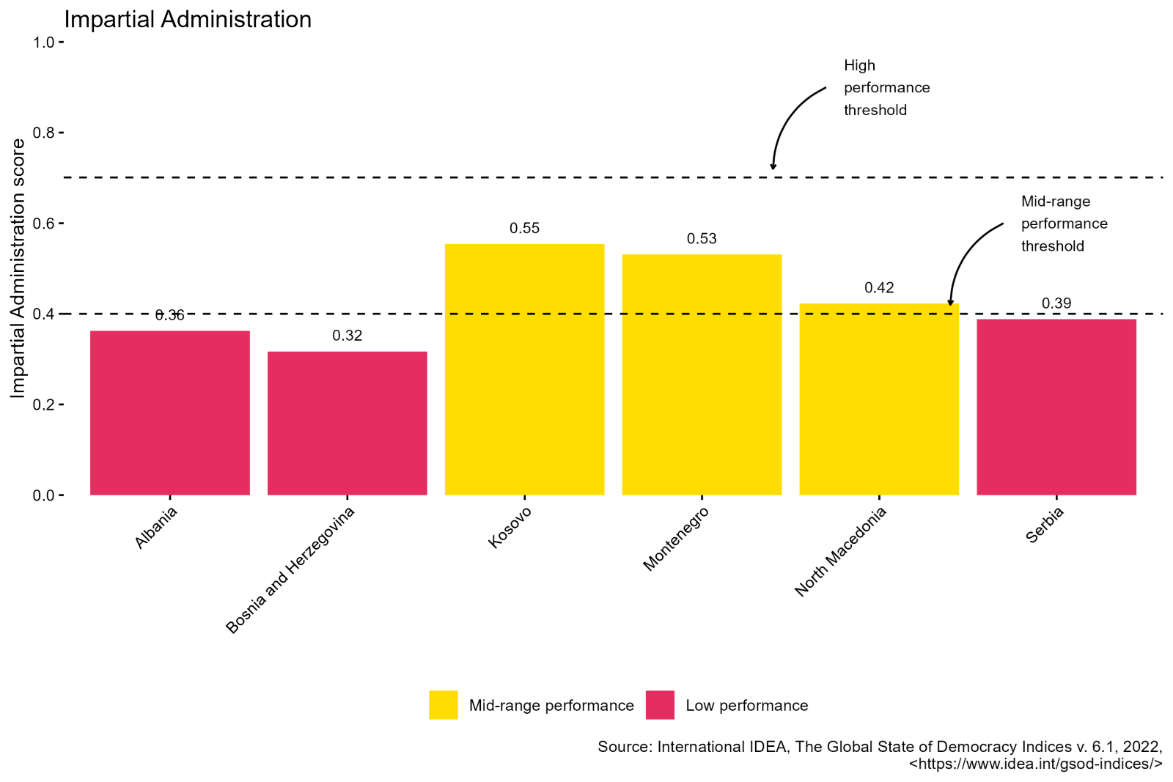 Figure 3. Global State of Democracy's attribute of Impartial Administration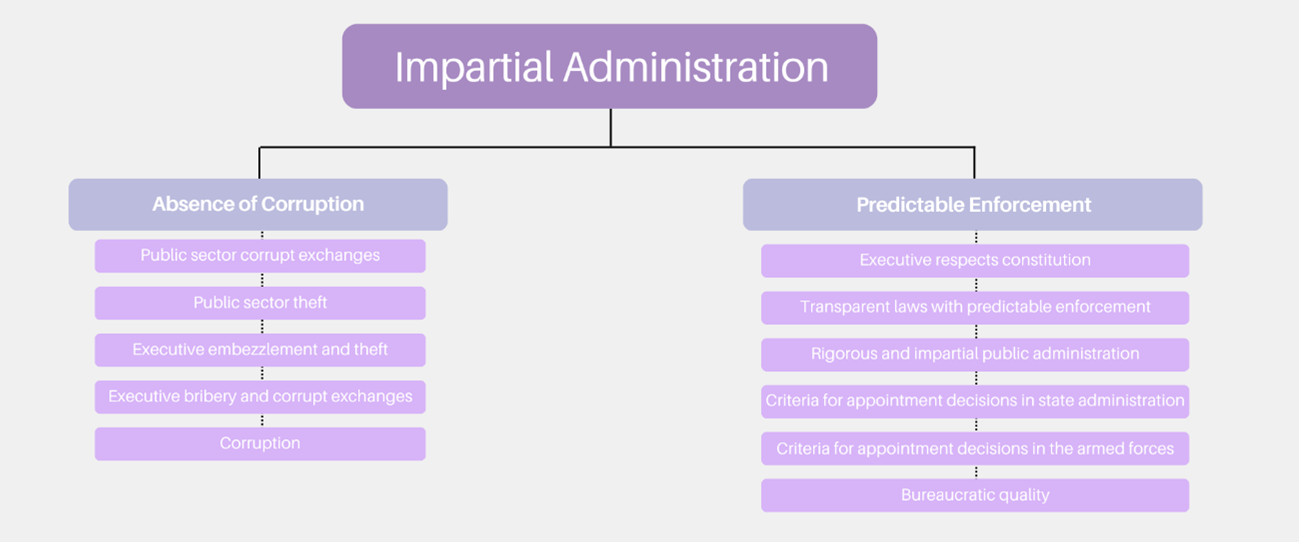 The 2022 Balkan Public Barometer polling results show that the economy, unemployment and corruption are citizens' key concerns. Despite clear evidence that citizens want action on corruption, leaders in the region are still exploiting narratives about ethnic conflicts and populism. This is a sign of a broken social contract, indicating the growing gap between political elites and the citizens as well as the lack of political representation and responsiveness. To demonstrate better democratic performance, countries must take steps to challenge the status quo and reduce disparities between social expectations and governmental priorities.
People in the region—particularly in countries that are seeing better democratic performance, have made it clear that they want a drastic shift. And changes have started taking place. North Macedonia, for instance, had its Colorful Revolution to fight state capture. It also improved minority rights following the Ohrid Agreement and even committed to unpopular concessions like changing its name to resolve disputes with Greece to open the way for EU accession talks. Kosovo made sweeping changes to the political scene, shifting to a younger generation of leaders which triggered reforms in all political parties. Montenegro defied Russia to join NATO in 2017 regardless of the close economic ties. Its pro-Western forces are still fighting against Serbo-Russian influence in the country. Regardless of the difficulty of predicting the sustainability of these efforts, it is indisputable that fighting stagnation requires a new social contract.
One could argue that the developed democracies of today took hundreds of years to get where they are and still deal with corruption. Sceptics might also doubt that Balkans' citizens are not ready for a new future as they are still haunted by unresolved ethnic conflicts. However, the big donor support, which has been offered following the post-war transition, provides these countries with the possibility of achieving progress at a much faster pace. If nothing else, public opinion, high migration numbers and brain drain reflect the people's desperation for change. Without urgent action on a renewed social contract, the region risks further stagnation and widening the gap in democratic performance between countries.
Disclaimer: Opinions expressed in this commentary are those of the author and do not necessarily represent the institutional position of International IDEA, its Board of Advisers or its Council of Member States.