Back to overview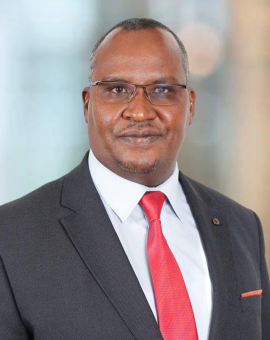 Roba Sharamo
Director for Africa and West Asia
Roba Sharamo
Director for Africa and West Asia
Twitter
Dr Roba D. Sharamo is the Regional Director for Africa and West Asia.
Dr Sharamo, has over 23 years of experience in international peace and security, conflict resolution, mediation, negotiation and diplomacy where he worked in senior management positions with the United Nations Development Programme (UNDP) in Kenya, Government of Kenya, non-governmental organizations and a leading think-tank, Institute for Security Studies (ISS) in Addis Ababa and Nairobi, among other international institutions.
In August 2018, he joined ISS as the Office Director and Regional Representative to African Union, Horn and East Africa. Most recently, he worked as a Commissioner of the National Cohesion and Integration Commission of the Republic of Kenya. He has also worked as Team Leader, Peacebuilding and Conflict Prevention Unit of UNDP-Kenya and as acting Office Director and the Programme Head of the Conflict Analysis and Prevention Programmes in ISS Addis Ababa and Nairobi Offices respectively. He also served as a Political Office in Kenya Ministry of Foreign Affairs.
Roba received his Doctorate in Conflict Analysis and Resolution fand his doctoral dissertation is entitled, 'Predatory Politics and Struggles of Peacemaking in Somalia', at George Mason University, Arlington, Virginia, USA.
He has lectured and made presentations at numerous regional and international conferences and published key monographs and scholarly articles on peace and security in Africa. Notably, he also co-edited three monographs: with Wafula Okumu and Andrews Atta-Samoah, Silencing the Gun in Africa by 2020 (September 2020); with Berouk Mesfin entitled Regional Security in Post-Cold War Horn of Africa (April 2011); and The State of Human Security in Africa (co-edited with C. Ayangafac) in April 2012, respectively.
Expertise
International security, democratic governance, political economy of conflicts, peacebuilding, mediation and negotiation, state of democracy in Africa and the Middle East
Education
PhD, Conflict Analysis and Resolution, George Mason University, USA (2012); MA, Sustainable International Development, Brandeis University, Boston, USA
Languages
English, Gabra, Oromo, Somali, Swahili
Location
Addis Ababa, Ethiopia