Back to overview
Statement at the Interaction between the UN, national parliaments and the Inter-Parliamentary Union
Event:
•
Location: New York, USA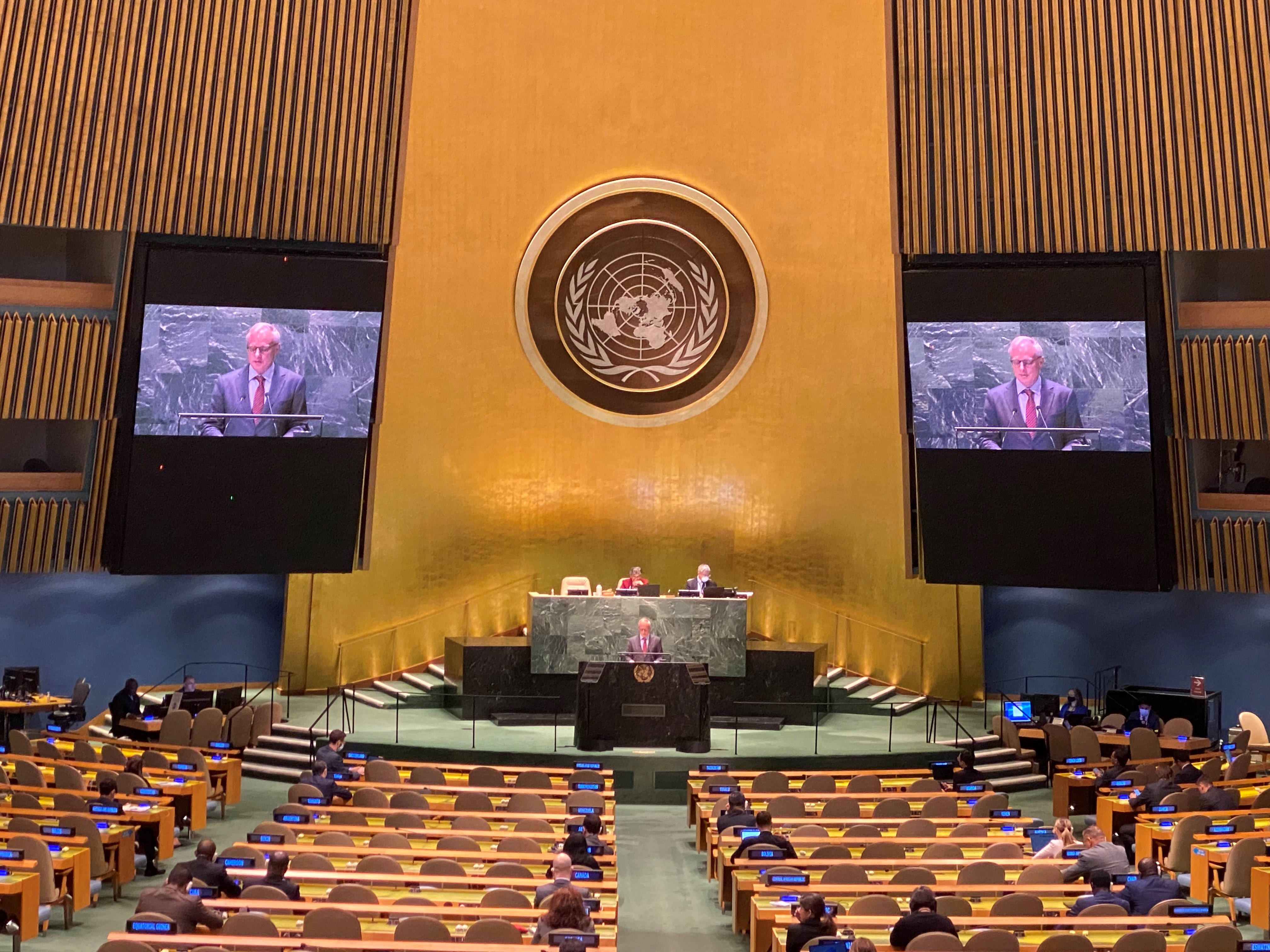 Marcus Brand delivering the statement during the General Assembly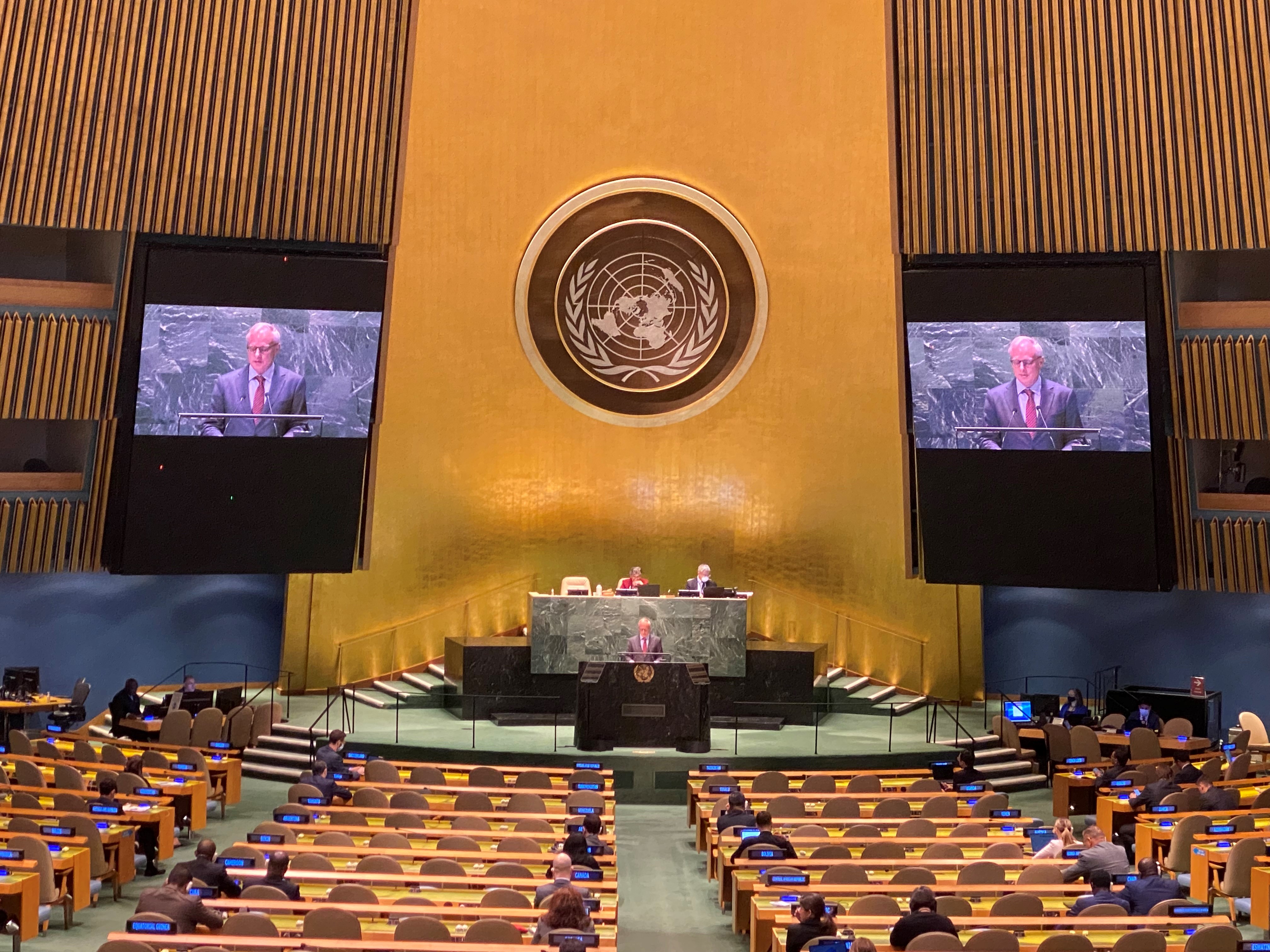 Excellencies, 
As an intergovernmental organization that brings together 34 Member States dedicated to strengthening democracy, International IDEA strongly supports parliamentary development and cooperation as key components of democracy assistance, with an affirmation of the importance of legislatures in advancing peace and security, sustainable development and human rights.
We are committed to peer-to-peer collaborative experience-sharing through global and cross-regional dialogues as well as capacity development initiatives.
The effectiveness of parliamentary processes and institutions, in terms of representation, oversight, law-making, debating and budgetary processes, is central to the assessment of the quality of democracy, as reflected in our Global State of Democracy Reports and Indices.
Since 2019, International IDEA has implemented INTER PARES, the European Union's flagship programme for parliamentary strengthening, which to date facilitates 15 partnerships between EU Member States' parliaments and partner parliaments around the world, supporting their development priorities.
This includes the Sustainable Development Goals as the 2030 Agenda foresees as an essential role of national parliaments for the effective implementation of these commitments.
The Inter-Parliamentary Union (IPU) is a valued partner of the INTER PARES programme, in which International IDEA and the IPU work closely together in the implementation of common priorities. These include parliamentary innovation through digital technology and the development of indicators for democratic parliaments, which enables parliaments themselves to assess and enhance their fundamental role as quintessential institutions for democratic governance.
This approach to parliamentary strengthening also demonstrates the value of a coordinated approach in which the capacities and commitments of EU Member States' Parliaments are leveraged to support parliamentary strengthening globally. Such a collaborative approach provides an excellent model for addressing key policy areas relevant to the action of the UN, such as gender equality and climate change.
International IDEA is also involved in supporting parliaments through its regional and country offices around the world. At times, we face setbacks of democratic transitions, and parliaments and elected MPs are often among the first targets of anti-democratic reversals. In Myanmar, for instance, a parliament was democratically elected in 2020 but was prevented from convening by a military coup. Dozens of elected MPs have been persecuted and many were forced to flee or hide.
The parliament has continued to function under extraordinarily difficult circumstances. The IPU and many parliaments around the world have played a critical role in supporting Myanmar's legitimate elected representatives. This highlights the continued importance of providing protection and assistance to parliaments and MPs under threat, and we are grateful for the IPU's leadership and principled role in this regard. International IDEA has been and will remain an active participant in this collective effort.
Excellencies,
We will continue to partner with the IPU in support of the advancement of UN agendas, while focusing on contributions to parliamentary development, political participation and representation, electoral processes, gender equality and inclusion, as well as constitution-building.
International IDEA values its partnership with the IPU, based on shared commitments to fostering the values of democracy in multilateral fora such as the UN. We will, therefore, further enhance our joint advocacy work and regular consultations on the democratic governance dimensions in the 2030 Agenda, and particularly on transparent, effective and accountable institutions.
I thank you.
The full delivery of the statement is available on International IDEA's YouTube channel.