Back to overview
International IDEA Statement at the Stockholm+50: A healthy planet for the prosperity of all – our responsibility, our opportunity
Event: Stockholm+50: A healthy planet for the prosperity of all – our responsibility, our opportunity
•
Location: Stockholm, Sweden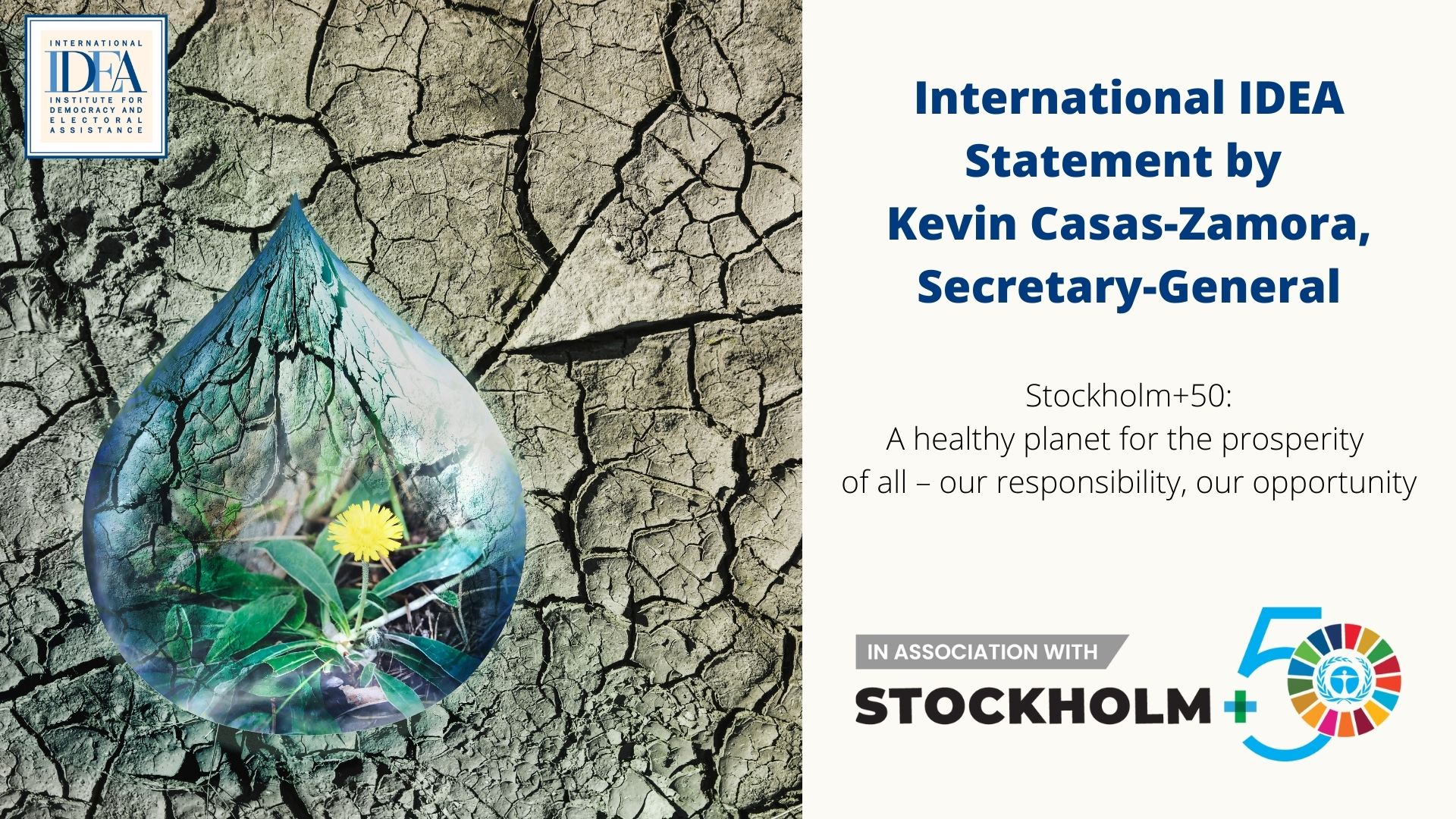 Statement by International IDEA
Excellencies,
Fifty years ago, the UN Conference on the Human Environment agreed on the first generation of "common principles to inspire and guide the peoples of the world in the preservation and enhancement of the human environment." Subsequent decades witnessed the expansion of such principles through the recognition of a rights-based approach, grounded on the need to strengthen public participation, access to information and access to justice to protect the environment. These are fundamental steps for framing today's Stockholm+50 conversation within the building blocks of environmental democracy.
International Institute for Democracy and Electoral Assistance (International IDEA) is an intergovernmental organization which has been working to strengthen democracy across the world since 1995.
International IDEA appreciates the timely organization of the Stockholm+50 Conference on "A healthy planet for the prosperity of all – our responsibility, our opportunity" in the lead-up to COP 27 held in November 2022. The Institute welcomes the relevant key messages and urgent actions discussed in the three Leadership Dialogues on the action needed to ensure a healthy planet for all.
The thematic issues of Leadership Dialogues 1 and 3 collectively underline the urgency of accelerating climate action and the measures required to prevent environmental degradation. Ensuring the quality and inclusiveness of governance institutions will be essential to successfully deliver on these two tasks.
The second key message of Leadership Dialogue 1 underlines the role of effective and fair multilateralism.
International IDEA is convinced that halting biodiversity loss, restoring ecosystems, and making progress on climate mitigation and adaptation requires inclusive democratic participation and representation by all citizens. International IDEA notes that inclusive democratic governance institutions allow the rights and views of local people, indigenous peoples and local communities to be voiced and channeled into the decision-making on environmental policies and actions.
The third issue area of Leadership Dialogue 1 revolves around achieving a just transition, inclusivity and gender equality. International IDEA welcomes the strong emphasis put on justice, inclusion, intergenerational equity and accountability, and underlines that responding to citizens' demands for these rights suggest a need to urgently strengthen democratic governance, rights and institutions.
Citizen's voices and arguments must be heard for societies to collectively debate and agree about what a just transition to sustainable socio-economic systems implies, and what actions are needed today to ensure intergenerational equity. International IDEA's Discussion Paper on climate change and democracy indicates that democracies can perform this role by allowing a free flow of information, policymakers to debate and find solutions, and civil society and citizens to mobilize and create a social consensus around the required action. The Discussion Paper indicates that democracies are more effective against climate change by allowing freedom of expression, an active civil society, elections held with integrity and institutional checks and balances.
The second key message of the Leadership Dialogue 3 emphasizes the need to build and strengthen institutions to be fit for delivering effectively on the SDGs. Such governance systems should be coherent and agile, and responsive to the needs of all age groups especially youth, indigenous peoples and local communities. International IDEA argues that such governance mechanisms need to be democratic and participatory to be able to deliver systemic and local solutions to our global and existential challenges, notably the climate crisis. Based on our experience of supporting democratic institutions globally, International IDEA argues that strengthening and protecting democratic governance institutions are central to delivering on the SDGs. Only democratic institutions can include the views of local people, indigenous peoples and local communities into the urgent decision-making on climate action and the environment.
At the same time, we acknowledge that climate change poses serious challenges to the sustainability of democratic governance systems. Global warming is likely to cause natural disasters, such as heatwaves, droughts and sea level rise, which could result in increased social conflict and institutional collapse.
We propose that in response to the climate crisis, democratic governance agendas should actively seek out innovative forms of political deliberation and representation, such as citizens' assemblies, lowering the voting age, institutions to consider the interests of future generations in today's decision-making or the inclusion of climate and environmental rights in constitution building processes.
In Leadership Dialogue 3, the third key message calls for strengthened multilateralism and greater policy coherence and concerted action across and within governments. International IDEA recalls the recommendations in "Our Common Agenda" on the need to implement the goals of the Paris Agreement; to scale up the contribution of non-state actors to climate action; and to take account of the interests of future generations in national and global decision-making.
In conclusion, International IDEA emphasizes that functioning democratic institutions are indispensable to deal effectively with the climate crisis. We should all strive together for democratic processes that implement innovative approaches to addressing environmental challenges with effective solutions based on a long-term vision. The efforts to protect and support democratic institutions will need to be sustained and strengthened to ensure that the next decade of climate action is inclusive, just, and ultimately, successful.

I thank you.