This publication is only available in electronic format
On 17 August 2019, four months after President Omar al-Bashir was ousted, the revolutionary protest movement Forces for Freedom and Change and the Transitional Military Council signed a constitutional document to ferry Sudan through a transitional period to a civilian-led, democratic order. The signing of the Draft Constitutional Charter for the 2019 Transitional Period (the 2019 Constitutional Declaration) was met with jubilation on the streets and around the world. Rallies, firework displays and other celebrations were held across Sudan to welcome the agreement.
This paper was prepared in the context of an International IDEA programme entitled Supporting Sudan's Democratic Transition. The programme includes a series of components, all of which aim to support Sudan's transition to a democratic system of government, and to contribute to Sustainable Development Goal 16 to promote peaceful and inclusive societies for sustainable development, provide access to justice for all and build effective, accountable and inclusive institutions at all levels.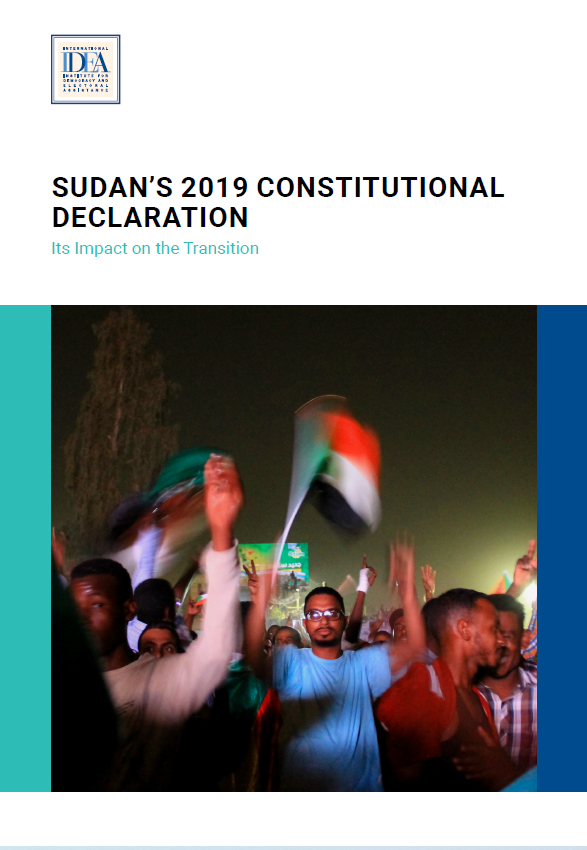 Contents
ACKNOWLEDGEMENTS
INTRODUCTION
Chapter 1. THE CONSTITUTIONAL FRAMEWORK OF THE TRANSITIONAL PERIOD
Chapter 2. THE IMPACT OF THE 2019 CONSTITUTIONAL DECLARATION ON THE TRANSITIONAL PERIOD
Chapter 3. THE 2021 POLITICAL FRAMEWORK AND FUTURE OF THE 2019 CONSTITUTIONAL DECLARATION
Chapter 4. LESSONS LEARNED
References
About the author
About International IDEA