This publication is only available in electronic format
ISBN:
978-91-85391-99-8 (Print)
Reconciliation is highly complex process that involves many different issues, stages and actors.
There is no 'one-size-fits' all success model, nor a quick-fix solution. It is also a time-consuming process, which, as several seminar participants and the seminar noted, affects the lives of several generations. A long-term approach to promoting reconciliation is thus essential.
In November 2005, International IDEA, the Inter-Parliamentary Union and the Parliament of Burundi organized a seminar held in Bujumbura on the role of parliamentarians in national reconciliation processes in Africa.
The seminar sparked a lively dialogue between African parliamentarians on the topic, and fostered a better understanding of the role of parliaments in seeing through a reconciliation process and identifying priorities and pitfalls along the way.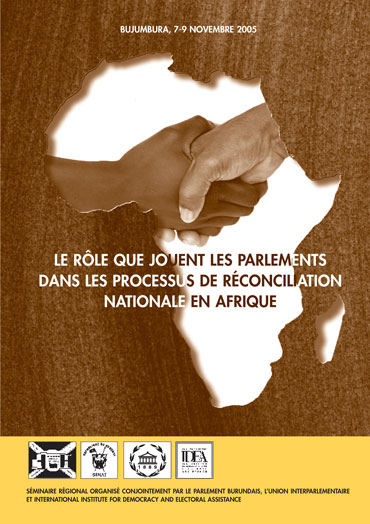 Contents
Avant-propos
Programme su séminaire
Résumé et recommandations présentés par le Rapporteur du séminaire
Séance inaugurale
Séance thématiques
La nécessité de traiter les cicatries du passé
Le Parlement au lendemain d'un conflit
Femmes et genre dans les situations d'après-conflit
Les commissions Vérité et Réconciliation
Procès
Justice ou amnistie
Réparations
Réformes institutionnelles
La contribution de la communauté internationale à la réconciliation
Séance de conclusion Liste de participants