This publication is only available in electronic format
ISBN:
978-971-92014-7-2 (Print)
Co-Publisher(s):
Action for Economic Reforms (Philippines)
The need to improve access to justice for citizens, especially at the local level, is one of the key findings of the fourth Philippines Democracy Assessment.
Other barriers to access justice for ordinary citizens are the high cost and the lengthy delays for cases to go through the court process. The lack of information about the judicial system and how it works is also an impediment to access to justice.
The assessment also shows that public trust in the institutions of the Philippines is mixed, and that the lowest level of trust is in trial courts and the police.
International IDEA's State of Democracy assessment methodology is intended for the use by citizens to assess the quality of their democracy, and define priority areas for policy and democratic reform.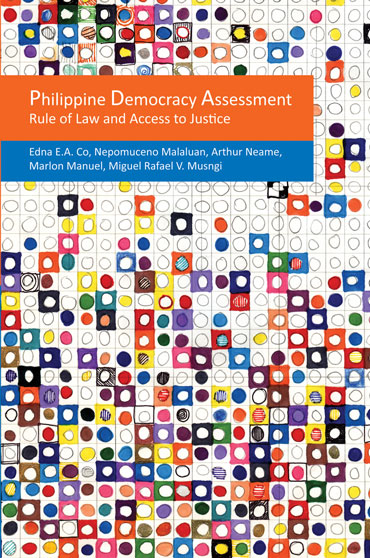 Contents
Acronyms and Abbreviations
Foreword
Preface
1. Introduction and Framework
2. Institutions
3. Access to Justice
4. Emerging Challenges Facing the Rule of Law: From the Global to the Local
5. Public Perception
6. Concluding Statements
Appendix
Contributors
Index