International Obligations for Elections: Guidelines for Legal Frameworks
This Guide provides an inventory of United Nations jurisprudence relevant to electoral processes. It organizes and cross-references international law applicable to elections in order to make it accessible to national and international stakeholders.
The guidelines aspire to near-global applicability and focuses explicitly on national accountability and ownership, an essential tool for electoral management bodies and national stakeholders engaged in electoral reforms. The focus on UN treaty obligations is meant to promote consistency, objectivity, impartiality, accuracy and professionalism in drafting and reviewing legal frameworks for elections.
The guidelines include tables of jurisprudence and checklists, which facilitate review of how far national legal frameworks comply with UN treaty provisions and jurisprudence on elections.
Details
Publication date
01 October 2014
Author(s)
Domenico Tuccinardi, Manuel Wally, Leandro Nagore de Sousa, Martina Garbuglia, Ron Gould
ISBN
978-91-87729-56-0 (Print)
Contents
Foreword
Preface
Acknowledgements
Acronyms and Abbreviations
Part A. Rationale and Methodology
Section I: The New International IDEA Guidelines
Section II: The Sources: UN Charter-based Bodies and Instruments
Section III: The Sources: UN Treaty-based Bodies and Instruments
Section IV: International Obligations for Elections: The Building Blocks
Part B. Electoral Components and Tables of Jurisprudence
Part C. Checklists
Conclusions
Annexes
Give us feedback
Do you have a question or feedback about this publication? Leave us your feedback, and we'll get back to you
Send feedback
International Obligations for Elections: Guidelines for Legal Frameworks
6007
17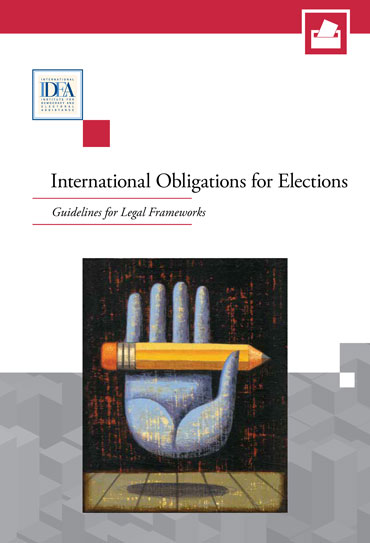 | | |
| --- | --- |
| Total views | 6007 |
| Downloads | 17 |
| Rating | |
Give us feedback
Do you have a question or feedback about this publication? Leave us your feedback, and we'll get back to you
Send feedback