This publication is only available in electronic format
Parliaments have an important and potentially transformative role to play in creating societies in which the human rights of everyone in the country are respected.
Effective Human Rights Engagement for Parliamentary Bodies: A Toolkit, produced by the EU-funded INTER PARES project, looks at the mandates and competencies of parliamentary human rights bodies, the factors that contribute to their effective functioning and how they can operationalize their human rights work in practice. It promotes the concept of active, rather than reactive, parliamentary human rights engagement.
INTER PARES | Parliaments in Partnership – EU Global Project to Strengthen the Capacity of Parliaments, aims to contribute to making democracies stronger. It is the first project of a global nature funded by the European Union and implemented by International IDEA, contributing towards strengthening the capacity of Parliaments in partner countries, by enhancing their legislative, oversight, representative, budgetary and administrative functions, representative and approachable.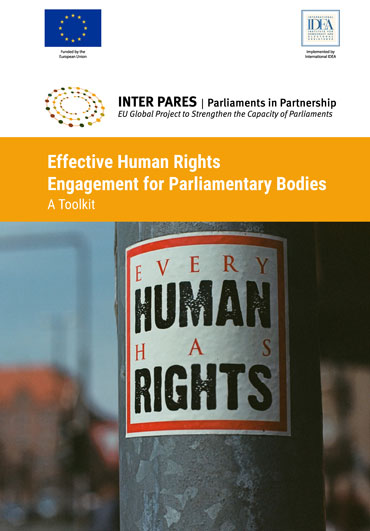 Contents
1. About this toolkit
2. Parliaments and human rights
3. Functionality of parliamentary human rights bodies
4. In practice: parliaments as human rights actors
5. Conclusions and recommendations
References