This publication is only available in electronic format
On 2–3 June 2016 International IDEA hosted a workshop, entitled 'Democracy Assistance and Results Management: Ownership and Learning in Action', at its office in Stockholm.
The purpose of the workshop was to share experiences of locally led and learning-oriented approaches to the planning, monitoring and evaluation (PME) of democracy-assistance projects and programmes.
The long-term objective of this workshop series is to contribute to further movement towards PME approaches that are less focused on upward accountability and control only, and more focused on learning and local ownership. Partner countries' capacities to drive and own democratization and development is crucial, in particular in light of the 2030 Agenda for Sustainable Development.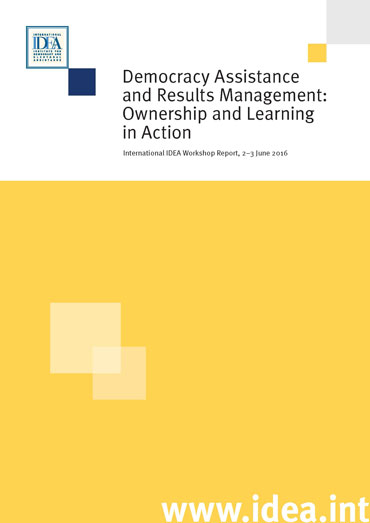 Contents
Executive Summary
1. Background
2. Day One: Fostering learning and ownership in results management
3. Day Two: On paradigm shifts and four action labs
4. Conclusion: next steps
Annex A. Action Lab drafts
Annex B. Literature review: planning, monitoring and evaluation
Annex C. Participant list
Annex D. Agenda
Annex E. Topics/themes for future events on results management
Annex F. Survey results: op-ed targets
Annex G. Survey results: general questions
About International IDEA