Democracy and Service Delivery
This report summarizes the Policy Dialogue on Democracy and Service Delivery, which took place in Pretoria, South Africa, on 23–24 November 2015.
The event was timely, as it unfolded in a context of a growing and common concern, among all of the collaborating partners, regarding service delivery challenges in the region and their potential impact on governance and democracy.
The purpose of the deliberations was to allow for wider and deeper reflections on the complex relationship between service delivery and governance, and establish perspectives on policy and research that would be relevant for future engagements.
Details
Publication date
15 August 2016
Contents
Executive Summary
Introduction
1. Opening session
2. Contemporary service delivery challenges: domains and dimensions
3. Political impact and consequences of service delivery challenges
4. Socio-economic impact and consequences of service delivery challenges
5. Options for regional-level actions within SADC
6. Options for citizen engagement
7. Harnessing civil society and trade union engagements
8. The role of political parties
9. An agenda for policy research
10. Wrap-up session: next steps
11. Closing session
12. Annexes
Give us feedback
Do you have a question or feedback about this publication? Leave us your feedback, and we'll get back to you
Send feedback
Democracy and Service Delivery
3898
1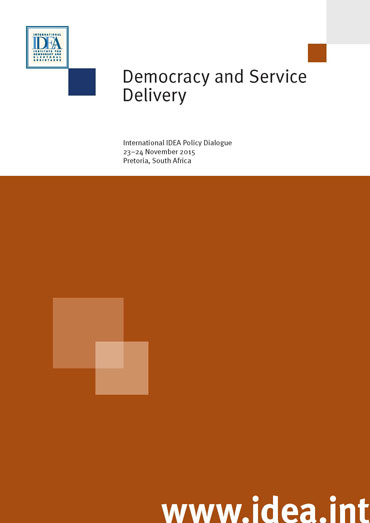 | | |
| --- | --- |
| Total views | 3898 |
| Downloads | 1 |
| Rating | |
Give us feedback
Do you have a question or feedback about this publication? Leave us your feedback, and we'll get back to you
Send feedback