Chronology of the 1987 Philippine Constitution
This report summarizes the contextual background and processes of writing the 1987 Philippine Constitution, its contents and a preliminary mapping of its implementation, covering elections held under the Constitution, major laws enacted as mandated by the Constitution and critical judicial decisions of the Supreme Court interpreting provisions of the Constitution.
The Chronology also covers impeachment cases under the Constitution, a timeline of the peace processes pursued from 1987–2018, and trend analysis of approval ratings of the officials and institutions created under the 1987 Constitution to measure citizens' perceptions of the constitutional order.
Research and writing of the Chronology was led by the research team at the University of the Philippines Center for Integrated Development Studies, under its project with International IDEA to complete a performance assessment of the 1987 Constitution. The Chronology is the first product of this collaboration and serves as the basis for the forthcoming performance assessment report.
Details
Publication date
04 November 2019
Author(s)
Maria Ela L. Atienza, Jan Robert R. Go, Rogelio Alicor L. Panao, Jean Encinas-Franco, Francis Joseph A. Dee
Co-Publisher(s)
UP Center for Integrative and Development Studies
ISBN
978-971-742-120-9 (PDF)
978-971-742-119-3 (Print)
Contents
Introduction
1. The 1986 Constitutional Commission and the 1987 Constitution: Background, Processes, and Outputs
2. Elections under the 1987 Constitution
3. Laws and jurisprudence as gauge of constitutional efficacy
4. The Power of Impeachment
5. A Timeline of the Philippine Peace Processes
6. Approval Ratings and Surveys Since 1986
Give us feedback
Do you have a question or feedback about this publication? Leave us your feedback, and we'll get back to you
Send feedback
Chronology of the 1987 Philippine Constitution
14737
94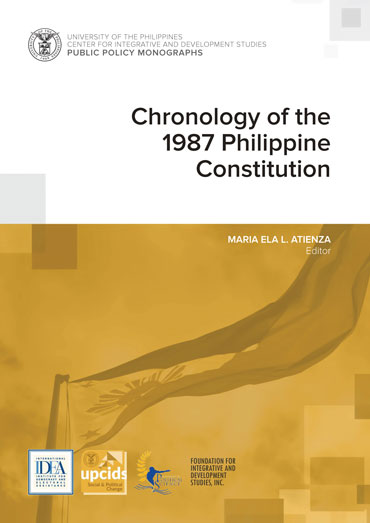 | | |
| --- | --- |
| Total views | 14737 |
| Downloads | 94 |
| Rating | |
Give us feedback
Do you have a question or feedback about this publication? Leave us your feedback, and we'll get back to you
Send feedback