Back to overview
Nearly half of democracies have regressed on basic rights in 2020 with measures to combat COVID-19 pandemic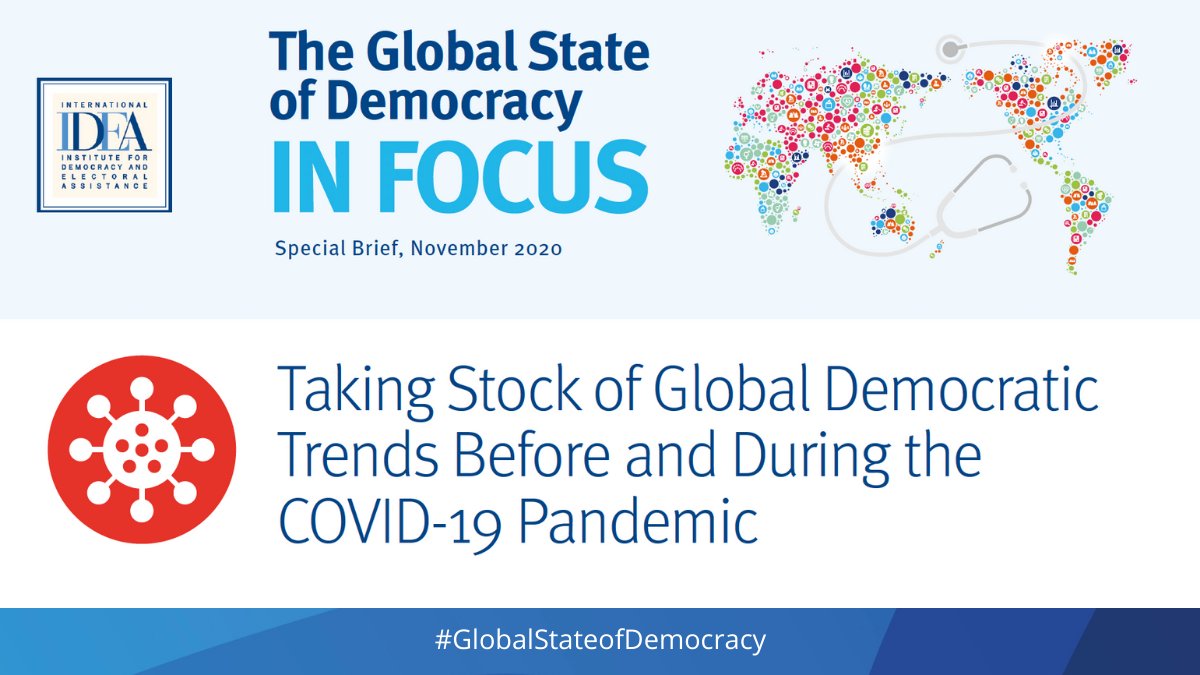 Many governments are restricting information about COVID-19, clamping down on independent media and freedom of speech while polarisation and lack of political consensus have sparked unrest and distrust in elections and democratic processes.
STOCKHOLM - In 2020, nearly half of democracies worldwide have regressed on basic democratic and human rights standards, exacerbated by measures taken in response to the COVID-19 pandemic. Restricting information and clamping down on freedom of speech and on independent media have been embraced under the pretext of addressing the pandemic.
These are some of the major findings of the Global State of Democracy (GSoD) in Focus published on Wednesday, 9 December, by the Stockholm-based International IDEA, an intergovernmental organization promoting democracy worldwide.
While most pandemic measures are justified in the unprecedented global health crisis, 43 per cent of democracies have implemented restrictions that were either illegal, disproportionate, indefinite or unnecessary. If we consider non-democratic countries, the number rises to 61 per cent globally.
Some democratic governments have restricted information about COVID-19, with some non-democratic regimes covering up outbreaks. A lack of political consensus over the holding of elections during the pandemic has often created unrest and distrust in democratic processes. Marginalized communities have often borne the brunt of repressive state policies.
Of particular concern during the pandemic are media freedoms. Freedom of expression has declined globally since 2014, with more countries declining than advancing for the first time since 1975. This decline has been reinforced during the pandemic.  
 "The risk is that governments get accustomed to a new normal and fail to roll back anti-democratic measures," says International IDEA's Secretary-General Kevin Casas-Zamora. "Vaccines give people hope that there will be a return to 'normalcy', but we must also ensure that democratic norms are restored and strengthened as we emerge from the pandemic."
Democracies that have suffered significant deteriorations include:
Argentina: Concerns have also been raised about threats toward freedom of expression with criminal cases against individuals accused of spreading disinformation about the virus and of "public intimidation", a crime punishable by up to six years in prison. A newly established state entity aiming to curb the spread of disinformation was condemned by the Inter American Press Association. Amnesty International has also warned a government app used for contact tracing poses a risk to privacy and the protection of personal data.
Israel: The government has met the anti-government and lockdown protests with excessive use of force and arrests. Rights groups have raised concerns over the violation of Palestinians' basic rights during the pandemic, including the destruction of homes and healthcare infrastructure, including COVID-19 testing centers. Israel has used domestic security service to trace COVID-19 infections, raising privacy worries.
Poland: The governing PiS Party has reinforced its grip on power through severely disputed and politically divided elections held in the midst of the pandemic, in which the governing party won over the opposition by a small margin. Political campaign activity was restricted due to the pandemic and the state-controlled media space is thought to have given the governing party an unfair advantage.
Serbia: Despite widespread calls for postponement, the government moved forward with elections in June 2020. The opposition boycotted them, leading to an incumbent landslide that lacked legitimacy. Media freedoms are also under further threat during the pandemic because of the government's measures, making journalists liable for prosecution for the "use of unofficial sources".
Sri Lanka: President Gotabaya appointed the army chief to lead management of the pandemic. This resulted in excessive use of police force to enforce pandemic's restrictions. Concerns have also been raised about religious discrimination against Muslims with forced cremations and arbitrary arrests.
There are also encouraging developments. The pandemic has showed the resilience of many democracies in reaching broad political agreements in a time of crisis. In most democracies, accountability mechanisms have prevented executive over-reach. Some courts, legislatures and political parties have fought back against trampling over democratic rights. Successful cases of addressing the pandemic while adhering to democratic principles include Iceland, New Zealand, South Korea, Taiwan and Uruguay.
"Battling the pandemic while keeping to fundamental democratic principles is not only possible, but effective. Some of the countries with the most effective responses to the spread of COVID-19 have been some of the highest performing democracies" said Annika Silva-Leander, Head of Democracy Assessment at International IDEA and the lead author of the report.
Report
The Global State of Democracy In Focus "Taking Stock of Global Democratic Trends Before and During the COVID-19 Pandemic"
Availability for interviews:
Annika Silva-Leander, Head of Democracy Assessment at International IDEA, Lead Author of report as well as Latin American section. (English, French, Spanish and Swedish).
Kevin Casas-Zamora, Secretary-General of International IDEA, (English and Spanish).
Laura Thornton, Head of Global Programmes, (English).
Alberto Fernandez – Senior Programme Officer. Europe and Africa aspects of report. (English and Spanish).
Media contacts:
Alistair Scrutton, Head of Communications, A.Scrutton@idea.int, +46 707 211098
Lynn Simmonds, Communications Manager, L.Simmonds@idea.int, +46 722 076524
Background
The International Institute for Democracy and Electoral Assistance (International IDEA) is an intergovernmental organization with the mandate to support and advance democracy worldwide. International IDEA contributes to the public debate on democracy and assists in strengthening process, reforms, institutions and actors that build, advance and safeguard democracy, with a focus on electoral processes; constitution-building processes; and political participation and representation. Mainstreamed across all our work are gender and inclusion, conflict sensitivity and sustainable development.
International IDEA is one of the most trusted global sources of data on the impact of the COVID-19 crisis and democracy. Our research on COVID-19 and Democracy has been quoted in international media from CNN to The New York Times, The Washington Post and Le Figaro. Around the world, our experts are available for interview.