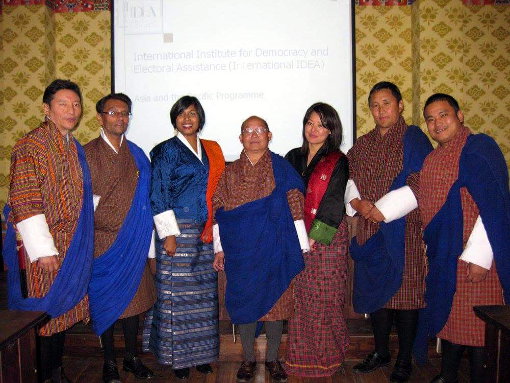 International IDEA have been working to support the Parliament of Bhutan since 2013. To continue our assistance in building the institutional capacity of the Parliament, International IDEA have deployed a staff member for 4 weeks to mentor the Research Division of the National Assembly (NAB) and National Council of Bhutan (NCB) from 28 March 2016 until 28 April 2016.
Sophia Fernandes is a Programme Officer who has been based in International IDEA's Myanmar office for the past two years, responsible for International IDEA's research programme in Myanmar. She has a background as a researcher with the Federal Parliament of Australia and brings her experience on producing research products for decisionmakers to the Parliament of Bhutan.
This week, Sophia and International IDEA's team in Bhutan, Karma Dema and Pema Yangzome, have been meeting with MPs and research staff of both houses to assess their needs, challenges and what they hope to achieve during the mentoring programme. Focus is also on engaging women MPs so their research needs can be met—with two female representatives in the National Council, and three female representatives in the National Assembly.
On 31 March 2016, the team held a seminar with the research staff and MPs separately to work through basic research methods, key elements of research for decision makers, general structures of Committee offices, and techniques for staff and MPs to interact in a productive manner. In total 11 staff (two female) from Hansard and Research Division - from the Upper and Lower House - participated in the Research Seminar for the morning session. The afternoon session also included five Honourable Members from the Lower House. Feedback from staff and MPs was that the sessions were very useful and encouraged participants to consider the value of research to the conduct of parliamentary and committee work.
Emphasis is on building staff research capabilities from scratch in an environment where various staff fulfil many different roles simultaneously, as well as imparting a strong sense of being a valued parliamentary advisor.
Over the next three weeks, Sophia will be dividing her time between the NCB and NAB to conduct intensive, on-the-job mentoring of the researchers with the goal of producing at least six research briefs.