Back to overview
Laying the foundations for women's political empowerment and representation in Paraguay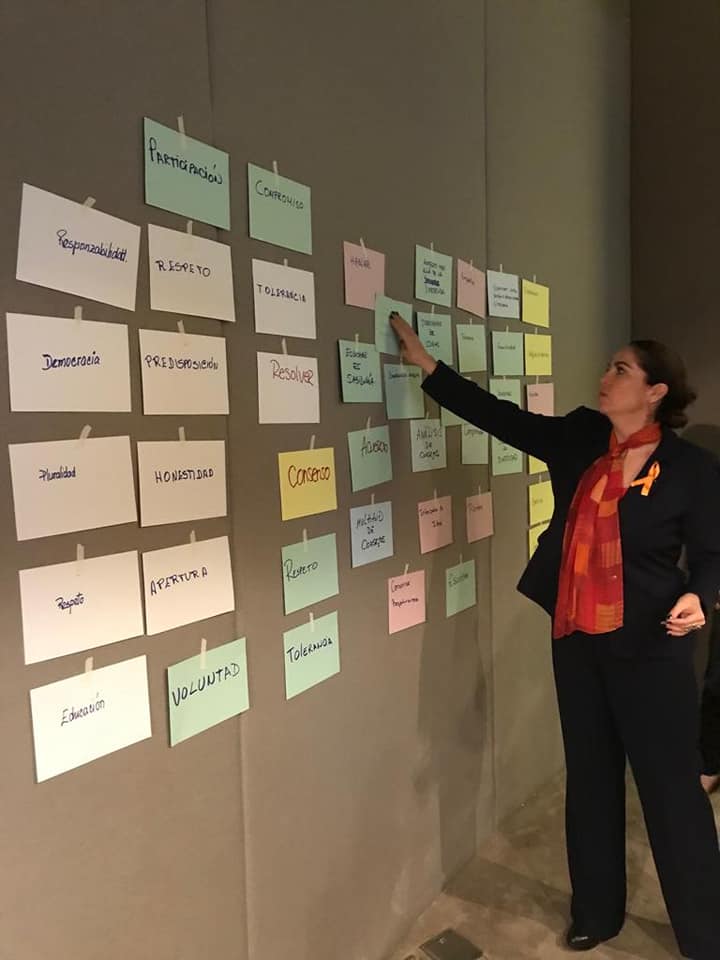 TJSE BRIDGE Training Workshop
Women around the world make up over half of the total population, but their numbers in decision-making positions are yet to reach equality with men. Paraguay is no exception. In recent years the number of female candidates at all levels is on the rise but results from last year's General Elections show a relative stagnation in the number of women elected to office. Presently all 17 governors are men, and there was only one female governor in the previous administration. In the Senate, 8 women and 37 men were elected, which represents one seat less for women, compared to the previous legislature. In the Chamber of Deputies female representatives hold only 15 per cent of the seats.
In this context, International IDEA has been actively advocating for women's greater participation in politics, elections and decision-making processes, with a focus on youth, indigenous population and women with disabilities. Specifically, International IDEA has been providing support to the Superior Tribunal for Electoral Justice (TSJE), in the areas of gender mainstreaming, capacity-building and policy support.
Developing effective gender policies and practices
Understanding that Electoral Management Bodies play a central role in advancing women's political leadership and women's participation in the electoral processes, International IDEA's work with TSJE has been to develop and implement programmes, actions and practices with a gender perspective. There is clearly a commitment from the TJSE to advance women's participation, with the body creating a Gender Policy Unit in 2017. Since then, TJSE has become a leading institution in the country advocating for gender equality and the promotion of women's participation in politics and elections. Gender mainstreaming has been recognized as a valid strategy to achieve gender equality, and inclusiveness has become a central concern in the agenda of the institution.
Women's participation in politics, training and raising gender awareness
In order to build an understanding of the importance of gender equality and gender mainstreaming, over 150 TJSE staff have received in-depth training in key concepts of gender equality and its importance for the exercise of political rights in 2017 and 2018. The training utilised the BRIDGE (Building Resources in Democracy, Governance and Elections) methodology for the first time in Paraguay's history.
During these workshops, participants were able to discuss and analyse strategies to address obstacles to the full political participation of women, the participation of women in politics as voters, candidates and as elected representatives in political positions, as well as discussions on gender quotas and their effectiveness in electoral systems.
Moreover, International IDEA has provided opportunities for continuous training to the staff of the Gender Policy Unit on gender equality, gender mainstreaming and women's political participation and representation. This permanent effort of professional development has paid off, as the Unit is now proficient and has led specific efforts to make a powerful contribution, rendering women's participation and representation in the electoral process more visible, by analysing the voting process with a gender perspective during the 2018 General Elections of Paraguay.
Through this exercise, strengths and weaknesses with regards to the access and participation of men and women in equal conditions during Election Day were identified. To conduct this analysis, International IDEA provided technical training to 20 civil servants who analysed 75 polling stations. Results showed that 71 per cent of the poll workers were women and 29 per cent men, and in 64 per cent of the cases, women served as chair of the polling stations compared to 36 per cent of men.
Supporting political training programs
With the purpose of achieving women's equal political participation and representation, the Gender Unit of the TSJE has developed an innovative project to put in place a "Political School for Women Leaders". With the support of International IDEA, by mid-2019 around 230 women leaders will have received specialized training and skills that will allow them to launch effective electoral campaigns. The main objective of the school is to increase female candidates' political capacities and to increase women's representation in elected positions at all levels. Many of the women leaders graduating from this School are expected to run in the next Municipal Elections in 2020.
Level Up: Political Finance with Integrity
For a more substantive debate about political financing and equity and to reduce gaps in access to financial resources between men and women, International IDEA has worked with the local civil society organization Semillas para la Democracia to create a space of multiparty dialogue among women leaders from various parties and political movements. This work has been conducted as part of the "Level Up: Political Finance with Integrity" project, funded by the European Union.