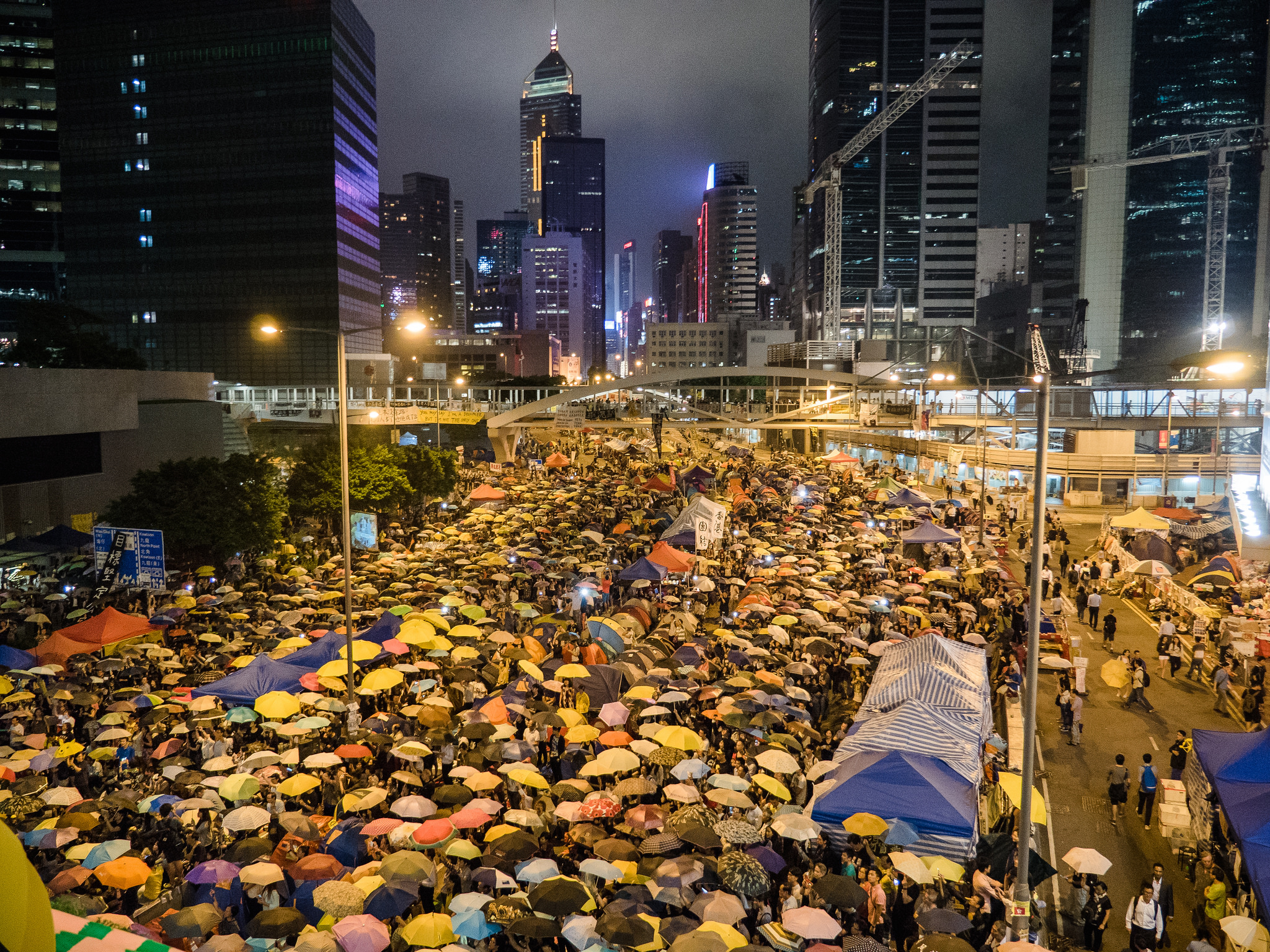 31th Day Hong Kong Umbrella Revolution 
Disclaimer: Views expressed in this commentary are those of the staff member. This commentary is independent of specific national or political interests. Views expressed do not necessarily represent the institutional position of International IDEA, its Board of Advisers or its Council of Member States.
Joshua Wong turned 21 last week. The pro-democracy activist was forced to celebrate his birthday in a Hong Kong court. He was one of the 20 activists found guilty of criminal contempt for refusing to leave a protest site during the 2014 'Occupy' demonstrations. Wong will soon be transferred from a correctional facility to an adult prison. A rite to passage, marking his transition from youth to adulthood.
Wong's life is an extraordinary coming-of-age story. Triggered by a deteriorating political climate in his hometown of Hong Kong, he rapidly transitioned from a schoolkid into an adult, with leadership roles and responsibilities far beyond his years. As a 14-year-old, Wong established 'Scholarism', a student protest movement opposing a new pro-Beijing education curriculum. At 17, he became the face of the 2014 Umbrella Movement, skillfully mobilizing and inspiring thousands of Hong Kong residents to take to the streets demanding 'true universal suffrage'. At 19, Wong became the co-founder of opposition party Demosistō.
Wong could not run for office though. Hong Kong's minimum age of candidacy is set at 21. He was old enough to create a party but too young to run. Nevertheless, his young age did not stop Hong Kong's Court of Appeal in August 2017 from sentencing Wong and his fellow activists, Nathan Law and Alex Chow, to six to eight months in prison for unlawful assembly. A verdict that disqualifies them from running for public office for the next five years.
Today, Wong is a global hero. While widely praised for his courage in challenging the Chinese government, his journey also embodies a global challenge: the struggle of millions of young women and men excluded from politics on the grounds of not being old enough to vote or to stand for election. Wong's case shows that minimum voting and candidacy age criteria can be used as brutal barriers to keep a next generation of leaders out of politics. This needs to change.
What does age have to do with it?
According to a 2016 United Nations report, in many countries only individuals aged 25 years or above are eligible to run for parliament. Sixty-five per cent of the world's parliaments have eligibility ages higher than the minimum voting age, according to the Inter-Parliamentary Union. This implies that in most democracies, young people are considered old enough to vote, but not old enough to stand for elections. Hardly surprisingly, young people under 30 make up only less than 2 per cent of the world's parliamentarians and two out of three young people believe that their government does not care about their wants and needs, according to the 2017 Youth Wellbeing Index  and the Global Millennial Viewpoints Survey.
At the same time, an increasing number of young people embrace alternative forms of political participation and engagement through social media campaigns, art, (e)-petitions, protests, demonstrations, and so on. During the period 2010–2014, 14.3 per cent of the global youth took part in at least one public demonstration, as estimated in the World Values Survey.
This trend seems to indicate that youth continue to be politically engaged but, often out of frustration with the political elite or the lack of opportunity, use other ways to press for change. 
Age vs experience: let's focus on quality
Our world, countries and communities need the best leaders. Intelligent, visionary politicians that show courage, charisma, and deliver results. Granted, political leadership also requires experience, and this tends to come with age. However, as the daily media headlines show, experience does not necessarily translate into good policies or leadership. Older leaders around the world have been seen to break promises or develop harmful policies, violate human rights or fail to deliver for the people they serve. We deal with these flawed leaders by holding them accountable through elections and other democratic means.
Young leaders deserve the same opportunities and treatment, and most of all, an equal chance to speak and shine on the political stage. They should be able to use the same democratic institutions and platforms to shape policies and change their society and communities. While they may lack political experience, they often bring in other qualities, such as the ability to innovate and think creatively and long term, and they are arguably less likely to be tainted by corruption. So instead of fussing over our political leaders' age, let's focus on the quality of their policies and actions.
Include youth to safeguard democracy: from marginalisation to mobilisation
A forthcoming report on the Global State of Democracy (International IDEA) shows that democracy is at a crossroads. For democracy to thrive and survive, contemporary threats and challenges need to be taken seriously. This means we need to stop treating youth as second-class citizens and instead find ways to include them in politics.
Increasing youth representation requires, among other things, quotas, lower eligibility ages, proportional representation and inclusive parliaments (IPU 2016). While these measures on their own may not solve the disconnect between young people and electoral politics, they will bring us one step closer to ensuring that youth political participation evolves rather than declines.
Tackling complex global challenges of our era such as conflict, climate change, scarcity and inequality requires the best of minds to find solutions. The 2016 UNDP Human Development Report predicts that 'the planet's surging population is expected to grow to 9.7 billion in 2050, with five main implications: widespread urbanisation, an ageing population, a growing middle class, migration and a youth bulge'. It is high time to prepare our political system for this new reality and include a diverse, younger generation of politicians to shape the future and lead the way.
Just to be clear: young people are no saints. They are just as capable as experienced adults of doing harm in politics. However, it is unfair that our young changemakers can end up in prison, but not in parliament. Let's therefore honour Wong's plight by further opening our democracies for youth, and by giving them a real chance to safeguard and reclaim democracy for generations to come. The Joshua Wongs of this world deserve our admiration and support, and—above all—a seat in parliament.