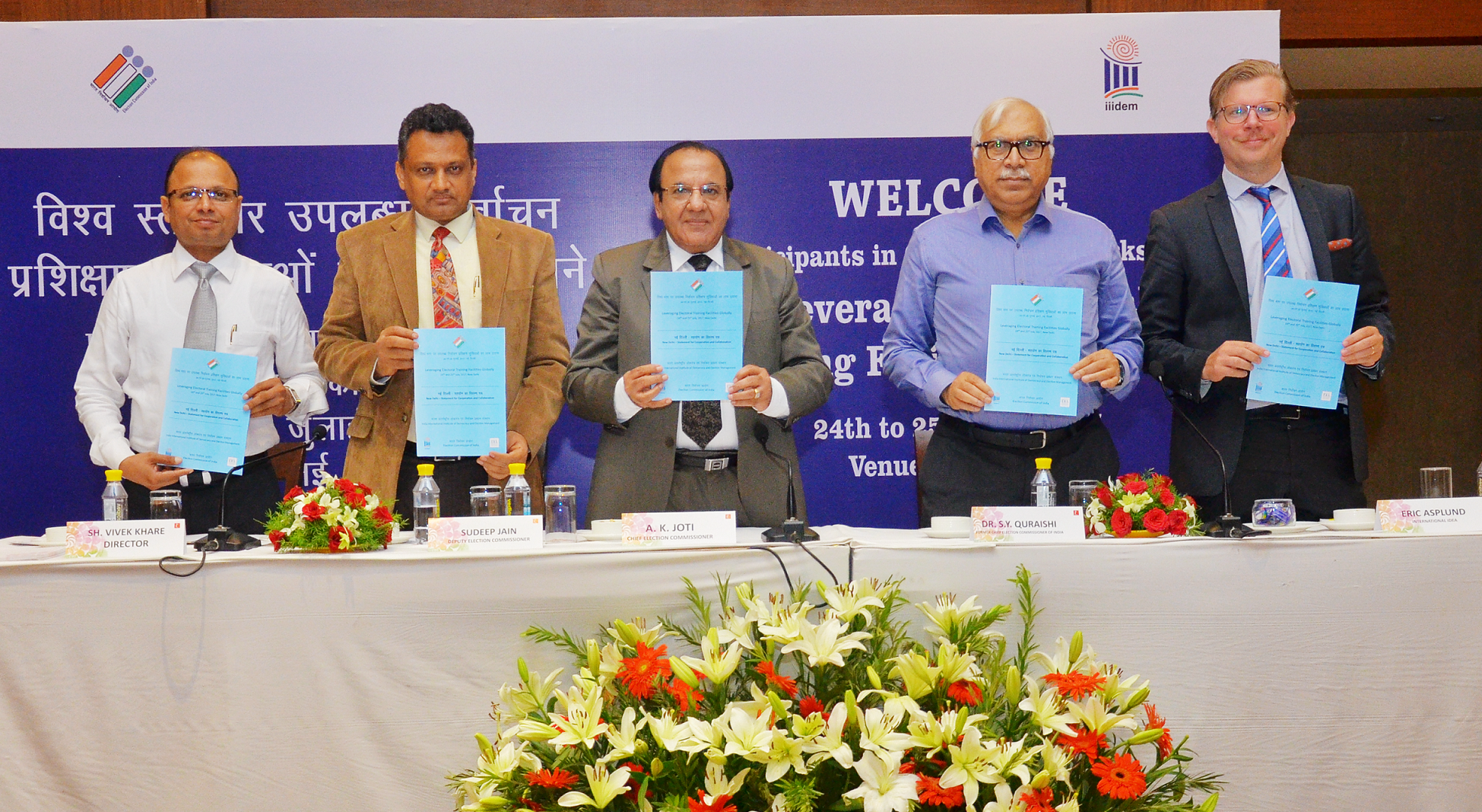 From left to right:  Vivek Khare (Director, ECI), Dr Sudeep Jain (Director-General of IIIDEM), Sh. A K Joti (Chief Election Commissioner, ECI),  SY Quraishi (Board Adviser, International IDEA), Erik Asplund (Programme Officer, International IDEA). Photo credit: ECI, India, 25 July 2017.
Professional and skilled electoral management body (EMB) staff are essential in ensuring successful elections and in maintaining the sustainability of the EMB. Continuous training and professional development contributes to this end. EMBs have a wide range of training and development demands and as a result, EMBs are actively involved in raising the capacity of staff as well as other electoral stakeholders.
Many EMBs face challenges as they seek to build or maintain effective and sustainable structures that can provide electoral capacity development. This includes practical issues such as preparing and delivering curricula, maintaining high quality in cascade training, monitoring and evaluation as well as certification modalities. It also includes electoral management design options for EMBs looking to establish dedicated electoral training, education and resource centers. This relates to the centers' legal status, mandate, objectives, capacity and financial resources.
To address these challenges, the Election Commission of India (ECI), The Indian International Institute of Democracy and Election Management (IIIDEM) and International IDEA organized an international consultative workshop in New Delhi from 24 to 25 July 2017 on the theme "Leveraging Electoral Training Facilities in Democracies". The workshop convened representatives from several EMBs, Intergovernmental organizations and International non-governmental organizations. In total, more than 30 people attended the workshop.
The workshop facilitated a meaningful discussion and sharing of good practices, harvesting of collective experiences, promotion of innovations and wisdom of EMBs. It also looked into dedicated electoral training, education and resource centers engaged in electoral capacity development.
The workshop included five sessions on: election training in democracies - emerging challenges; experience sharing on training political parties, security personnel, observers, media and CSOs; electoral training for inclusion particularly of women, youth, persons with disabilities and minorities; the use of technology in electoral training / distance learning; and the raison d'être for establishing and operating training facilities and its sustainability issues.
In terms of facilities, International IDEA presented recent desk research which identified 27 EMB-affiliated institutes, centers, schools or academies dedicated to either electoral training, professional development, research, electoral education or peer-exchange or any combination of the above across the globe.[1] Research findings also included the number of centers established worldwide and by region over time (see figure 1), as well as an increased number of EMBs engaged in peer-to-peer training & exchange in the last eight years compared to the past.[2] For example, the ECI-IIIDEM has run over 30 international programmes, training 571 individuals from 72 countries[3] whereas the Independent National Election Commission (INE) International Centre for Election Training and Research (CICIE) has run more than 67 workshops for individuals from 46 countries.[4]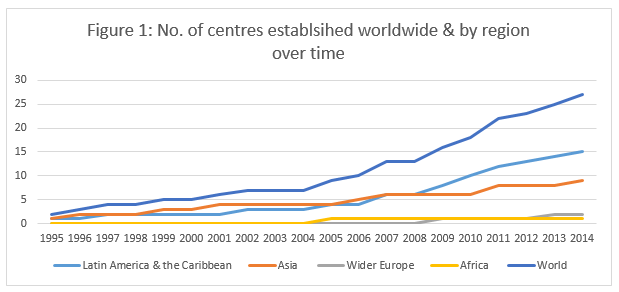 Among others, representatives from ECI-IIIDEM, the Independent National Election Commission - Nigeria Electoral Institute, the Election Commission of Nepal - Electoral Education and Training Centre and the Electoral Administration of Georgia - Centre of Electoral Systems Development, Reform and Training all have shared their experiences in terms of challenges faced, as well as solutions to those challenges when establishing and maintaining facilities. Issues raised include: needs and feasibility analysis, facilities mandate, functional autonomy, sustainability and ownership among others.
In other session, speakers were given the opportunity to present their experiences as well as national or international training resources. Examples of international resources designed for capacity building which were showcased include: the Building Resources in Democracy Governance and Elections (BRIDGE), modular professional development programme; the ACE Electoral Knowledge Network; as well as UNDP e-learning platforms on elections.
The workshop concluded with a "New Delhi Statement on Electoral Capacity Development", which includes 29 guiding principles that recognize the importance of capacity development, enhancing electoral resources and professional competence for conduct of elections, to which participants contributed.
Among others, the New Delhi Statement suggests the establishment of a specialized Forum to ensure continuous interaction and peer-to-peer exchange among all the institutions engaged in electoral capacity development. This Forum should also aim to promote and enhance the sharing of knowledge, experiences and good practice.