Back to overview
Constitution and Culture: Third Melbourne Forum on Constitution Building in Asia and the Pacific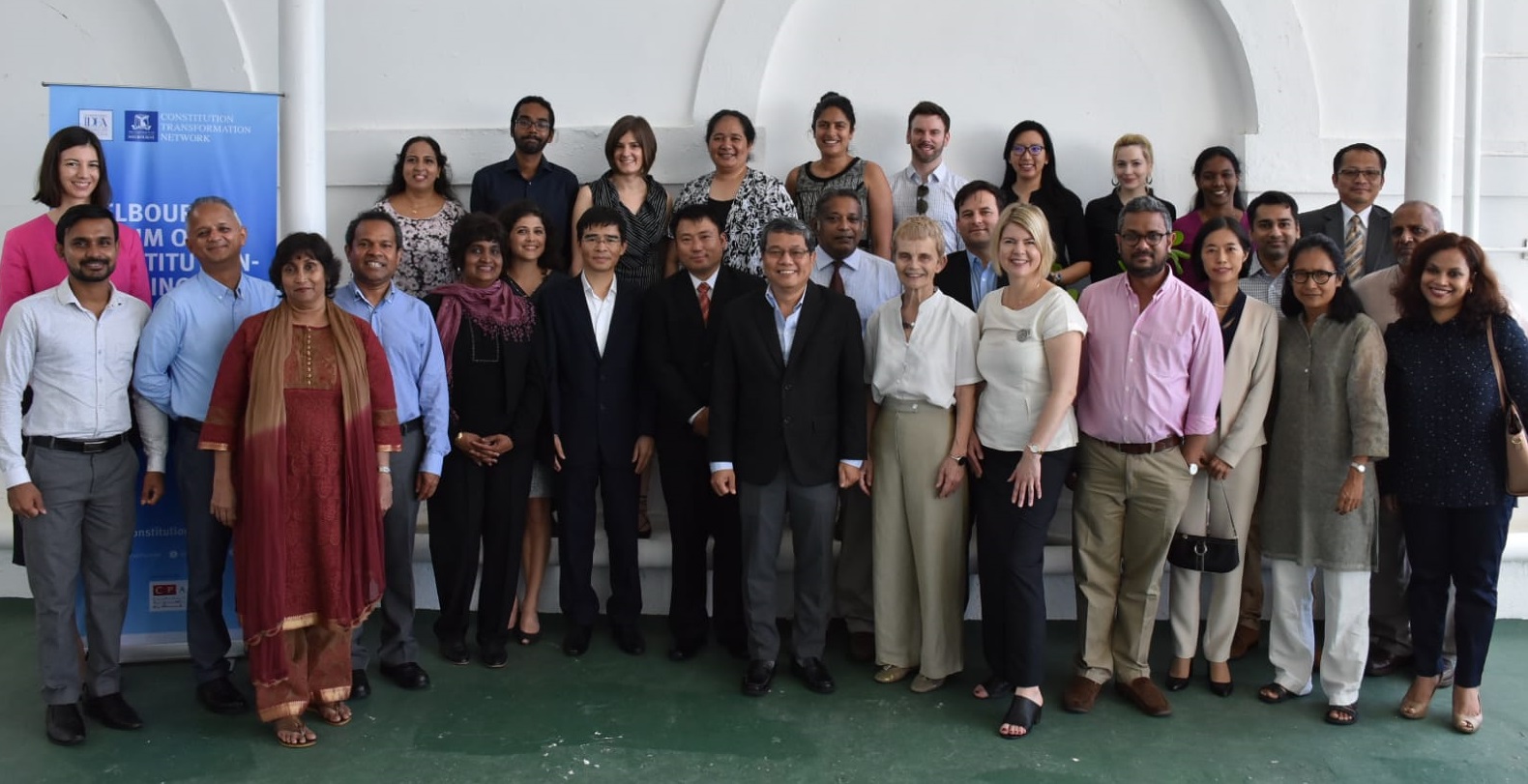 Third Annual Melbourne Forum participants from all over Asia and the Pacific gather to share regional insights on constitution-building. Image credit: Melbourne Forum
International IDEA co-hosted the Third Annual Melbourne Forum (MF3) on "Implications of Culture for Constitution Building" on 15-16 October 2018 in Colombo, Sri Lanka. The Melbourne Forum on Constitution-Building is organized jointly with the Constitution Transformation Network at Melbourne Law School. The Melbourne Forum is a network of practitioners and scholars from across the region, which comes together once a year to explore constitution-building themes of global importance from the Asia Pacific perspective.
International IDEA's Director for Asia and the Pacific, Leena Rikkilä Tamang, kicked off MF3 referencing a key observation presented by a Sri Lankan panelist: "Culture can be a site of celebration or repression." Many of the conversations over the course of the two-day MF3 focused on this observation, exploring the intersection of culture with constitution building, from design choices like form of the executive branch, to how to foster cultures of constitutionalism after major political transitions.
In his opening remarks, Paikiasothy Saravanamuttu, Executive Director of Sri Lankan host organization Center for Policy Alternatives, encouraged participants to think broadly about the interaction between constitutions and culture, questioning whether a constitution is meant to provide a snapshot of a culture at a period of time or rather to serve as a sign post orienting change.
MF3's first panel examined societal cultures and constitutions, looking at Thailand, Tuvalu and Viet Nam. In moderating the panel, Cheryl Saunders recognized culture as "contested, evolving, positive and negative"; and framed discussions stating, "there are anxieties about culture but there is a value in trying to understand the practices, assumptions and values that underpin all constitutions and affect how they operate in practice."
The second MF3 panel looked at implications of culture in constitution-building in diverse societies, with participants representing India, Indonesia and Sri Lanka, discussing pluralism, secularism and the dangers of cultural hegemony. This panel also tackled the question of whether diverse societies are necessarily divided or not and what role a constitution might have in mitigating divisive aspects of diversity. The last panel of the first day of the forum focused on how culture affects constitution-building processes, including the scope of constitutional change considered, how the public is engaged (if at all) in constitutional change, and the influence of colonialism.
The forum's second day began with a discussion of constitutional culture and constitutional implementation, looking at Bhutan, Maldives, Malaysia, Nepal and Papua New Guinea and considering questions including: 'How is constitutional culture developed?' and 'How is it promoted after major shifts in governance structures?'
The last MF3 substantive panel focused on external assistance in constitution-building processes and with emphasis on how important understanding local cultural dynamics, languages and histories is to effectively supporting constitution-building as an external actor. The panel featured Sri Lankan experts reflecting on how the forum discussions could be applied to Sri Lanka's own constitution-building. In her final reflections, Dinesha Samararatne emphasized the importance of the forum's insights: "when we recognise cultures, we are forced to work with abstract ideas in context and trying to apply them. Constitutional lawyers generally work with very positivist tools. Paying attention to cultures makes us more grounded and hopefully more effective."
As with previous Melbourne Forum events, the learnings and critical themes from MF3 will be collated in a workshop report as well as in Constitutional INSIGHTS produced by International IDEA and the Constitutional Transformation Network to analyze and elevate learnings about constitution building emerging from Asia and the Pacific. Constitutional INSIGHTS from the 2017 Melbourne Forum included "Constitutional Beginnings" and "Asymmetric Territorial Arrangements in Decentralized Systems." Each year, participants in the Melbourne Forum event are added to the growing Melbourne Forum network.