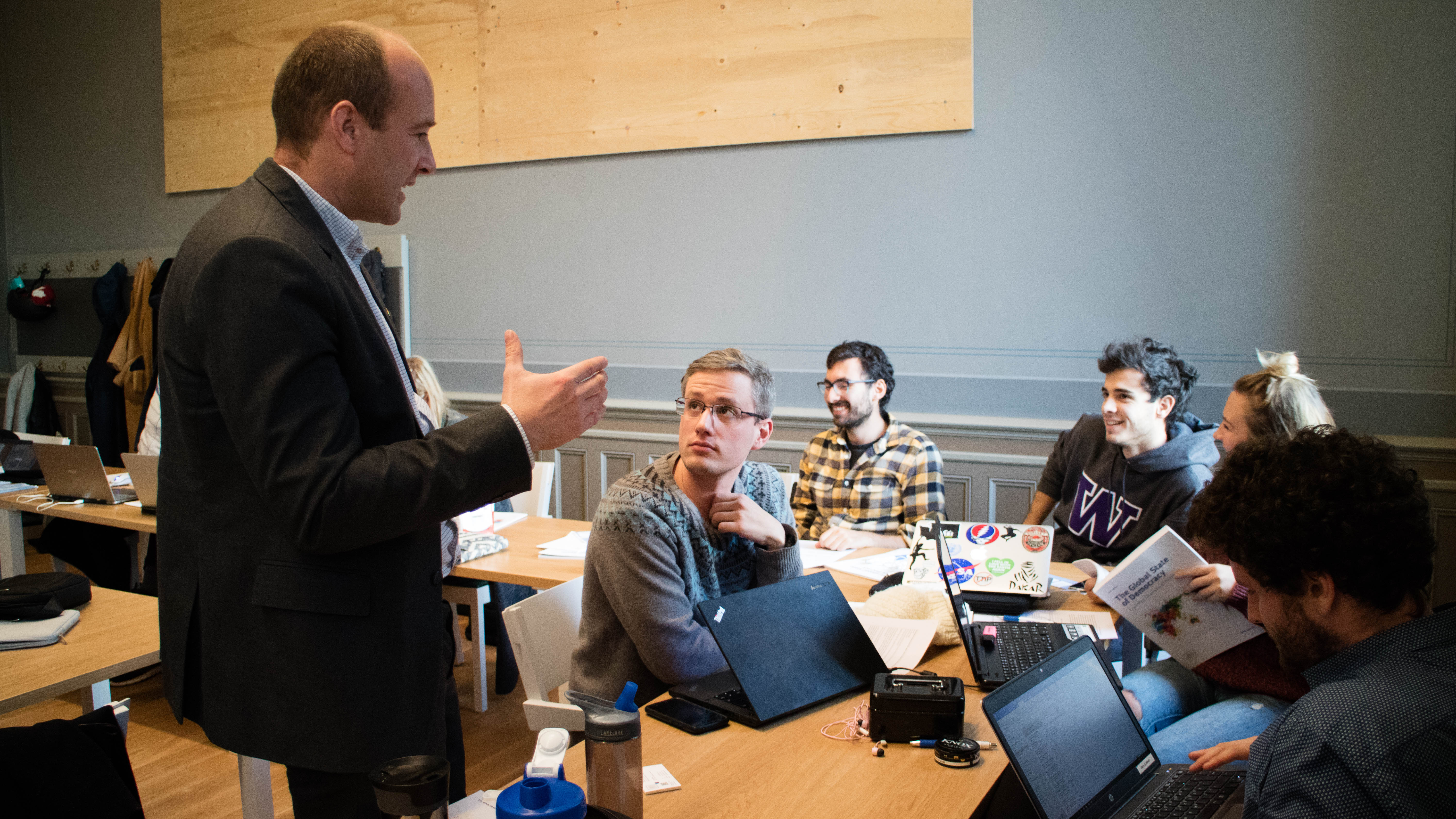 Professor Svend-Erik Skaaning discussing the GSoD Indicies with students at Uppsala University, 16 November. Image: International IDEA
On 16 November, International IDEA, in collaboration with Uppsala University, the Department of Peace and Conflict Research and student organizaiton Pax et Bellum, launched The Global State of Democracy: Exploring Democracy's Resilience publication along with the accompanying Global State of Democracy Indices (GSoD Indices).
In his opening remarks, Professor Håvard Hågre highlighted the importance of assessing democracy and its links to conflict-related research. "That democracy leads to inter-state peace is well-established", he explained, before detailing other correlations between and determinants of peace and democracy.
GSoD Indices expert, Professor Svend-Erik Skaaning (Aarhus University), then presented the rationale, design and construction of the Indices, which include data for 155 independent countries from 1975–2015 across a broad range of attributes of democracy. Skanning explained how the Indices add value to existing democracy measurements, allowing users to depict democratic trends over time in countries, regions and globally. It has been carefully designed to make data accessible to a wide range of users, including students.
Skaaning also shared the key findings of the GSoD publication, which shows that overall, democracy has made considerable progress since 1975—and the world continues to see stable levels of democracy across the majority of attributes measured.
Exploring the GSoD Indices
The afternoon was spent introducing master's level students from the Conflict and Research Programme to the Indices database in an IDEAthon (an interactive innovation lab). During the IDEAthon, led by International IDEA, Skaaning and Claudiu Tufis (Data Manager for the GSOD Indices from the University of Bucharest), students explored the database and discussed the technicalities of how to measure democracy.
After digging into various regional, global and country-level democratic trends, students reflected that the mainstream media's accounts of "democratic decline" appear exaggerated in light of the Indices data.
One student suggested that this might be the result of the Indices' broad definition of democracy, which captures more than just elections. The Indices measure five key attributes—representative government, fundamental rights, checks on government, impartial administration and participatory engagement—using 98 empirical indicators from 14 data sources.
While it is tempting to want a single country-level score of democracy, one student reflected, measuring the individual attributes over time and across regions provides a deeper and more comprehensive picture of the state of democracy.
Looking forward
The Global State of Democracy publication and GSoD Indices will be valuable tools for students at the Department of Peace and Conflict Research, including Chapter 8: Inclusive peacebuilding in conflict-affected states, which analyses the important relationship between democratization and peacebuilding.
This event was part of a series of IDEAthons and high-level launches around the world (see all upcoming events). At the official launch in Stockholm on 15 November, Indices experts Svend-Erik Skaaning and Claudiu Tufis presented the Indices methodology (view the live stream).
Access the GSoD Indices and a digital version of the GSoD publication online for free.