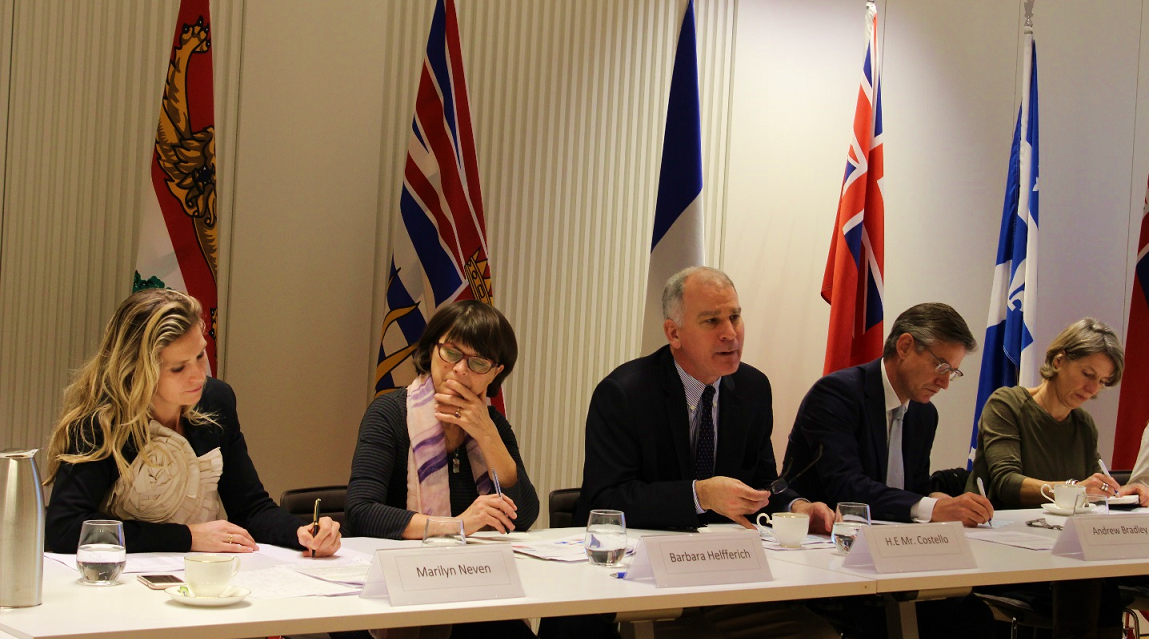 Image credit: Katja Sergejeff, Office of International IDEA to the European Union
The Office of International IDEA to the European Union organized on 7 December 2018, a Roundtable discussion on "Political empowerment of women through ICTs", with the support of the Canadian Mission to the European Union. The aim of the event was to share experiences and views on the availability and use of ICT (Information and Communications Technology) tools to advance the political empowerment of women. Challenges related to online and digital activities in the field, opportunities for the gendering of ICT tools and the role of social media and digital service as regards the fostering of women's access to and effective political leadership were among the discussed aspects.
"We can make real progress on women's empowerment and equal rights when it becomes the centerpiece of all our work."
H.E. Daniel Costello, Canadian Ambassador to the European Union, referring to the Canadian feminist international agenda
After welcoming participants, H.E. Mr Daniel Costello (Ambassador of Canada to the European Union) provided some highlights of Canada's feminist international policy[1], and the need for increased efforts towards equal representation, gender budgeting, and addressing online violence against women. Andrew Bradley (Director and Head of the Office of International IDEA to the EU) referred to challenges to democracy impacting women and minorities, and to the Sustainable Development Goals (SDGs) as they provide guidance to promote inclusive democracy. He also raised the need for supporting policies to address the so-called 'digital divide' affecting women, and especially women in minority groups.
Barbara Hellfrich (European Consultant on Gender and Environment at GenderFivePlus) introduced the topic by presenting a Roundtable paper on the availability of ICTs for political empowerment of women, their use by political parties and the potential role of ICTs for stakeholders working on related objectives. The paper was commissioned with GenderFivePlus by the Office of International IDEA to the EU, in the framework of its programme on equality and the implementation of the Agenda 2030 for Sustainable Development. Research in the framework of the project showed that while a large number of gender-neutral ICT tools are available and used for political campaigning and outreach to supporters and citizens, few of them have a gender dimension. It also revealed that strategies for the political empowerment of women, however, rarely target ICTs beyond a conventional use, due to a lack of resources, expertise or training. The study included several cases of successful political campaigns supported by ICT tools, to inspire actions and initiatives serving women's political empowerment and draw a set of recommendations.
Ingeborg Van der Stighelen (Amazone Crossroads of Gender Equality) highlighted the historic role of the Belgian Vrouwenraad in lifting formal barriers for women on politics, and a recent major focus on lifting informal barriers. She explained that ICT tools could help to create awareness of important actors, to design and implement effective campaigns, and to reach the grassroots levels. Stakeholder organizations however often lack capacity to search for adequate supporting ICTs. Van der Stighelen therefore called on stakeholders to support ICT strategies and training.
Juliana Santos Wahlgren (Senior Advocacy and Network Development Officer from ENAR European Network against Racism) pointed at the opportunities that ICTs can offer to connect with all minorities and shared a few examples of impactful online campaigns. She held that online violence against women should be a priority of policymakers, as women receive threatening or abusive email messages far more often than men. ENAR developed organizational approaches to gender alignment and intersectionality, to engage all groups of women and address multiple discriminations of women.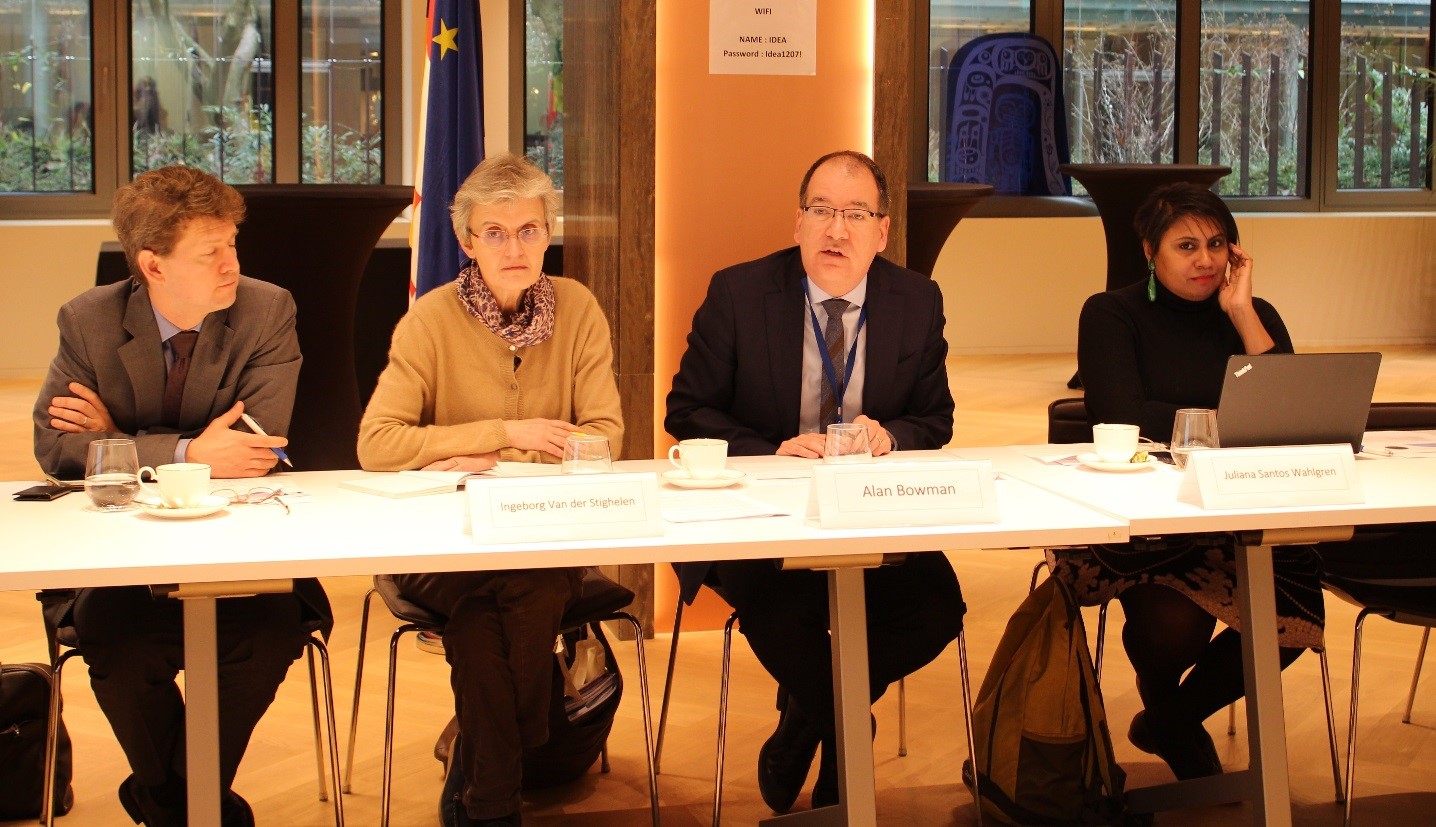 The roundtable discussion was moderated by Alan Bowman (Minister-Counsellor and Deputy Head of Canadian Mission to the European Union), who pointed at the need for gender-budgeting and invited participants to link the recommendations with various policy levels and to reflect on possible ways to address the challenges of online violence against women, such as the development of efficient algorithms and codes of conduct.
Participants emphasized the importance of education to address gender stereotypes and foster equal political participation, and of involving boys and men more actively in gender equality objectives. There was unanimous support for increased workshops on ICT threats and opportunities, online toolkits and trainings. ICTs were also described as playing an essential role in relaying, challenging and reshaping perceptions of women in politics. Some examples of ICT driven initiatives were mentioned, among which the EU-supported Get-Up initiative of ALDA (European Association for Local Democracy) and partners, focused on delivering Gender Equality Training to overcome unfair discrimination practices in education and labour market, and including an online game tool. Participants called on political leadership to take a more active and prominent role on gender equality, including female leaders. It was mentioned that setbacks can sometimes galvanize a new civil society engagement, like the election of the current President of the United States triggered reactions worldwide and impactful online campaigns fostering women's rights. It was also discussed that at the EU level, many steps still need to be taken to achieve equal participation and representation of women. Many participants agreed on the need to increase the number of elected women in the European Parliament. Political parties were seen as "gatekeepers" with a key role in nurturing and ensuring women's political empowerment. In this light, ALDE Party launched the European Women's Academy some years ago focusing on training of female candidates.
Participants concluded that more research is needed on gendering ICTs in support of enhanced political participation of women. More research would be useful to reveal the ICT needs of women candidates and women's organizations, and inspire the development of ICTs in support of a better access of women to political leadership. The use of ICT tools could also help to overcome cultural and social barriers, and reach groups that have never been involved with gender equality before. Decision-makers and service providers should combat online violence against women effectively and media reporting should be more gender bias free.
The Roundtable is derived from the programmatic activity on "Equality as a Vector for Accountable Governance" of the Office of International IDEA to the European Union, building on past projects related to the implementation of the Agenda 2030 for Sustainable Development. The Office would like to acknowledge the Canadian Mission to the EU and Ms Nadine Thwaites (Political Officer, Canadian Mission to the EU) for the support and input to the programme and report.