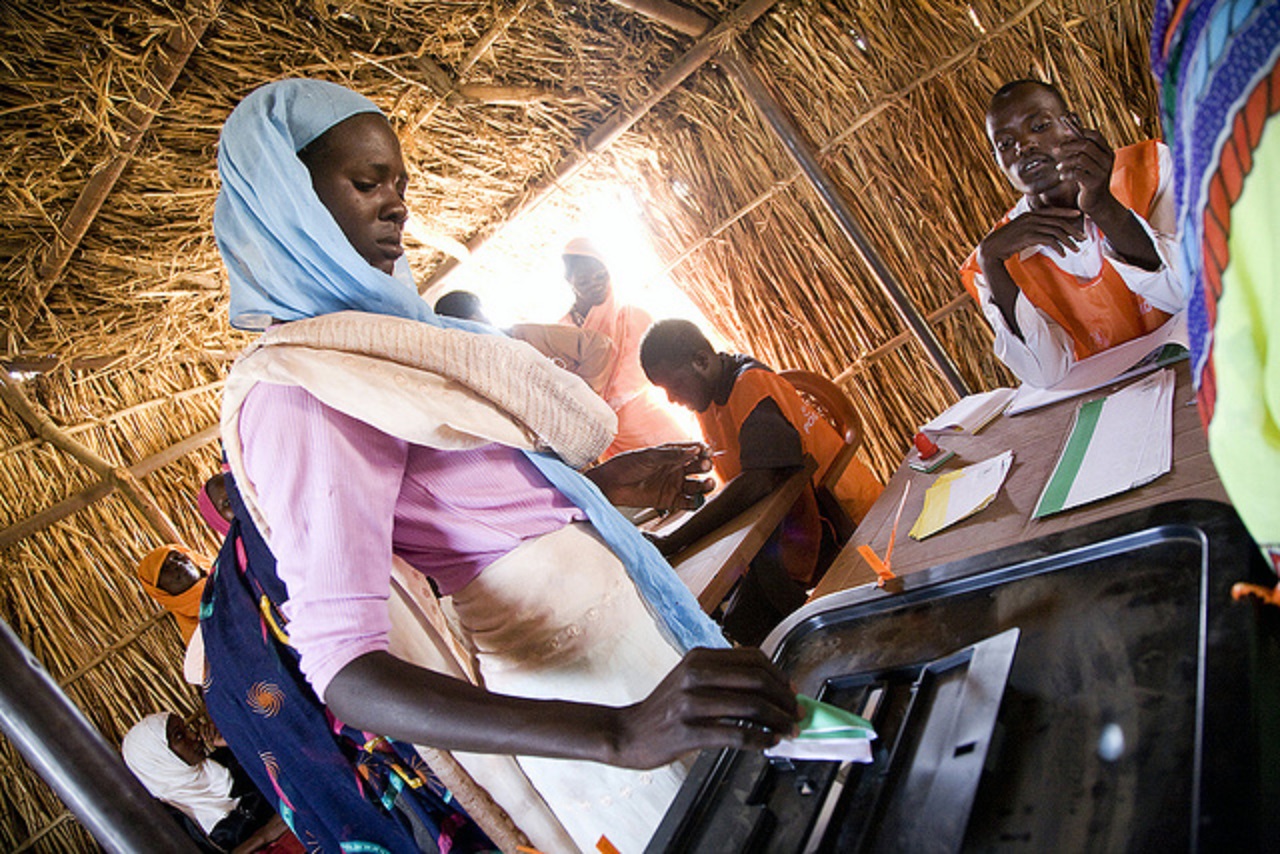 North Darfur Woman Votes in Sudanese National Elections. Image: United Nations
07 November 2017 | STOCKHOLM—The International Institute for Democracy and Electoral Assistance (International IDEA) in partnership with L'Association Béninoise de Droit Constitutionnel and l'Organisation Internationale de la Francophonie, will host a Regional Policy Dialogue with the theme, "Three Decades of Democratic Transition in Africa: What are the Dividends for the Citizens?" from 10-12 November 2017 in Cotonou, Benin.
Analyses of democratic process in Africa over the past 30 years represent a paradox. Some point to the huge gains that have been made in terms of free and fair elections, peaceful political changes and increased political and civil rights. Other analysts point to ongoing democratic deficits such as voter intimidation and violence and the manipulation of constitutions. In either case, the discussion is often focused on the procedural and formal aspects of democracy, rather than substantial democracy, that is the benefits of democracy to citizens.
"In organizing this high-level dialogue, our strategic objective is to underscore the inseparable connection between democracy and development," said Adebayo Olukoshi, regional director of International IDEA's Africa and West Asia programme. "In doing so, we hope those countries that have made important advancements in strengthening democratic processes and institutions over the past 30 years will feel encouraged to anchor future progress on a concerted investment in social and economic dividends which citizens expect and deserve. Africa and West Asia are in urgent need of democracies that are resilient and deliver development to the citizenry."
The Dialogue will bring together nearly 150 participants, including policymakers, civil society representatives, academia and policy experts, to assess the benefits of democratisation for the citizens of the African countries. Panel discussions will focus on the following topics, in the context of the past three decades:
How to reconciliate procedural/ formal and substantive/ real democracy
The issue of socio-economic and cultural rights in African democratization process
Access to public service and public service delivery in African countries
Inclusion, management of diversity and equity in African countries
State capacities, public policies and democratic dividends in African countries
The role of private sector in the creation of a democracy that delivers for African citizens
Democratic dividends in fragile and vulnerable environments
By exchanging knowledge and experiences, the Dialogue will contribute to a more nuanced understanding of the state of democracy in Africa and allow participants to develop a plan for future action.
Following the Dialogue, participants will join an IDEAthon as an introduction to the upcoming The Global State of Democracy publication. The IDEAthon is a problem-solving workshop to harness their collective knowledge to brainstorm innovative solutions to existing challenges.
See the event programme.
Dialogue politique en Afrique pour explorer les dividendes pour les citoyens après 30 années de transitions démocratiques
07 novembre 2017 | STOCKHOLM—L'Institut International pour la Démocratie et l'Assistance Électorale (International IDEA), en partenariat avec l'Association Béninoise de Droit Constitutionnel et l'Organisation Internationale de la Francophonie, organisera un Dialogue politique régional sur le thème « Trois Décennies de Transition Démocratique en Afrique: Quels sont les dividendes pour les citoyens ? », du 10 au 12 novembre 2017 à Cotonou, au Bénin.
Les analyses du processus démocratique en Afrique au cours des 30 dernières années constituent un paradoxe. Certaines soulignent les progrès considérables réalisés en termes d'élections libres et démocratiques, de changements politiques pacifiques et de renforcement des droits civils et politiques. D'autres analystes mettent en exergue les déficits démocratiques actuels tels que l'intimidation et la violence des électeurs et la manipulation des constitutions. Dans l'un ou l'autre cas, la discussion est souvent axée sur les aspects procéduraux et formels de la démocratie, plutôt que sur une démocratie substantielle, c'est-à-dire sur les avantages de la démocratie pour les citoyens.
« En organisant ce dialogue de haut niveau, notre objectif stratégique est de souligner le lien indissoluble entre la démocratie et le développement », a déclaré Adebayo Olukoshi, Directeur régional du programme Afrique et Asie de l'Ouest d'International IDEA. « Ce faisant, nous espérons que les pays ayant réalisé d'importants progrès dans le renforcement des processus et institutions démocratiques au cours des 30 dernières années seront encouragés à intégrer les progrès futurs dans un investissement concerté dans les dividendes sociaux et économiques que les citoyens attendent et méritent. L'Afrique et l'Asie de l'Ouest ont un besoin urgent de démocraties résilientes qui assurent le développement aux citoyens. »
Le Dialogue réunira près de 150 participants, y compris des décideurs politiques, des représentants de la société civile, des universitaires et des experts en politique, pour procéder à l'évaluation des avantages de la démocratisation pour les citoyens des pays africains. Les discussions de panel porteront sur les sujets suivants, dans le contexte des trois dernières décennies :
Comment réconcilier la démocratie procédurale/formelle et véritable/réelle
La question des droits socioéconomiques et culturels dans le processus de démocratisation en Afrique
Accès aux services publics et fourniture des services publics dans les pays africains
Inclusion, Gestion de la Diversité et Équité dans les Pays africains
Capacités de l'État, Politiques publiques et Dividendes démocratiques dans les pays africains
Le Rôle du Secteur privé dans la création d'une démocratie en faveur des citoyens africains
Les Dividendes démocratiques dans les environnements fragiles et vulnérables
De par l'échange de connaissances et d'expériences, le Dialogue contribuera à une compréhension plus nuancée de l'état de la démocratie en Afrique et permettra aux participants d'élaborer un plan d'action pour l'avenir.
À la suite du Dialogue, les participants se joindront à un IDEAthon en guise d'introduction à la prochaine publication intitulée The Global State of Democracy (L'état des lieux de la démocratie dans le monde). L'IDEAthon est un atelier de résolution de problèmes pour exploiter leurs connaissances collectives afin de trouver des solutions innovantes aux défis existants.
Voir notre programme de l'événement.