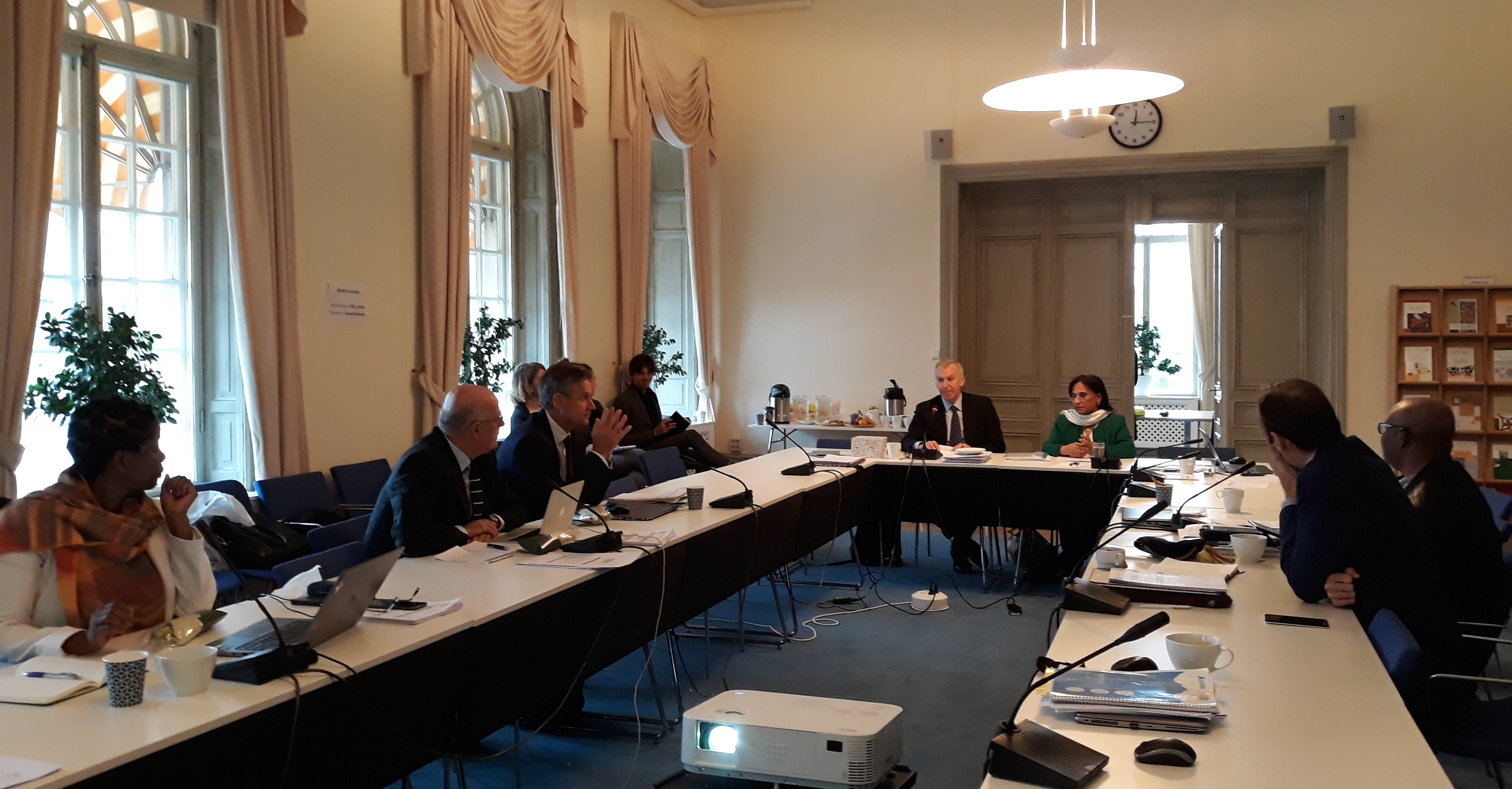 Informal discussion with Amina Bouayach, the Ambassador of Morocco to Sweden. Photo credit: International IDEA
On Tuesday, 10 October 2017, International IDEA hosted at its headquarters in Stockholm, an informal discussion with the Ambassador of the Kingdom of Morocco to Sweden, Amina Bouayach, to reflect on the process towards democratization that her country has made in recent years.
After a short introduction by the Secretary-General of International IDEA, Yves Leterme, who provided an overview of Bouayach's rich career in, and deep commitment to, the fields of human rights and democracy, the Moroccan Ambassador provided the audience with a comprehensive account of Morocco's history of governance and its process of democratization.
Acknowledging Morocco´s painful history of human rights violations, Bouayach presented to the public the efforts her country has recently made towards democratization. Central in these efforts, she noted, has been the 2011 reform of the Moroccan Constitution, which now includes a number of articles that touch on human rights. However, the Ambassador also acknowledged that not everything has been solved, and Morocco still has a long way to go, as the country faces ongoing structural and socio-economic challenges, such as inter-regional and gender inequalities, unemployment, health coverage, migration and terrorism, as well as remaining political challenges.
Following the presentation, a 'Q&A' session was held in which Bouayach answered a number of questions about democratic challenges related to the Western Sahara, migration, gender inequality and protest movements in Morocco. Subsequently, Adebayo Olukoshi, Director for Africa and West Asia for International IDEA, provided concluding remarks on the state of democracy in Morocco and International IDEA's recent work in the region, after which Ambassador Bouayach formally closed the session, welcoming the opportunity to work further with International IDEA on democratic consolidation in the future.