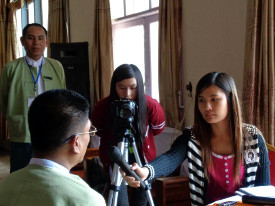 As part of the STEP democracy programme, International IDEA in Myanmar has been supporting the Union Election Commission (UEC) with trainings on the design and communication of key messages to the public through the media. Members of no less than 80 electoral sub-commissions, at regional, district and township levels have been trained by IDEA between September and October 2015.
This could appear to be an anecdotal activity in the preparation of long awaited general elections scheduled on 8th November 2015. But it actually makes much sense in the context of the political transition that was triggered in 2010. A glimpse at the media background, but also at the UEC's cautious perspectives on media will shed some light on their tortuous relations, resulting in the current challenges. These trainings go beyond mere public relations support as they contribute to the efforts of IDEA to improve transparency of the electoral process and to rebuild trust among key stakeholders.
Many participants have expressed appreciation for the trainings.
"I now feel more confident to handle interviews. I also understand better how to be more transparent with the media which is good practice for democracy," said one official from a sub-commission in Yangon Region.
For half a century, publishing and printing houses were subject to strict censorship in Myanmar, under a law passed in 1962. As part of an impressive set of political and legal framework reforms, press censorship was lifted in 2012 and private media outlets have since been mushrooming in the country. Nonetheless, legacies of the past do not fade away overnight. As a result of these troubled years, the media tend to maintain a fear tainted with resentment in their approach to government officials or army representatives.
A new generation of journalists, who have not had access to professional training and who are used to working in secret, is emerging. But even if they enjoy a greater freedom of expression than their older colleagues, Myanmar journalists still have to face a number of challenges. When it comes to the upcoming elections, the first of their challenges is to access information, be it about civic education or about electoral processes. A majority of these journalists who grew up under the junta are now committed to depict their version of the political developments. A version that largely differs from that of the Election Commission that, in return, tends to consider them as overly partisan.
It is fair to say that former elections (in 1990, 2010 and 2012) were mainly covered by state-backed media. But this time, the private media have gained a lot of influence in the Myanmar society. They are closely following – with the most possible critical eye – the preparation of the long-awaited elections.
They need to be explained electoral processes. As acknowledged during the training opening speech given by the Mandalay Region Election Commission Chairman.
"It is true that our commission has a limited knowledge of the media. […] There is no secret, we are transparent about the electoral processes. […] This is not like in 2010, there are many more media and we need to be more open."
Looking through the UEC lens, private media has been demanding and unpredictable as well as uncontrollable stakeholders to deal with. As one participant explained.
"I want the media in my country to become impartial. They should understand the real problems that the Election Commission is currently facing with voter list. They should approach the EC with more positive views and trust that the information we want to share, as true and valid information."
In order to support the UEC to improve its capacity to share electoral information to the media, IDEA trainings included components such as the identification of hot topics, the design of key messages, but also the theory and practice of interviews skills. Among the feedback provided by training participants, the training was useful to build the confidence of the sub-commission members, in order to foster more transparency throughout the electoral period