Africa has seen significant democratic development, economic growth and an overall decline in conflict in recent times. For example, there is an increasing number of countries that have recently managed to hold elections without violence, including Benin, Botswana, Ghana, Sierra Leone and South Africa.
However, elections in other African countries are still affected by election-related violence at different stages in the electoral cycle, which in turn threatens the development and consolidation of democracy. This is in spite of the African Union (AU) having articulated significant principles, structures, and instruments to guide the conduct of elections and democratization in Africa since the mid-1990s.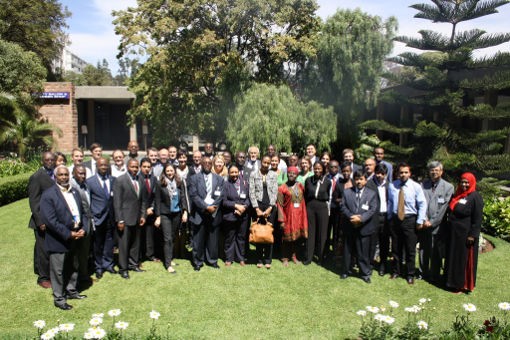 Understanding the risks of election related violence is an important part of supporting democracy and protecting the electoral process. With this in mind, a workshop on IDEA's Electoral Risk Management Tool was held in Addis Ababa on 19-21 November 2012. The workshop was organized by International IDEA in partnership with the African Union Commission (AUC) Department of Political Affairs.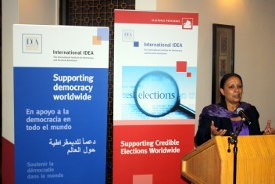 The Tool is a software application designed to generate understanding of the risks related to elections. It helps to determine how to best manage those risks, empowering those who have immediate responsibility or a specific interest in preventing and mitigating election-related violence.
The workshop brought together approximately 58 participants from Electoral Management Bodies (EMBs), civil society organizations and international and African organizations to share experiences, particularly of those countries that already piloted the Tool (Bosnia & Herzegovina, Colombia, Kenya and Sri Lanka). Discussions focused on the content, objectives and its application. Importantly, IDEA underscored the importance of collecting data on cases of electoral violence in a gender- disaggregated manner in order to ensure that when applied, the Tool enhances the understanding about gender-based dimensions of electoral violence and conflict.
"The Tool can be customized and is flexible enough to allow users to focus on what is relevant in a given country and a particular electoral context,"said IDEA's Erik Asplund at the workshop.
The AUC was represented at the workshop by the Acting Director of the Department of Political Affairs Olabisi Dar, and the Head of the Electoral Assistance Unit Shumbana Karume. Both stated that it was extremely useful to share experiences about the strengths and challenges of implementing the Tool which is both timely and highly relevant in filling a gap in the risk management of elections in Africa.
Provision of technical and other support in implementing the Electoral Risk Management Tool in selected AU Member State pilot countries will be a key activity in 2013 for the AUC's partnership with International IDEA. Strengthening the AUC's capacities to provide support for the conduct of elections is an important component of IDEA's Joint Activity Plan (JAP) with the AUC – a programme that was initiated in 2007 between the two organizations to bolster the ratification and implementation of the provisions of the African Charter on Democracy, Elections and Governance.