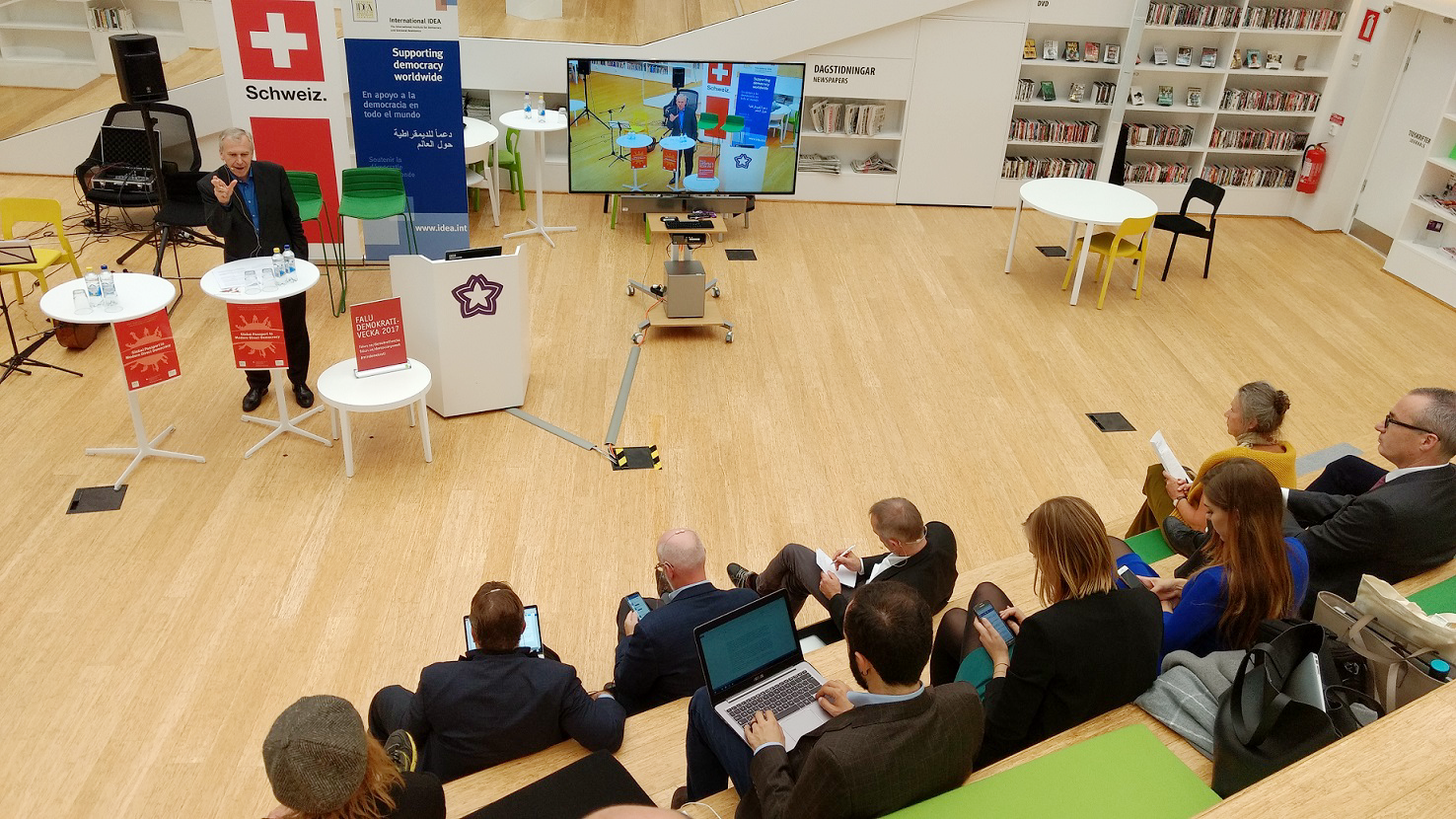 Secretary-General Yves Leterme during his visit to Falun on 15 September 2017. Photo credit: International IDEA
On 15 September 2017, International IDEA´s Secretary-General, Mr Yves Leterme, visited the Swedish city of Falun on the occasion of the International Day of Democracy, where he participated in a panel discussion on the topic of strengthening democracy, in the framework of this year´s 'Falun Democracy Week'.
Falun, a city of around 60,000 people situated 250 kilometres north of the Swedish capital of Stockholm, has in recent years been at the forefront of developing innovative approaches to active citizenship and participatory democracy. Rebranding itself as Falun Democratic City, the city in 2010 established a Democracy Commission, devoted to providing the city's residents with better information and supporting them in their involvement in the political process. Within that framework, the city organized, from 9-15 September 2017, 'Falun Democracy Week', a full thematic week about democratic rights and responsibilities as active citizens.
Attending the final day of this year´s Democracy Week, Secretary-General Yves Leterme participated in a session entitled "Global participation – how can we make the world more democratic?" moderated by Bruno Kaufman, Chairman of the city´s Democracy Commission. He was joined by Jutta Gutzkow, Head of the Good Governance Division at the Council of Europe, Joe Mathews of Zócalo Public Square (USA) and Dane Waters, founder of the Initiative and Referendum Institute in Washington, D.C.
During his intervention, the Secretary-General Leterme focused on "The state of people power worldwide and democratic resilience". Setting out the opportunities and challenges to democracy identified by International IDEA, he stressed that despite the many obstacles ahead, and notwithstanding increasing pessimism about the state of democracy worldwide, democracy globally has proven to be resilient. Over the past decades, democracy has made significant progress, and this needs to be recognized.
However, the Secretary-General also pointed out that the challenges democracy faces are real and pressing, and have to be answered. Among those, he singled out in particular the importance of participation for democracy. Traditional democratic institutions such as political parties, which have long guaranteed this participation, he noted, face a crisis, as citizens are increasingly disengaging from politics out of distrust and discontent—an evolution that threatens the very essence of democracy, as it undermines citizens´ participation in the political process.
In order to guarantee the continued political engagement of the electorate and to enable citizens to engage in public affairs in between elections, the Secretary-General encouraged the exploration of new forms of citizen participation. Experiments at the local level, such as in Falun, the Secretary-General noted, can guide the way in this regard. "Democracy," Leterme stressed, "cannot be taken for granted, and further measures to safeguard democracy through innovative, flexible and adaptive approaches are urgently required of policymakers and citizens."
Following the session, International IDEA´s new guide to active citizenship and participatory democracy, the "Global Passport to Modern Direct Democracy", was launched. Inspired by the Democracy Passport developed in the city of Falun, the "Global Passport", which was published by International IDEA, written by Bruno Kaufmann and funded by the Swiss government, provides practical information for citizens as well local governments on the available mechanisms for citizens to more actively engage in public decision-making. It supplies basic information about the tools of modern direct democracy, and in which contexts they have been tried and used. As such, the new publication builds on and complements International IDEA´s 2008 guide on Direct Democracy: the International IDEA Handbook, and charts a way forward in using new forms of democracy to complement more traditional forms, in a quest to, as the Global Passport notes, "make representatives more representative" and to deepen democracy.