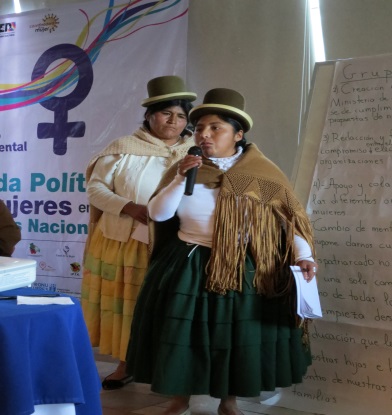 The elections of 12 October 2014, have reconfigured the conformation of the Bolivian parliament, in which women reached 51 per cent representation in the Legislative Assembly, placing the country in the second place worldwide in the scope of parity, preceded only by Rwanda with 64 per cent and followed by Andorra with 50.0 per cent, Cuba with 49 per cent and Seychelles with 44 per cent.
The approval of the Political Constitution of Bolivia (2009), concurrent laws along with an extensive and sustained mobilization of different women's movements, gave way to achieve the recognition and application of the principles of parity and alternation to strengthen a more equitable participation between women and men. The election of 82 women out of 166 assembly members is the highest in Bolivian history. After 32 years of democracy, in 1982 the country went from having 2 per cent representatives in the legislature, to reach parity in the political sphere of the national legislature.
Democracy has been strengthened with the presence of new faces: new elected officials express the representation of large and diverse sectors of the country; peasants, indigenous, producers, neighborhood leaders, academics. These groups assume the challenge of contributing to developing a more just and equitable society, the fight against gender-based violence and impunity for persistent violation of the rights of women, to fight against all forms of oppression, discrimination and exclusion.