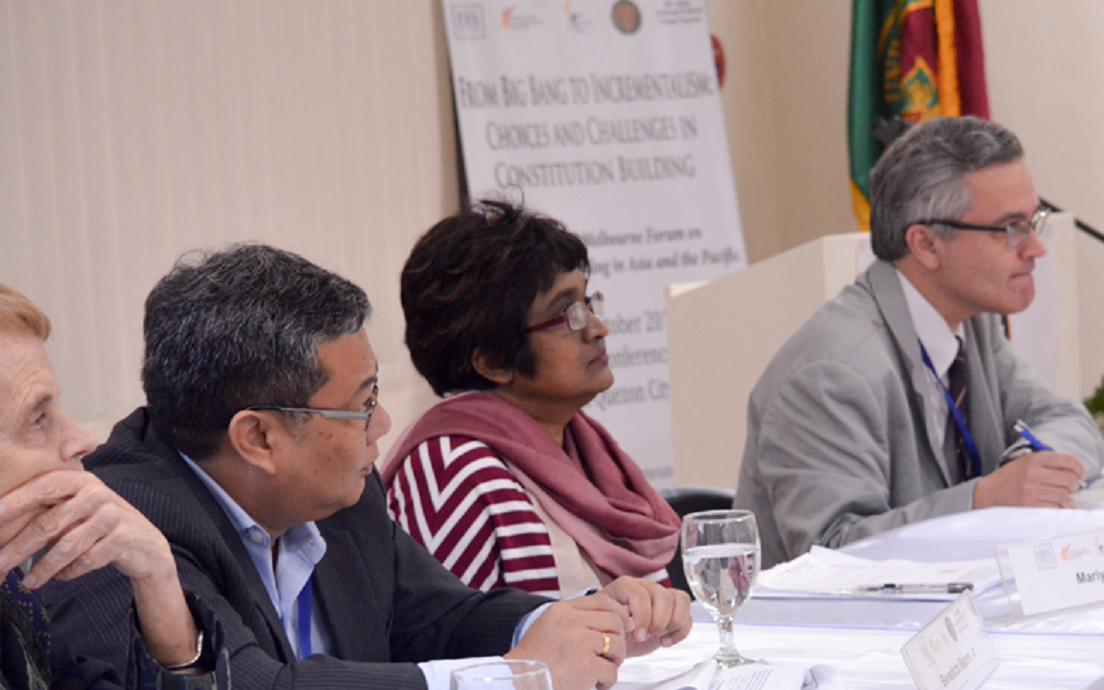 Participants from around the Asia Pacific region discuss 2017 Melbourne Forum's theme, "From Big Bang to Incrementalism: Choices and Challenges in Constitution Building", in the Philippines. Photo credit: DILIMAN
The Melbourne Forum on Constitution Building is organized jointly by International IDEA and the Constitution Transformation Network at Melbourne Law School. The Melbourne Forum is an annual event that brings together practitioners and scholars from across the region to explore constitution-building themes of global importance from the perspective of states in the Asia Pacific.
The topic of the 2018 Melbourne Forum is "Implications of Culture for Constitution-Building" and the event will take place in Colombo, Sri Lanka, on 15-16 October 2018.
Melbourne Forum 2018 is designed to explore the implications of culture for the making and implementation of constitutional change, in processes collectively conceived as 'constitution-building'. Culture affects constitutional arrangements in all parts of the world. The Melbourne Forum will explore these issues with primary reference to the countries of Asia and the Pacific, as a vast and diverse region of the world that represents a substantial component of global constitutional experience. The Asia‐Pacific region offers a particularly useful context for this purpose. Asia and the Pacific are home to an extraordinary variety of cultures. In many cases, aspects of culture have deep historical roots; in at least some, culture is or has been implicated in conflict; everywhere, it is evolving. Constitution building has been a familiar phenomenon across the Asia‐Pacific in recent decades. The Forum will deepen understanding of how culture interacts with constitution-building across Asia and the Pacific, in ways that throw light on the issues presented by culture in this important region and that inform global practice more generally. It will also throw light on the additional challenges presented by cultural considerations for the implementation of new constitutional arrangements, which almost invariably requires cultural change of some kind.
Attendance to the Melbourne Forum event is by invitation only. However, you can access reports and information at the website.
Partner Organizations/collaborators:
Constitution Transformation Network at Melbourne Law School and the Center for Policy Alternatives (Sri Lanka)
RSVP/Contacts:
The Melbourne Forum is an invitation-only event, but please contact Amanda Cats-Baril, Constitution-building Advisor for Asia and the Pacific: a.cats-baril@idea.int
Useful Links / Information: