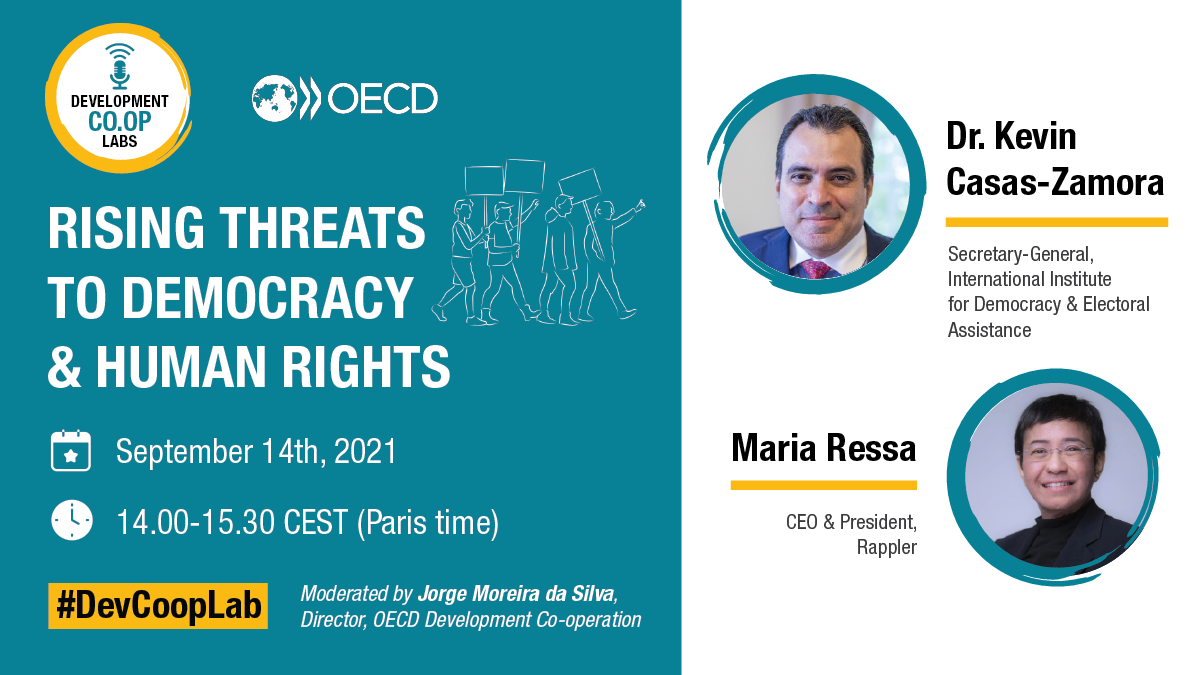 Join Jorge Moreira da Silva, Director, OECD Development Co-operation, for a discussion on rising threats to democracy and human rights with Dr Kevin Casas-Zamora and the journalist, Maria Ressa.
Discussion topics
Democracy general trends around the world, based on International IDEA´s GSoD Indices.
Driving forces of democracy´s changes
Multilateralism and democracy
PARTICIPANTS
DR KEVIN CASAS-ZAMORA

Dr Kevin Casas-Zamora is the Secretary-General of the International Institute for Democracy and Electoral Assistance (International IDEA) and a Senior Fellow at the Inter-American Dialogue, a Washington, DC-based policy research centre. Previously, he was Costa Rica's Second Vice President and Minister of National Planning; Secretary for Political Affairs at the Organization of American States; Senior Fellow at the Brookings Institution; and National Coordinator of the United Nations Development Program's Human Development Report. He holds a Law degree from the University of Costa Rica, a Masters in Government from the University of Essex, and a PhD in Political Science from the University of Oxford. He has authored several studies on campaign finance, elections, democratization, citizen security and civil-military relations in Latin America.

MARIA RESSA

A journalist in Asia for 35 years, Maria Ressa co-founded Rappler, which is the subject of the 2020 Sundance Film Festival documentary, A Thousand Cuts. For her courage and work on disinformation and 'fake news,' Maria was named Time Magazine's 2018 Person of the Year, was among its 100 Most Influential People of 2019, and has also been named one of Time's Most Influential Women of the Century. She was also part of BBC's 100 most inspiring and influential women of 2019 and Prospect magazine's world's top 50 thinkers. In 2020, she received the Journalist of the Year award, the John Aubuchon Press Freedom Award, the Most Resilient Journalist Award, the Tucholsky Prize, the Truth to Power Award, and the Four Freedoms Award.
Moderator: Jorge Moreira da Silva, Director of the OECD Development Co-operation Directorate cordially invites you to a Development CO.OP LAB
Partner Organizations/collaborators:
OECD Development Co-operation
RSVP/Contacts:
Please feel free to contact Erin.RENNERCORDELL@oecd.org with any inquiries.
*Individuals noted on any UN sanctions list (United Nations Security Council Consolidated List) or European Union sanctions list are not allowed to participate in any International IDEA events.
Useful Links / Information: