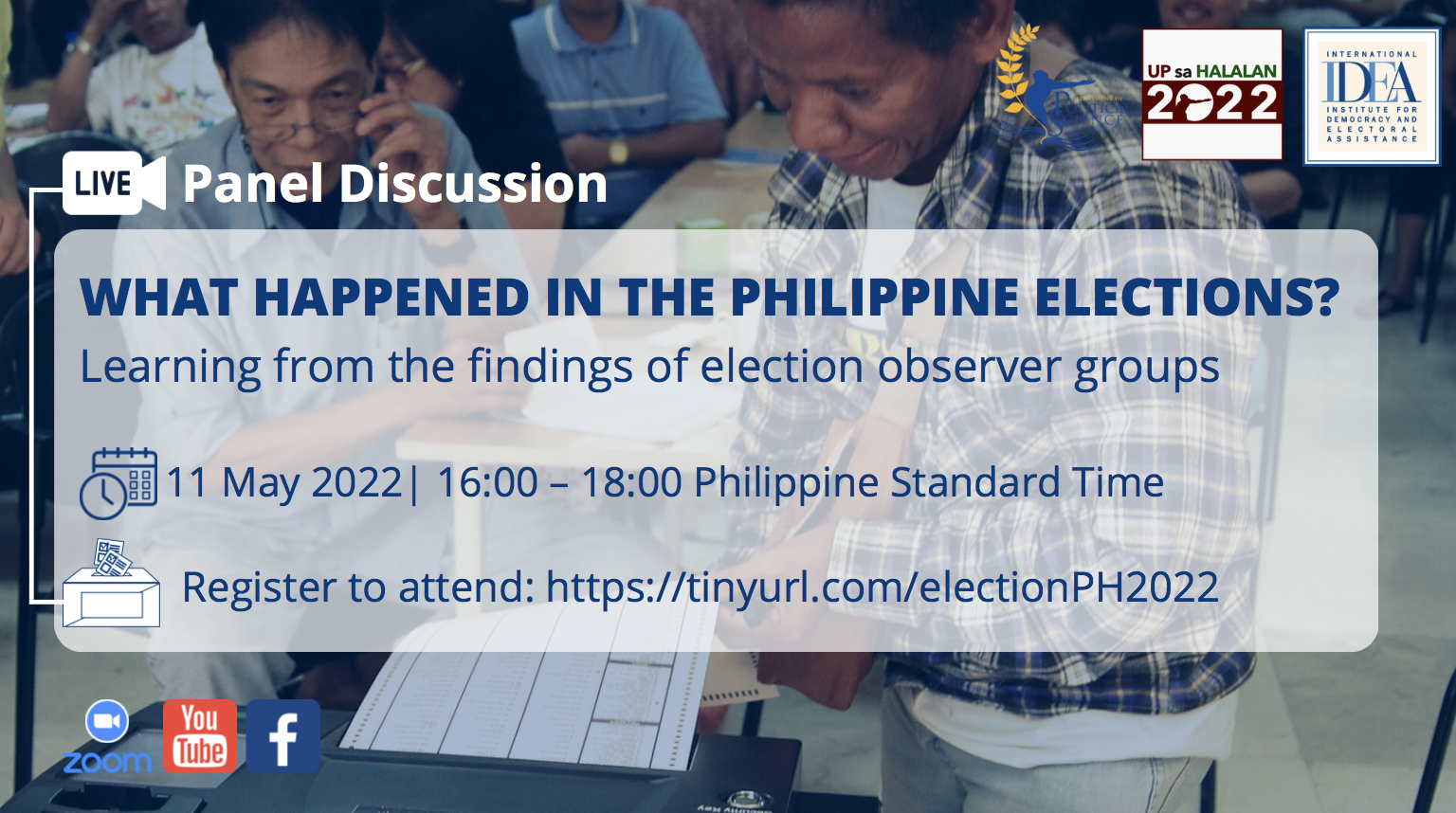 The International Institute for Democracy and Electoral Assistance (International IDEA) and the University of the Philippines Department of Political Science invite you to the panel discussion "What happened in the Philippines election?" (hybrid event) on Wednesday, 11 May 2022, 16:00 - 18:00 (Philippine Standard Time) at the Dusit Thani Hotel Makati, Manila.
This live panel discussion will feature observers from:
The Asian Network for Free Elections (ANFREL)
The Carter Center
Kontra Daya
The Legal Network For Truthful Elections (LENTE)
The National Citizens' Movement for Free Elections (NAMFREL)
This two hour discussion is intended to provide accounts for both the Philippine and the global audiences on how the 9 May elections were conducted from the watchful eyes of accredited election observers on the ground. The event will also provide a rare opportunity for domestic and international observer groups to discuss with one another their observations and findings. Participants from all over the world will be provided the opportunity to ask questions to the observer groups' representatives as time allows.
This hybrid event, with participants joining live and online, will be moderated by Philippine journalist, Christian V. Esguerra.
Kindly confirm your attendence in person by sending an email to Rea Uy Epistola (rea.epistola@gmail.com) or Marielle Marcaida (mymarcaida@up.edu.ph) by 6 May, as there is limited seating due to Covid-19 restrictions.
Alternatively, you may register for online participation.
You can also view the online streaming via International IDEA's YouTube channel.
Partner Organizations/collaborators:
The University of the Philippines Department of Political Science
RSVP/Contacts:
For more information:
Billie Phillips, Communications Officer, Asia and the Pacific Region (RAP): <k.phillips@idea.int>