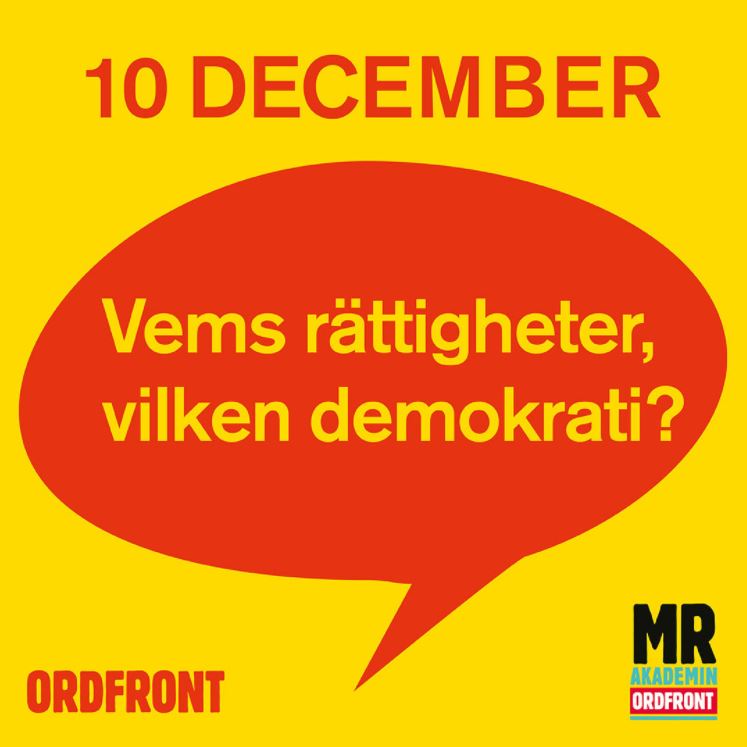 Democracy in the world is in turmoil, and in many places, democratic values ​​are increasingly being challenged. What are the challenges and opportunities? Who participates in democratic processes and what can be done to strengthen democracy?
To celebrate the United Nations Human Rights Day on 10 December, Ordfront will hold a digital conference on democracy and human rights in collaboration with the Multicultural Center. During panel discussions, we will hear about how democracy and human rights have been affected by the COVID-19 pandemic, about the role of protests during the pandemic and popular movements for democracy, and about the power of democracy in protecting the environment. During the event, a democracy prize (Ordfronts Demokratipris) will be awarded by Ordfront's Secretary-General Anna Wigenmark, to democracy activists Sara Mardini and Séan Binder for their international humanitarian efforts and for shedding light on the devastating situation of refugees and migrants in the Mediterranean, and difficult conditions in refugee camps such as Moria and Karatepe on Lesbos.
International IDEA's Head of Democracy Assessment Annika Silva-Leander, will participate in the expert panel discussing the human rights and democracy impacts of the pandemic during the session 15.30-16.45 COVID-19 and its effect on human rights and democracy.
The conference is free of charge. Register no later than 9 December at 17:00 (CET).
The working language of the conference is Swedish, with some sessions held in English.
For any queries and additional information: contact info@ordfront.se
Partner Organizations/collaborators:
Useful Links / Information: