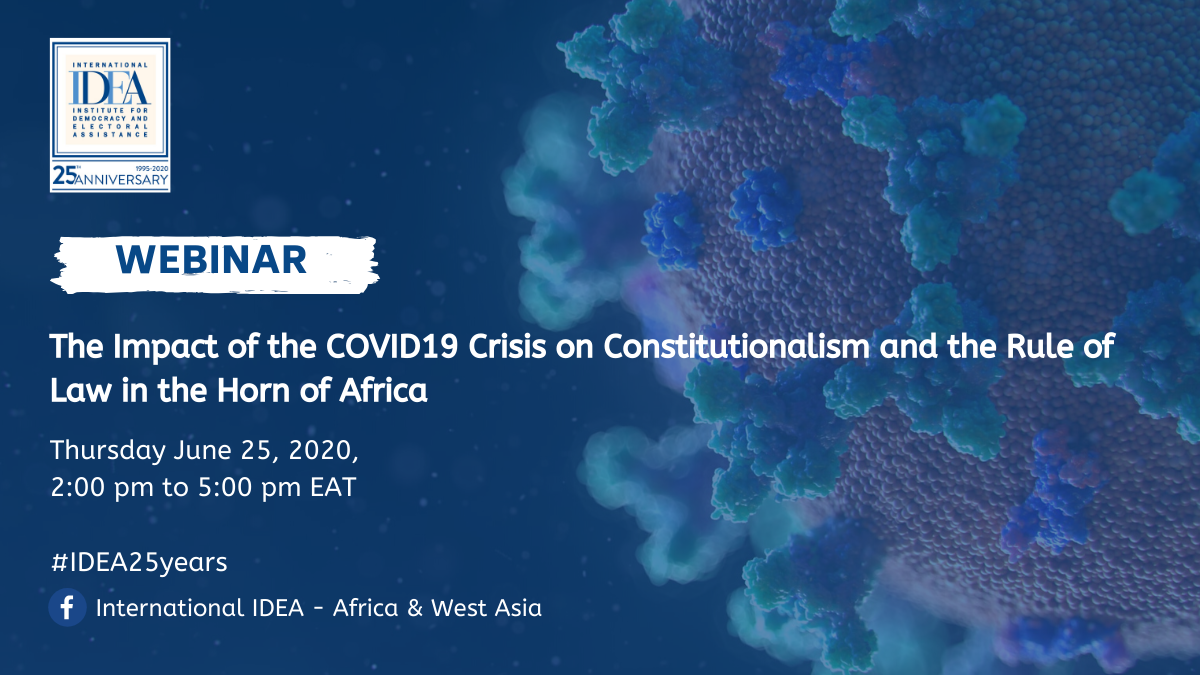 Image Credit: International IDEA
The COVID-19 pandemic has exacerbated the fragile socio-economic situation in the Horn of Africa and has compounded existing and/or created new challenges to democratisation in the region. It has also arrived at a time when four of the six countries in the region are in a protracted security and political transition process. Somalia and South Sudan have now been in a state of 'permanent' transition, while the region's two biggest countries, Ethiopia and Sudan, find themselves at a generational window of opportunity to bury the hatches of authoritarianism and securitization of politics. Understanding the impact of COVID-19 on the creation, sustenance and nurturing of an environment for building stable frameworks for constitutionalism and the rule of law in this "Region in Transition", both in the short and long term, is therefore critical.
While there have been some efforts to understand and plan against the impacts of COVID-19, they have been isolated and lacked a comprehensive approach. Against this backdrop, International IDEA is organizing, in partnership with the Department for Political Affairs of the African Union Commission and Open Society Initiative for West Africa, a 3-hour webinar around the theme: "The Impact of the COVID-19 Crisis on Constitutionalism and the Rule of Law in the Horn of Africa."
The webinar aims at, from a retrospective and prospective practical analysis, informing and inspiring decision-makers and feeding the thinking of experts, academics, researchers, journalists, citizens around this theme. It is also aimed at providing a platform for a systematic exchange of experience and learning among stakeholders in the neighbourhood. More specifically, the discussion will consider not only the challenges in terms of socio-political dynamics induced by the COVID-19 crisis as well as its impact on constitutionalism and the rule of law in the Horn of Africa, but also the opportunities it presents for their democratic development.
The webinar will be based on two premises. First, the need to go beyond a formal approach to constitutionalism and the rule of law to consider them from their ultimate goals, which are to guarantee respect for the fundamental rights and freedoms of citizens, both in normal situations but also particularly in states of stress and exception. Second, the adoption of a holistic perspective allowing to consider not only civil and political rights, but also the economic and social rights of citizens in the context of the COVID-19 crisis in the countries concerned.
Issues to be discussed will include:
The Webinar will take place on 25 June 2020, from 14:00. to 17:00 East African Time and accessible via a link that will be shared close to the date of the webinar.
A Report will capture outcomes of the Webinar. It will be shared to Officials of targeted Countries and will be disseminated widely. International IDEA and the organizing partners will provide technical assistance on implementation of recommendations.
Partner Organizations/collaborators:
The Department for Political Affairs of the African Union Commission and Open Society Initiative for West Africa