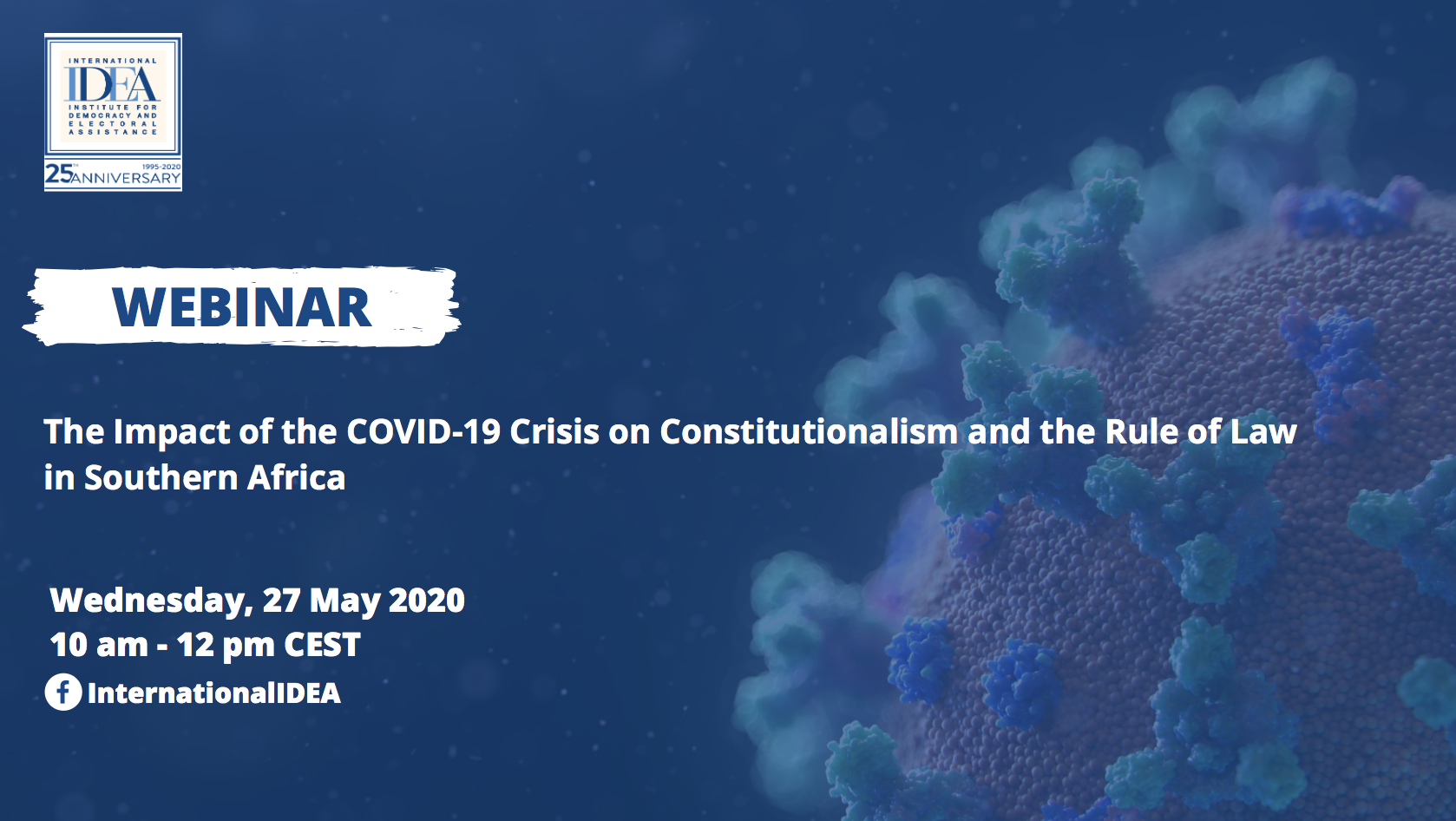 As the COVID-19 pandemic progresses through the world and its health and socio-economic impact on Africa grows, the consequences for all aspects of democratic development in African countries require a strong engagement through open and broad debate. By necessity, a degree of attention has been paid to the pandemics' impact on electoral processes that has not been matched in relation to constitutionalism and the rule of law in these States.
It is to contribute to the latter question that International IDEA has decided to organise webinars around the theme of The Impact of the COVID-19 Crisis on Constitutionalism and the Rule of Law in different regions of the African continent. The first such webinar took place on 23 April and was directed to the Francophone and Lusophone Countries of Central and West Africa. The next one, scheduled for 27 May, will focus on Southern Africa.
The objective of the exchange will be to look both at the situation so far and the prospects going forward to contribute to the analysis and thought process of decision-makers, experts, researchers, journalists, and citizen groups around this theme. More specifically, the discussion will consider not only the challenges in terms of socio-political dynamics induced by the COVID-19 crisis as well as its impact on constitutionalism and the rule of law, but also the opportunities it may bring for democratic development. Issues to be discussed will include:
The conformity of state of emergency declarations and its regulations with national constitutions, constitutional review processes and rule of law, and with the African Charter on Democracy, Elections and Governance and other regional instruments and frameworks.
The sociopolitical dynamics induced by the COVID-19 crisis including the impact on security and safety, government accountability, oversight and transparent governance.
The respect for human rights and public freedoms in emergency situations.
The Webinar will take place on 27 May 2020, from 10:00 to 12:00 (CEST) and will be accessible via a link that will be shared shortly. It will be moderated by Gram Matenga (Senior Programme Officer, International IDEA Africa and West Asia) and Miguel de Brito (International IDEA Mozambique Head of Programme), and will have as main speakers:
10:00 – 10:05: Prof. Adebayo Olukoshi, International IDEA's AWA Regional Director: Welcome and Introductory Remarks
10:05 – 10:20: Advocate Professor Thuliseli N. Madonsela, Former Public Protector of South Africa; Professor of Law and Chair of Social Justice, University of Stellenbosch: "The protection of rule of law under states of emergency"
10:20 – 10:35: Dr. Justice A. Mavedzenge, Legal Advisor, International Commission of Jurists, Africa Regional Program: "Overview of COVID-19 State of Emergency regulations and their conformity with constitutional provisions as well as regional, continental and international norms and standards"
10:35 – 10:50: Dr. Cathy Powell, Associate Professor in Public Law, University of Cape Town: "Transparency, government accountability and oversight of the Executive under COVID-19 emergency regulations"
11:05 – 11:20: Prof. Michelo Hansungule, Commissioner of the International Commission of Jurists and Professor of Human Rights Law at the Centre for Human Rights, University of Pretoria: "Impact of COVID-19 emergency regulations on State-Citizens relations, including behaviour of security forces"
11:20 – 11:35: Mr. Ericino de Salema, EISA Mozambique Country Director, journalist and human rights lawyer: "The respect for human rights and public freedoms in emergency situations"
11.35 – 11:55: Discussion11:55 – 12:00: Miguel Brito: Closing remarks and Thanks
For further information about the webinar, please contact Gram Matenga, Senior Programme Officer, International IDEA, Africa and West Asia at G.Matenga@idea.int or Miguel de Brito, Mozambique Head of Programme, International IDEA at M.deBrito@idea.int.