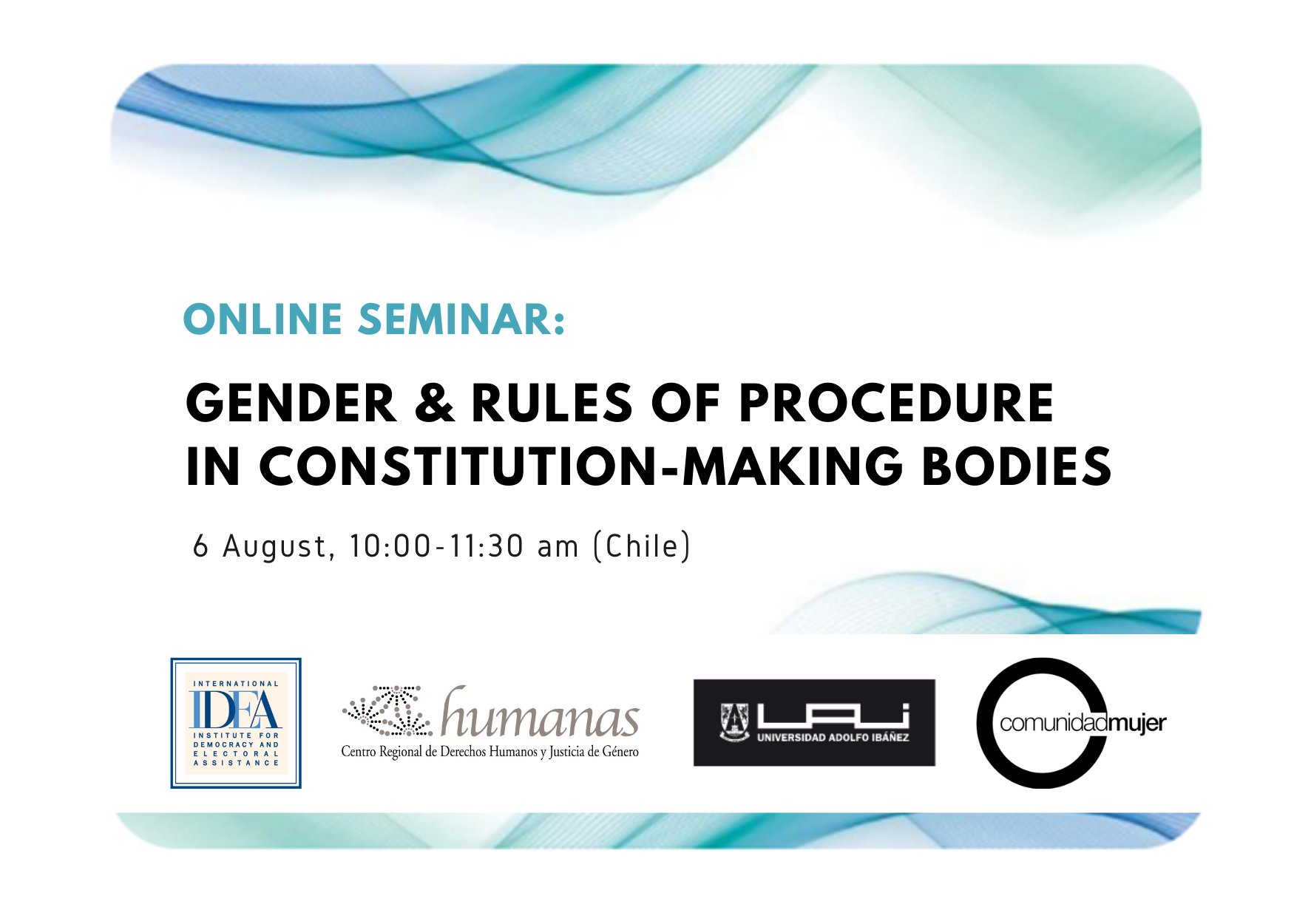 A historic first, the Chilean Constitutional Convention embeds gender parity by design. The resulting body, comprised of 78 men and 77 women, will write Chile's new constitution.
To support women's effective participation and influence within the Convention, Chilean civil society organizations Corporación Humanas, Comunidad Mujer and the Law Faculty of Universidad Adolfo Ibáñez with International IDEA's Constitution-Building Programme, are promoting a series of online workshops focused on women members and constituents. These events will provide comparative information and experience sharing from around the world on gender perspectives in both process design and constitutional content.
The first seminar in this series will focus on gender and the rules of procedure. The rules of procedure are vital in determining how the Convention will be run and organized, the procedures for its operations, the structure and composition of its internal bodies, rules on transparency, ethics, and citizen participation, among other issues. While rules of procedure may initially appear gender neutral, in practice rules can operate in ways that may be challenging or exclusionary. Conversely, the absence of rules that function as inclusionary safeguards can potentially inhibit women's full and active participation and decision-making within the Convention.
The aim of the seminar is to identify and discuss key issues in designing rules of procedure from a gender equality perspective, and to share comparative experiences from around the world. The event will bring together members of the newly constituted Constitutional Convention, civil society, academia, and legal practitioners from Chile with women experts from constituent processes in other countries, including Bolivia, Kenya, South Africa, and Tunisia, to share their experiences.
This webinar is open to the public. There will be English and Spanish translation available.
Register here: https://bit.ly/NormasDeProcedimiento
---
Agenda
Welcome and Introductions
International IDEA
Corporación Humanas
Communidad Mujer
Law Faculty, Universidad Adolfo Ibáñez
Framing the issue: Gender Perspectives and considerations in designing rules of procedure for a constitution-making body
This session provides an overview of the issues at stake when designing rules of procedure for a constitution making body from a gender perspective. The aim is to frame the main issues and considerations that the rest of the event will discuss from a comparative perspective.
Comparative Experiences: Successes, challenges, and key considerations
This moderated session features a number of women former members of constitution making bodies from other countries. These experts will provide insights and share their comparative experiences working under different types of rules of procedure. Each expert will discuss a range of structural, procedural or operational issues that benefited or challenged their work -- ranging from issues of parity in leadership roles, to decision-making procedures, to rules on ethics and behaviours.
Moderated question & answer discussion
Partner Organizations/collaborators:
Corporación Humanas, Comunidad Mujer, Law Faculty of Universidad Adolfo Ibáñez
Useful Links / Information: