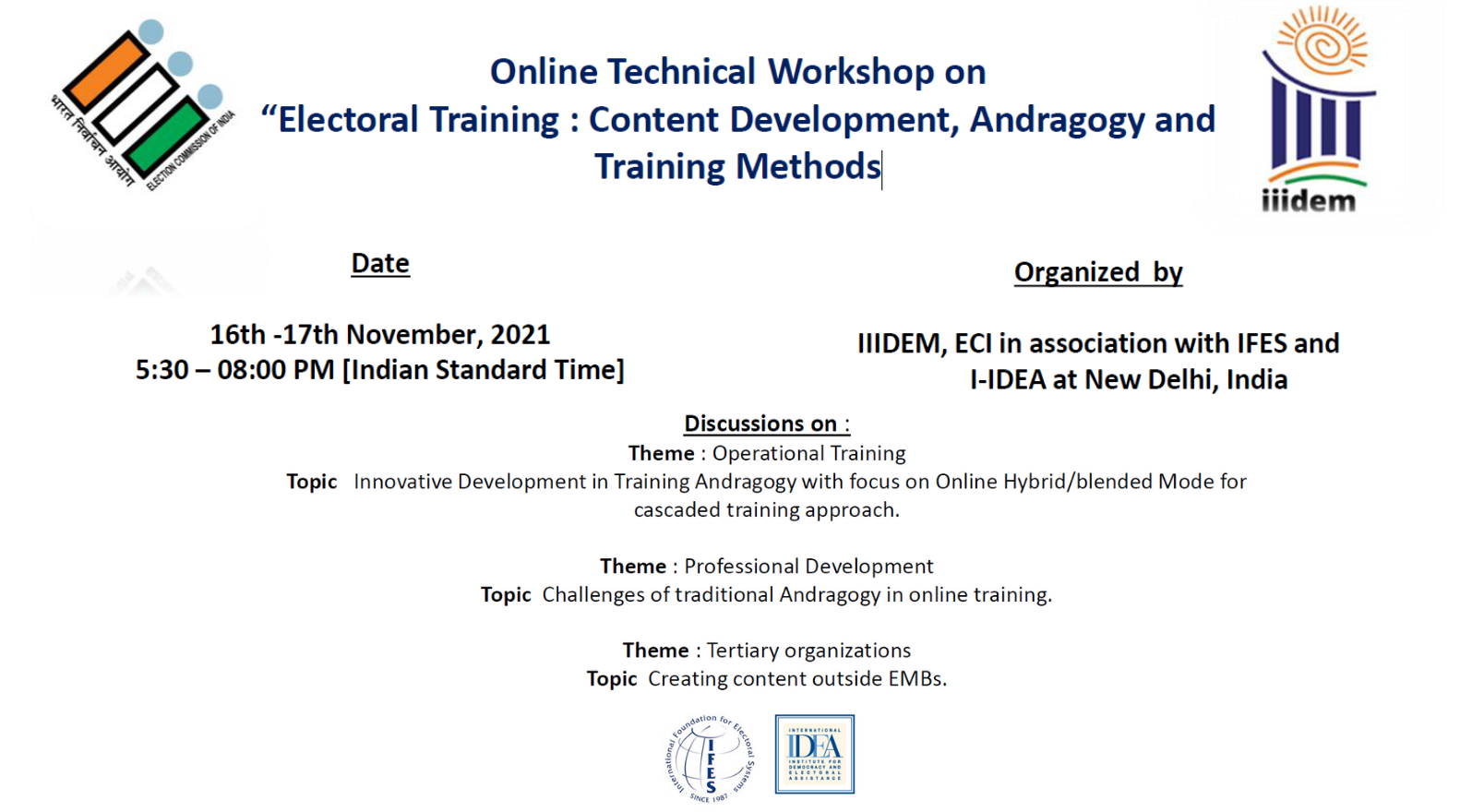 The Election Commission of India (ECI), the India International Institute of Democracy and Election Management (IIIDEM), in association with IFES and International IDEA organized an online technical workshop on "Electoral Training: Content Development, Andragody and Training Methods". The workshop will be held on 16th-17th November 2021, from 5:30-08:00 PM [Indian Standard Time] (Indian Standard Time).
The workshop is being held to promote understanding of efforts towards developing training materials, identifying suitable Andragogy and methodologies for adult learning and additional focus on the development within the university system offering regular master courses in Election Management & Studies.
Discussions THEMES AND topics
Theme: Operational Training. Topic: Innovative Development in Training Andragogy with focus on Online Hybrid/blended Mode for cascaded training approach.
Theme: Professional Development. Topic: Challenges of traditional Andragogy in online training.
Theme: Tertiary organizations. Topic: Creating content outside EMBs.
SPEAKERS AND ORGANIZATIONS
Mr. Rushdi Nackerdien / IFES
Ms. Belinda Bennet / National Training and Education Unit, Australia
Ms.Doina Bordeianu / CICDE, CEC Moldova
Mr. Carlos Navarro / INE Mexico
Mr.Shabbir Ahmed / Electoral Training Institute Bangladesh
Mr. Erik Asplund / International IDEA
Mr.Alistair Legge / Formerly with Australian Election Commission
Ms. Meredith Applegate / IFES
Ms.Nyla Grace Prieto / International IDEA
Mr. Dharmendra Sharma DG, / IIIDEM
Mr. Dries Velthuzen / University of Southern Africa
Mr. Andreas Deguttry / Sant' Anna, School of Advanced Studies, Italy
Mr. Ashwani Kumar / Tata Institute of Social Sciences
Mr. Gillis Verniers / Ashoka University
Partner Organizations/collaborators:
IIIDEM, ECI in association with IFES