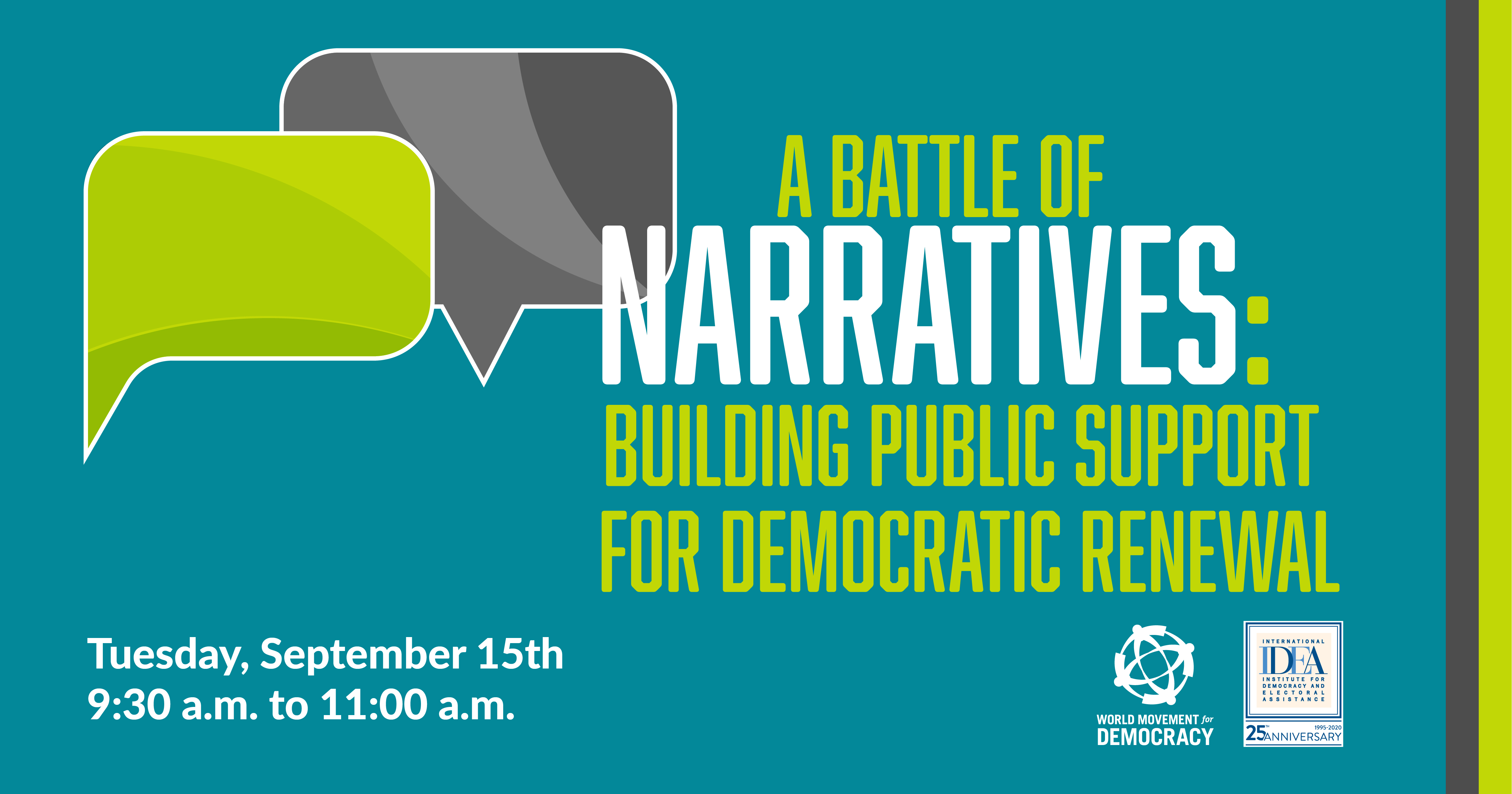 The COVID-19 pandemic threatens more than the lives and the livelihoods of people throughout the world. It is also a political crisis that threatens the future of liberal democracy," says a Call to Defend Democracy which was recently signed by more than 500 political, civil leaders, Nobel Laureates and pro-democracy institutions. Many governments around the world are using the global health crisis to silence critics, stifle the free flow of reliable information, escalate their disinformation efforts, and tighten their political grip.
Moreover, the COVID-19 crisis has escalated the "battle of narratives" between democracy and authoritarianism. There is a debate about which governance system is best situated to protect citizens from the health crisis and deliver on the social contract with them. By raising awareness that the freedoms we cherish are under threat, the Call aims to mobilize citizens and policymakers to fight the battle of narratives and to defend democracy.
Building on this statement, International IDEA and the World Movement for Democracy will host a conversation with experts and democracy activists to develop arguments supporting democracy that will appeal to people across regions, cultures, and generations.
Please join our online global conversation, entitled A Battle of Narratives: Building Public Support for Democratic Renewal, on the International Day of Democracy – Tuesday, September 15, 2020 from 9:30 am – 11:00 am (EDT). It will address the following questions:
1. How do we understand the appeal of anti-democratic narratives? What are actors and factors that influence such narratives?
2. Instead of playing defense, how can we more effectively make the case for democracy and rebuild the public's confidence in democracy?
3. In what way can we leverage expertise and pedagogies of other sectors, such as creative industries, tech companies, and educational institutions?
Speakers:
• Anne Applebaum (USA), Staff Writer, The Atlantic & Author of Twilight of Democracy
• Larry Diamond (USA), Senior Fellow, Hoover Institution and Freeman Spogli Institute for International Studies, Stanford University
• Garry Kasparov (Russia/USA), Chairman, Human Rights Foundation & Former World Chess Champion
• Bobi Wine (Uganda), politician, activist, and singer, Uganda
• Annouchka Wijeshinghe (Sri Lanka), Research Coordinator, Alliance Development Trust
• Omaid Sharifi (Afghanistan), President & Curator, ArtLords
• Cynthia Mbamalu (Nigeria), Director of Programs, YIAGA Africa
Moderated by:
Ana Gomes (Portugal), Former Member of European Parliament
With remarks from:
• Jose Ramos-Horta, Chairperson, World Movement for Democracy, Former President of Timor Leste, 1996 Nobel Peace Laureate
• Carl Gershman, President, National Endowment for Democracy
• Kevin Casas-Zamora, Secretary-General at International IDEA
Partner Organizations/collaborators:
World Movement for Democracy and National Endowment for Democracy (NED)