Back to overview
Webinar 5: International Day of Democracy: Empowering the Next Generation
15 September 2023
11:00 – 12:30 (GMT +12)
Zoom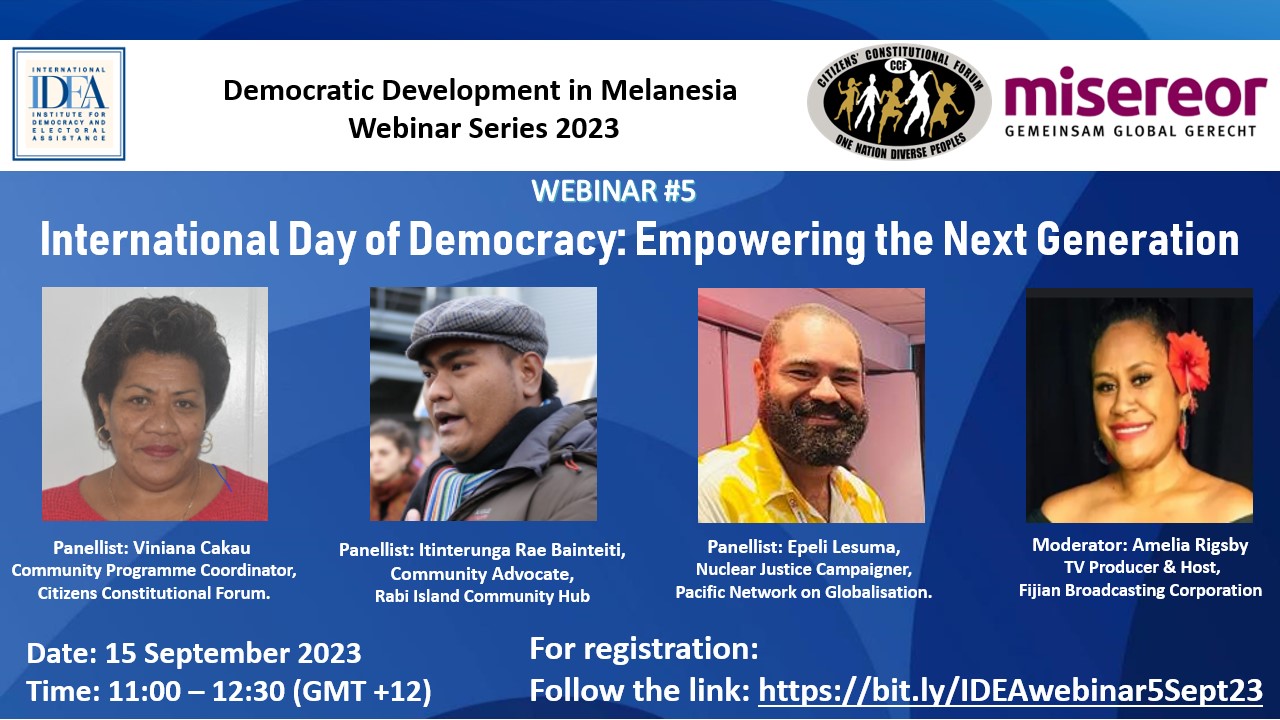 The International Institute for Democracy and Electoral Assistance (International IDEA) invites you to an online panel event, Webinar 5: "International Day of Democracy: Empowering the Next Generation", on Friday, 15 September 2023, from 11:00 - 12:30 (GMT +12).
The International Day of Democracy is observed annually on the 15th of September and is an opportunity to reflect and advocate for better democratic practices for greater observance and respect for human rights by government officials, ministries, independent bodies, and other stakeholders. This year's theme is "Empowering the Next Generation" which is focused on the important contribution children and young people make in protecting democracy today and in the future. To discuss this theme, International IDEA's Fiji office, in partnership with Citizens' Constitutional Forum (CCF) of Fiji with their project donor Misereor is hosting this webinar to hear about the work of young people who are actively involved in raising issues at national and international level.
Fiji performs in the mid-range across all categories of the Global State of Democracy framework, although performance in Representation, Rights, and the Rule of Law are at the lower end of this band. It is among the world's top 25 per cent in Electoral Participation and Civil Society but has suffered from declines in Social Group Equality. The webinar will discuss the work of CCF with International IDEA and Misereor in empowering young people through their community education program where young people are informed about their rights, responsibilities, and the functioning of democracy.
Education is a powerful tool for empowering young people and fostering their active engagement in democratic processes. Achieving the SDGs requires the collective effort of all segments of society, including children and young people. When they are empowered through education and participation, they can actively contribute to the pursuit of these global goals, fostering a more sustainable and equitable world for everyone.
LOGISTICS
• Date: Friday, 15 September 2023
• Time: 11:00 – 12:30 (GMT +12)
• Platform: Zoom
SPEAKERS
• Viniana Cakau, Community Programme Coordinator, Citizens' Constitutional Forum.
• Itinterunga Rae Bainteite, Community Advocate, Rabi Island Community Hub.
• Epeli Lesuma, Nuclear Justice Campaigner, Pacific Network on Globalisation.
MODERATOR
• Amelia Rigsby, TV Producer & host, Fijian Broadcasting Corporation.
PARTNER ORGANIZATIONS/COLLABORATORS: 
Citizens' Constitutional Forum
RSVP/CONTACTS: 
For further information contact Vikash Mehta at v.mehta@idea.int 
Individuals noted on any UN sanctions list (United Nations Security Council Consolidated List) or European Union sanctions list are not allowed to participate in any International IDEA events.
Feedback
We advance democracy worldwide, as a universal human aspiration