Back to overview
Second Annual Retreat for African Regional Economic Communities Special Envoys
24 October 2023 - 25 October 2023
10:00 AM Lagos Time
Abuja, Nigeria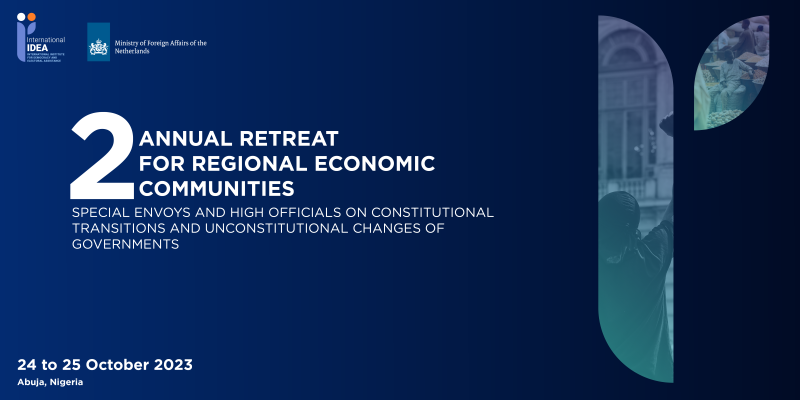 Second Annual Retreat for African Regional Economic Communities Special Envoys
African countries have since 2020 increasingly been facing a rise in the number of constitutional transitions: some of them caused by military and civilian coups, or by popular uprisings, transitions assisted by armed forces, constitutional reform processes after the election of a new President, or within the framework of a new political settlement after conflict. These crises and subsequent transitions are often brought about in reaction to years of authoritarian rule, state neglect or insecurity, poor governance, lack of accountability, or weaknesses in social contracts between the state and powerful ruling elites on one hand, and citizens on the other.
If not properly managed, constitutional transitions can result in worsening violent conflict and general instability, which could, in turn, lead to increased levels of poverty, human rights violations, death, destruction of infrastructure, and displacement of people and refugees. Vulnerable groups, including women and young people, are often hit the hardest. In fact, some constitutional transitions mentioned above are preceded or followed by Unconstitutional Government Changes. And as acknowledged by the African Union Heads of State and Government in the Malabo Declaration. UCGs also have a spillover effect at sub-regional and continental levels with cumulative negative impacts on peace, security, and stability across the continent.
To respond to these challenges and their consequences, International IDEA and the Regional Economic Communities (RECs) are, since January 2022, developing and operationalising a Regional initiative to support inclusive constitutional transitions. This initiative is in line with the International IDEA Strategy, which aims to support the foundation for the consolidation of democracy and peace in countries by strengthening the technical and operational capacities of democratic institutions and by promoting inclusive governance processes.
It is against this backdrop that International IDEA is organizing, with the participation of the Regional Economic Communities (RECs) and of the United Nations Under Secretary General and Development Coordinator for the Sahel, the Second Annual Retreat for RECs Special Envoys and High Officials on Unconstitutional Changes of Government and Constitutional Transitions, under the theme How to institutionalize inclusive democracy in constitutional transitions in fragile and conflict-affected states?
Feedback
We advance democracy worldwide, as a universal human aspiration