Back to overview
New York launch of The Global State of Democracy 2019 Report, UNHQ (International IDEA)
12 December 2019
10:00-12:30 NY time (GMT-5)
UN Headquarters, New York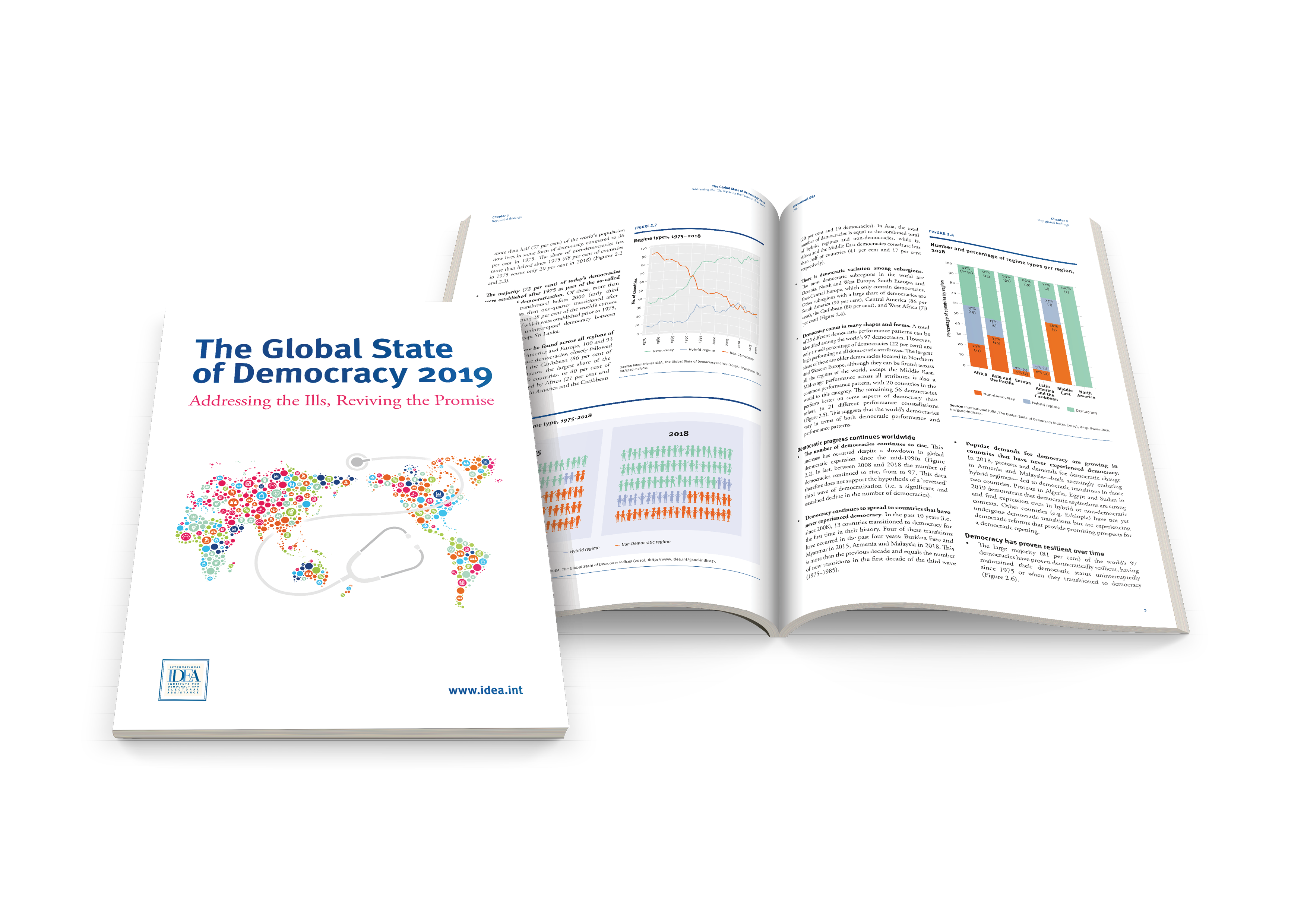 On the occasion of the International Human Rights Day
Launch of
The Global State of Democracy Report 2019:
Addressing the Ills, Reviving the Promise
Conference Room 11, UN Conference Building, New York
Thursday, 12 December 2019, 10:00 am to 12:30 pm
The Global State of Democracy 2019 – Addressing the Ills, Reviving the Promise is the second edition of International IDEA's flagship Report.
The Global State of Democracy 2019 Report provides a health check of the state of democracy worldwide, analyzing democratic trends, opportunities and challenges that are seen across various regions and within regions. The analysis is based on the Global State of Democracy (GSoD) Indices, an index produced by International IDEA that measures democratic performance across 158 countries from 1975 to today.
The Indices are also of high relevance to the 2030 Agenda for Sustainable Development as they contribute to tracking progress on several Sustainable Development Goals (SDGs). The GSoD Report 2019 closely connects with the 2030 Agenda by providing global and regional outlooks on democracy and the implementation of SDG 16 (Peace, justice and accountable institutions) and SDG 5 (Gender equality), in particular, as measured by the GSoD Indices.
The Report aims to inform the global democracy debate with evidence and data. It provides a nuanced analysis of how opportunities and challenges to democracy play out in different ways around the world, shaped by different regional and country contexts. Beyond the diagnostic and in order to help rebalance the current democracy debate, the Report also seeks to provide policy recommendations, building on the good practices and cases which have shown resilience in the face of challenges. These have been collected through International IDEA's 24 years of regional and country-level technical assistance in democratic reforms throughout the world.
The Report is meant for policymakers and civil society organizations working at the national, regional or international levels, either implementing, supporting or advocating for democratic reforms. The Report is also relevant to those policymakers who, although they may not be directly working on democratic reforms, are involved in transformative change processes more broadly in the economic, social or digital domains.
The launch of the GSoD 2019 Report in New York seeks to highlight its key findings and discuss its relevance with policymakers from the United Nations system, to identify common approaches in order to address the global challenges to democracy, and to discuss effective ways to support country efforts at building democracy around the world.
Draft Agenda
Moderator: Dr. Massimo Tommasoli, Permanent Observer for International IDEA to the United Nations
09:30 am – 10:00 am      
Coffee and registration             
10:00 am – 10:10 am      
Welcoming Remarks
H.E. Ms. María Bassols Delgado, Ambassador and Deputy Permanent Representative of Spain to the United Nations
10:10 am – 10:20 am      
Keynote Address: The State of Democracy in the World
Dr. Kevin Casas Zamora, Secretary-General of International IDEA
10:20 am – 10:30 am      
Democracy Assistance and the Assessment of the Quality of Democracy: A Commentary
Professor Abraham Lowenthal, Non-Resident Senior Fellow, Latin America Initiative, Foreign Policy Program, Brookings Institution
10:30 am – 10:50 am      
The Global State of Democracy Report 2019: Global and Regional Trends
Dr. Annika Silva-Leander, Head of Democracy Assessment and Political Analysis, International IDEA
10:50 am – 11:10 am      
Democratic Governance and Sustainable Development
Ms. Gülden Türköz-Cosslett, Deputy Assistant Administrator and Deputy Director, Bureau of External Relations and Advocacy, United Nations Development Programme (UNDP)
11:10 am – 11:15 am      
The Global State of Democracy 2019 Report
Screening of video clip
11:15 am – 11:45 pm     
Questions and Answers    
11:45 pm – 12:00 pm     
Closing Remarks      
TBC
12:00 pm – 12:30 pm
Coffee mingle and light refreshments
The Report can be downloaded here
The Summary can be downloaded here
This event will be photographed, webcast (live streamed) and recorded. By registering or accepting to participate, you grant us permission to use your image or voice and statements in our event coverage material for use externally our media outlets, such as International IDEA's websites and social media platforms.
Feedback
We advance democracy worldwide, as a universal human aspiration