Back to overview
Launch of the SDG16 Data Initiative Global Report 2022: Are we on track to meeting the 2030 agenda?
17 November 2022
10:00 EST/16:00 CET
Virtual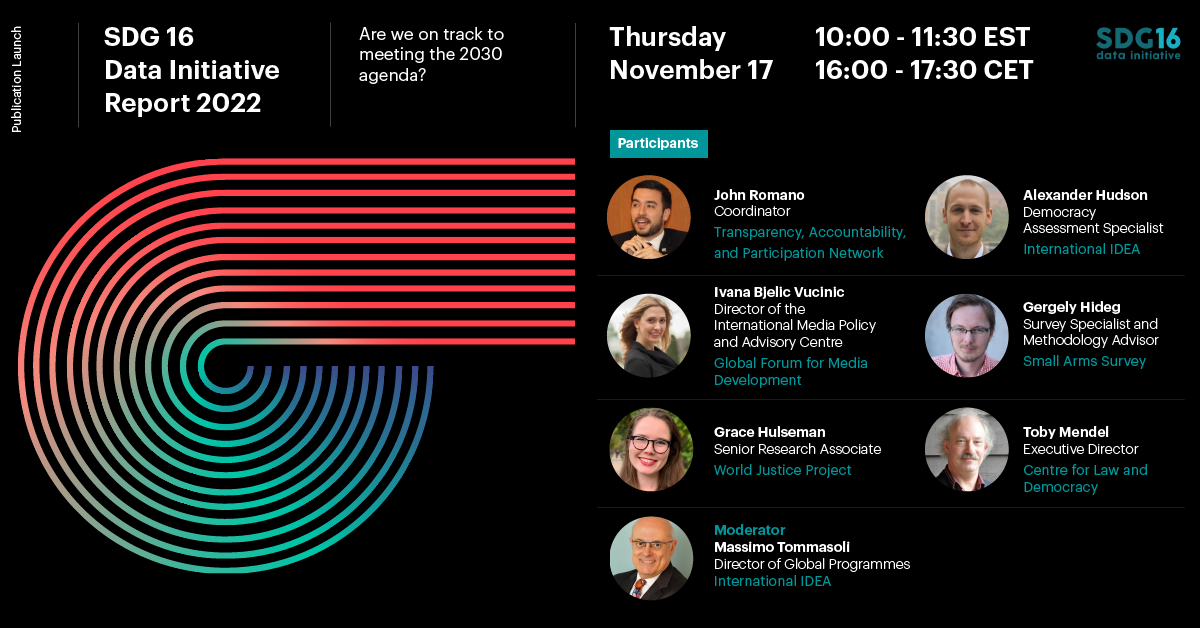 The SDG16 Data Initiative Report, jointly produced by the SDG16 Data Initiative consortium, aims to evaluate global progress towards realizing Sustainable Development Goal 16—Promoting peaceful and inclusive societies for sustainable development—presenting the latest evidence. In addition, as we are near the halfway point for the 2030 Agenda for Sustainable Development, the report constitutes a moment for reflection and clarification of priorities for all actors involved in this collaborative pursuit.
The United Nations-adopted SDG16 is a cornerstone of the overall agenda. Promoting peaceful and inclusive societies for sustainable development, ensuring access to justice for all and building effective, accountable and inclusive institutions at all levels are critical threshold conditions for development. SDG16 is built upon the premise that democracy, peace and sustainable development are inseparable: resilient democracy is essential for sustainable development.
Key findings
This year's report suggests that it is looking increasingly unlikely for many of the SDG16 indicators to meet key targets. While some progress has been made, indicators such as access to justice, restrictions to civil society and democratic accountability have seen declines, or at best are stagnant. Democratic erosion, protracted conflict, armed violence and inequality are factors that have contributed to these declines.
There is a need for renewed focus on preventing 'democratic decline', protecting civil society organizations and media professionals involved in the increasingly high-risk work of defending media freedom, protecting human rights and providing access to justice.
About the SDG16 Data Initiative
The SDG16 Data Initiative is a consortium of 17 organizations dedicated to promoting non-official data on the implementation and tracking of progress toward the targets that comprise the 2030 Agenda's promise of peaceful, just and inclusive societies by 2030. To this end, we include both global and complementary indicators, presented with official and unofficial data.
The event
The event aims at presenting an evaluation of progress and challenges for meeting SDG16 and a reflection on why SDG16 is especially important for achieving the 2030 Agenda.
The virtual launch event will be held on 17 November at 10:00 EST/16:00 CET. A link for registration can be found below.
Agenda
10:00: Welcome
10:00 - 10:15: Interactive discussion

Why is SDG16 specially important for achieving other SDGs?
The inclusion of SDG16 was the most innovative change from MDGs to SDGs, but as the report shows, progress is stagnant. Why is this?

10:15 - 11:00: SDG16 DI Report Presentation

Individual chapter presentations

11:00 – 11:15: Recommendations

What can we do to achieve the 2030 Agenda for SDG16?

11:15-11:30: Questions and Answers
11:30: Closing
Participants
John Romano, Coordinator, Transparency Accountability and Participation Network
Ivana Bjelic Vucinic, Director of the International Media Policy and Advisory Centre, Global Forum for Media Development
Grace Hulseman, Senior Research Associate, Word Justice Project
Alexander Hudson, Democracy Assessment Specialist, International IDEA
Gergely Hideg, Survey Specialist and Methodology Advisor, Small Arms Survey
Fletcher D. Cox, Visiting scholar, International IDEA
Toby Mendel, Executive Director, Centre for Law and Democracy
Miguel Angel Lara Otaola, Senior Democracy Assessment Specialist, International IDEA
Moderator: Massimo Tomassoli, Director of Global Programmes and Permanent Observer for International IDEA to the United Nations, International IDEA
Feedback
We advance democracy worldwide, as a universal human aspiration