Back to overview
Briefing on International IDEA: A look at International IDEA's constitution-building work and latest knowledge resource "The Democracy Tracker"
08 June 2023
13:15-14:30 EST
New York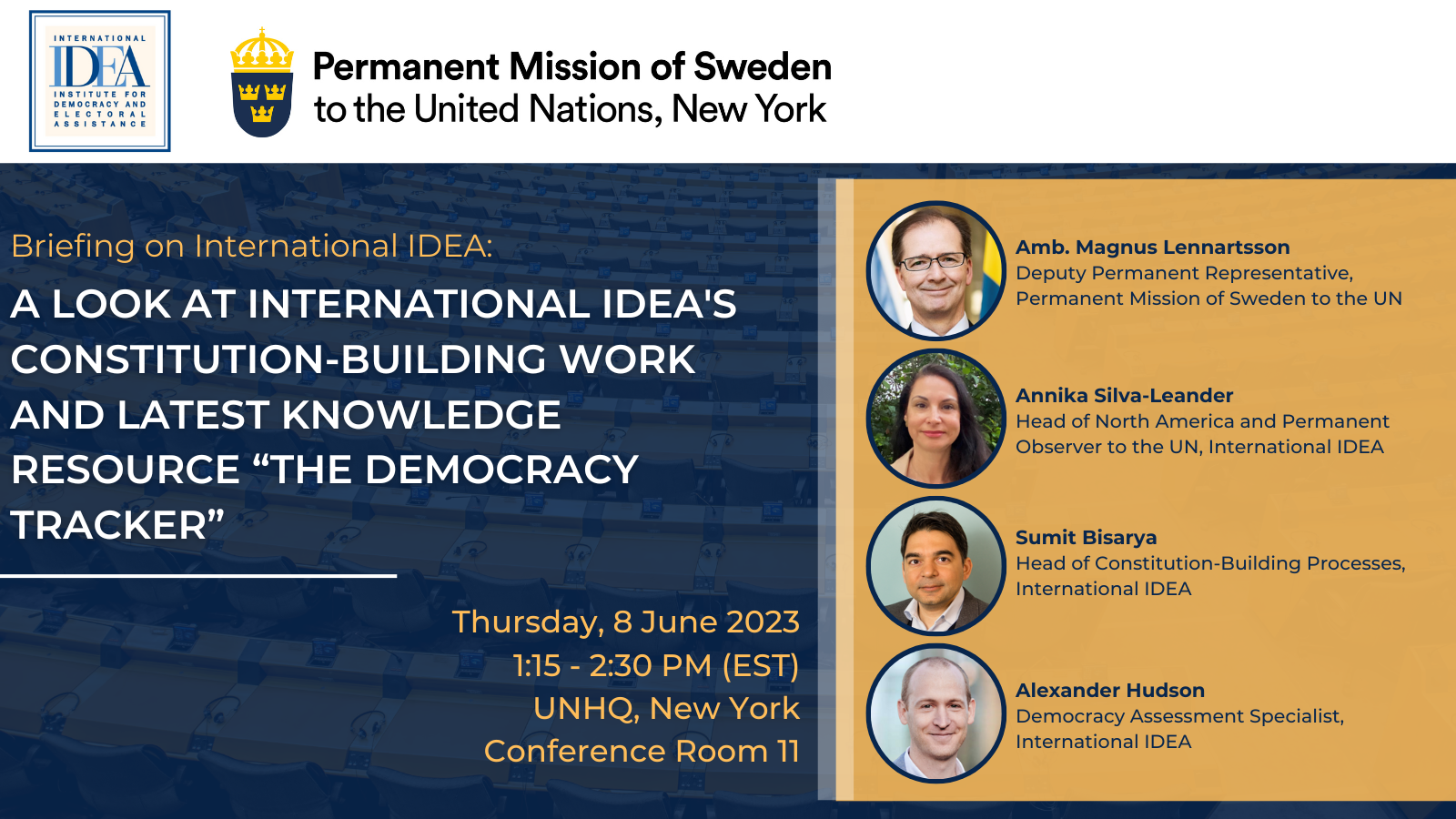 International IDEA is an intergovernmental organization with 34 member states, dedicated to strengthening and advancing democracy around the world. Since 2003, International IDEA has had Permanent Observer Representation at the UN General Assembly. Through this role, International IDEA seeks to act as a leading voice on democracy at the United Nations, through advocacy using IDEA's analysis and data, engagement in UN processes, organization of events that seek to shed light on issues relevant to the UN and democracy agenda.
The briefing aims to familiarize permanent representations at the United Nations with two of International IDEA's work areas: 1) its work in the field of constitution building, and its role in both post-conflict settings and in the reformulation of social contracts in both newer and mature democracies; and 2) its work on democracy assessment, which includes both quantitative reporting on democratic quality and trends around the world, including for tracking SDG 16 as well as qualitative analysis on democratic developments. The briefing will also be an opportunity to showcase International IDEA's latest resource for democracy practitioners and policymakers: the Democracy Tracker, a tool that tracks democratic developments (both concerning and hopeful) around the world on a monthly basis in 173 countries in the world.
PROGRAMME
Moderated by Ms Annika Silva-Leander, Head of North America and Permanent Observer to the UN, International IDEA
Opening Remarks:
Ambassador Magnus Lennartsson, Deputy Permanent Representative, Permanent Mission of Sweden to the United Nations
Presentations by:
Mr Sumit Bisarya, Head of Constitution-Building Processes, International IDEA
Mr Alexander Hudson, Democracy Assessment Specialist, International IDEA
Feedback
We advance democracy worldwide, as a universal human aspiration