Back to overview
Are anti-corruption reforms working in Papua New Guinea?
08 November 2022
11:00 to 12:30 (GMT +12)
Hybrid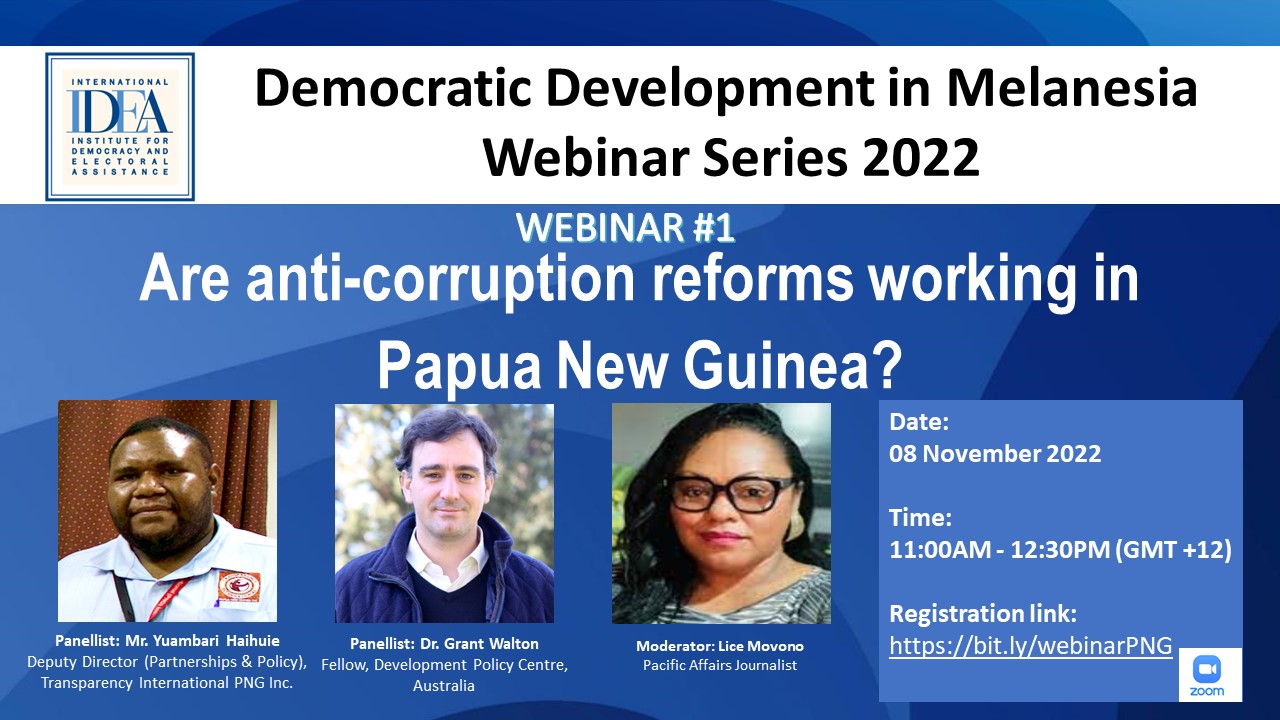 Transparency International's 2021 Corruption Perception Index reveals the need for urgent action in the Pacific to address corruption.
From Fiji to Vanuatu, Papua New Guinea and the Solomon Islands, corruption is threatening the rights and freedoms of Pacific Islanders. Positive efforts are being made by the Pacific governments and leaders to tackle corruption—such as the adoption of the Teieniwa Vision by Pacific Islands Forum leaders in 2021 and the passing of key laws nationally. But the Pacific needs more significant action more quickly to ensure progress translates into results.
Papua New Guinea's scores since 2015 have been upward, but the current score of 31 shows that the country still needs substantial reforms. The current administration has shown a strong partnership with civil society to introduce key reforms, including laws to establish an anti-corruption commission and strengthen safeguards for whistleblowers. Despite the current reforms, they have struggled with implementation. International IDEA is conducting a webinar to explore this phenomenon further; inviting the panellists to unpack the reality behind the data.
LOGISTICS
Date: Tuesday, 8 November 2022
Time: 11:00 – 12:30 (GMT +12)
Platform: ZOOM
SPEAKERS
Mr Yuambari Haihuie, Deputy Director (Partnership and Policy), Transparency International PNG Inc.
Dr Grant Walton, Fellow, Development Policy Centre, Australia
MODERATOR
Ms Lice Movono, Pacific Affairs Journalist
Feedback
We advance democracy worldwide, as a universal human aspiration