Back to overview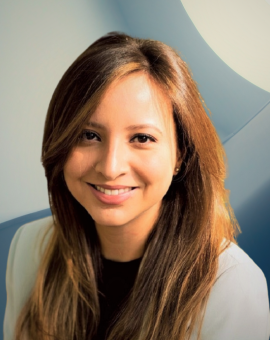 Meriem Trabelsi
Project Coordinator, iKNOW Politics
Meriem Trabelsi
Project Coordinator, iKNOW Politics
Twitter
Meriem Trabelsi manages the iKNOW Politics project and heads its Secretariat, which transferred from UN Women in New York—its base since 2015—to International IDEA in Stockholm in 2021. Trabelsi joined International IDEA on 1 March 2021.
iKNOW Politics—a partnership between International IDEA, the Inter-Parliamentary Union (IPU), the United Nations Development Programme (UNDP), and the United Nations Entity for Gender Equality and the Empowerment of Women (UN Women)—provides a platform that facilitates access to news, resources and training materials on women's political participation with an online space to share experiences and knowledge on women in politics. Trabelsi joined UN Women as a Network Facilitator for the project in 2015, working on expanding its network and reach, and became its Coordinator in 2018, leading the rebranding and relaunch of the platform and expanding its impact.
Prior to working on iKNOW Politics, Trabelsi was a Knowledge Management and Communications Officer at UN-NGLS (United Nations Non-Governmental Liaison Service) in New York where she worked on increasing the organization's reach in the MENA region and facilitating civil society engagement in the UN 2030 Development Agenda negotiation processes.
Passionate about democracy building, Trabelsi coordinated civil society observation missions of legislative and presidential elections for Tunisians abroad in Paris in 2011, Geneva in 2014, and New York City in 2019. She has served as the youngest and first woman president of the Tunisian American Young Professionals (TAYP), the Tunisian diaspora organization in the United States.
Twitter: @MeriemTrabelsiZ
Expertise
Gender equality; women's political participation and representation; violence against women in politics; youth empowerment and political participation; inclusive governance; election observation; civil society engagement with inter-governmental processes; knowledge management; advocacy and communications
Education
BA in Political Science and French, Grinnell College and Sciences Po Paris; MA in International Affairs, the Graduate Institute of International and Development Studies in Geneva
Languages
Arabic, English, French