This publication is only available in electronic format
This report summarizes the Regional Dialogue held in Cotonou, Benin, from 10 to 12 November 2017 on the theme: 'Three decades of democratic transition in Africa: What are the dividends for citizens?'.
The event was organized by the International IDEA Africa and West Asia Programme in partnership with the Beninese Association of Constitutional Law and the International Organisation of La Francophonie, with the support of the Royal Norwegian Embassy in Addis Ababa, Ethiopia.
The Dialogue, the first of its kind in Africa, brought together representatives of the African Union, Regional Economic Communities, African networks of election management bodies and African constitutional courts, as well as scholars, experts and members of civil society organizations, who focused their attention on the progress gains and limits of 30 years of democratic construction in Africa.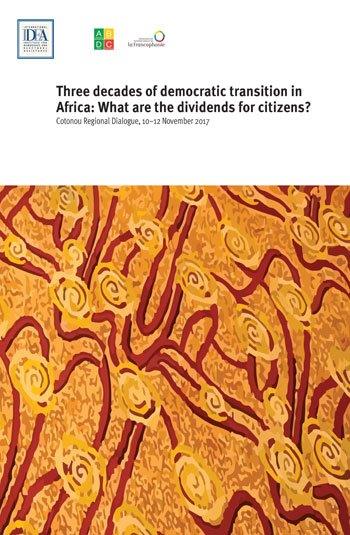 Contents
Introduction
Opening session
Panel 1. Reconciling procedural/formal democracy and substantial/real democracy
Panel 2. Socio-economic and cultural rights in the democratization process
Panel 3. Access to and provision of public services
Panel 4. Inclusion, management of diversity and equity
Panel 5. State capacities, public policies and democratic dividends
Panel 6. Democratic dividends in fragile and vulnerable environments
Panel 7. The role of the private sector in the creation of a democracy for the benefit of citizens
Side event. Discussion with AU organs on the AU–International IDEA partnership
Side event. Launch of The Global State of Democracy
Closing session
Programme
About International IDEA