Democracy in New Zealand
This study from 2002 was one of the first to use International IDEA's State of Democracy Assessment Framework.
The Framework is different from other methodologies because its assessments are led and owned by local actors, and move away from the practice of ranking democratic performance and making external judgements.
It combines a commitment to the principles of democracy with dialogue, and looks beyond the formal existence of democratic institutions and focuses, more importantly, on their performance.
Details
Publication date
02 March 2002
Contents
About the authors
Acknowledgements
List of abbreviations
Introduction
David Beetham
New Zealand Case Study
1. Citizenship, law and rights
2. Representative and accountable government
3. Civil society and popular participation
4. Democracy beyond the state
Note
Bibliography
Give us feedback
Do you have a question or feedback about this publication? Leave us your feedback, and we'll get back to you
Send feedback
Democracy in New Zealand
1474
1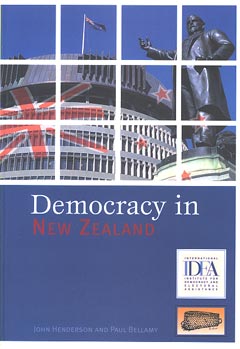 | | |
| --- | --- |
| Total views | 1474 |
| Downloads | 1 |
| Rating | |
Give us feedback
Do you have a question or feedback about this publication? Leave us your feedback, and we'll get back to you
Send feedback