This publication is only available in electronic format
ISBN:
978-607-02-1086-0 (Print)
Co-Publisher(s):
Universidad Nacional Autónoma de México
Can presidential structures provide stability and efficient administration? There is increasing evidence—in particular as a result of the third wave of democratization—that presidential systems are as resistant to political crises or economic impacts as parliamentary systems.
This publication's objective is to deepen the understanding of the role played by presidential systems in democracies and democratization processes. It explores the specific characteristics of presidential systems' institutional design that allow these systems to provide greater stability and/or more efficient governments that favour the poorest.
The ideas reflected in this publication arise out of the common experiences shared during a seminar on how presidential systems function in 13 contemporary democracies around the globe. It features chapters in Spanish and English.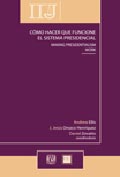 Contents
Presentación
Vidar Helgesen
Héctor Fix-Fierro
Presentation
Vidar Helgesen
Héctor Fix-Fierro
1. ALCANCE DE LOS PODERES PRESIDENCIALES
Reforming Presidential and Semi-Presidential Democracies
José Antonio Cheibub
El Poder Ejecutivo en el presidencialismo. Alternativas en debate
Dieter Nohlen
Alcance de los poderes presidenciales en los países latinoamericanos
J. Jesús OrozcoHenríquez/Daniel Zovatto
2. SISTEMA DE FRENOS Y CONTRAPESOS EN LOS SISTEMAS PRESIDENCIALES
El poder en el semipresidencialismo
Jean-Claude Colliard
El presidencialismo atenuado y su funcionamiento (con referencia al sistema constitucional peruano)
Domingo García Belaunde
How to make Presidentialism work
Mathias Hounkpe
The Presidential form of Government in the Philippines: A critique
Aquilino Q. Pimentel
Balance entre la inmovilidad y la tendencia al autoritarismo en un régimen presidencial. Partidos y legislaturas débiles. El predominio del personalismo presidencial en América Latina
Juan Rial
3. EL LIDERAZGO DE LOS PRESIDENTES Y LA COOPERACIÓN ENTRE LEGISLATIVO Y EJECUTIVO
What Sort of Strong President?
John M. Carey
El presidencialismo desde fuera: la experiencia de la forma de gobierno parlamentaria en Italia y la búsqueda de la gobernabilidad
Tania Groppi
The Senegal case study
Abdou Khadre Lo
El diseño institucional, la estabilidad estatal y el desafío de la desigualdad
Pedro Salazar Ugarte
4. MODERANDO LA NATURALEZA DE "EL GANADOR SE LLEVA TODO" DE LAS INSTITUCIONES PRESIDENCIALES
La democracia presidencial en Chile
Carlos Huneeus
Indonesia's Presidentialism: Moderating Strong Presidents, Enhancing Representation
Etsi Yudhini
5. EL SISTEMA PRESIDENCIAL EN LOS REGÍMENES FEDERALES
Presidencialismo y federalismo en Brasil: los desencuentros entre política y derecho
Virgílio Afonso da Silva
Presidencialismo y federalismo en Argentina
Antonio María Hernández
Sistema presidencial y federalism
José Ma. Serna de la Garza
6. REFORMANDO AL SISTEMA PRESIDENCIAL MEXICANO
Cómo hacer que funcione el sistema presidencial
Manlio Fabio Beltrones
La Reforma del Estado en 2007 y 200
Jorge Carpizo
Los frenos y contrapesos a las facultades del Ejecutivo; la función de los partidos políticos, el Judicial, el Legislativo y la administración pública
Ma. Amparo Casar
Cómo hacer que funcione el sistema presidencial
Santiago Creel Miranda
Cómo hacer que funcione el sistema presidencial
Carlos Navarrete
Problemas y perspectivas del sistema presidencial mexicano
Diego Valadés
Varieties of Presidentialism, and the Quality of Democracy
Laurence Whitehead
7. RELATORÍA DEL TALLER DE TRABAJO
Para que el presidencialismo funcione: compartir y aprender de la experiencia global
Andrew Ellis
Kirsti Samuels
Making Presidentialism work: Sharing and Learning From Global Experience
Andrew Ellis
Kirsti Samuels