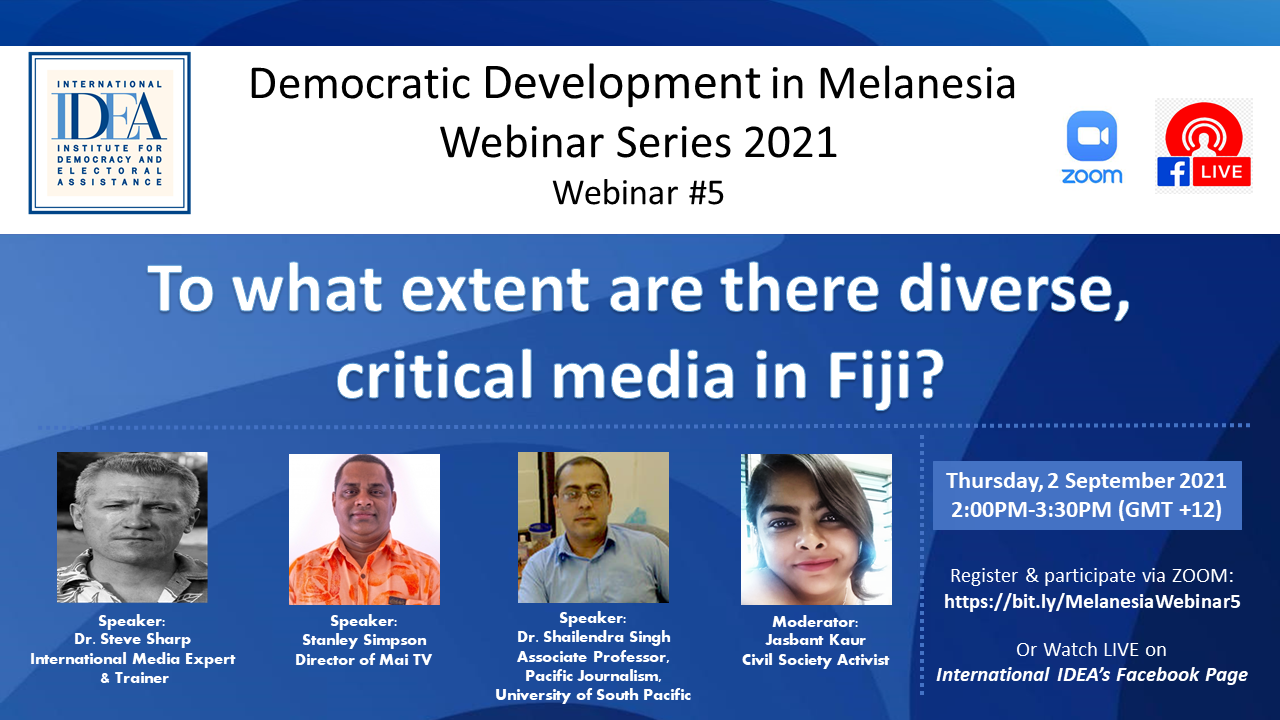 "The data that you (International IDEA) collected is a very systematic and comprehensive set of data."
That statement was made by Dr Steve Sharp, International Media Expert and Trainer, who was one of the speakers in the 5th webinar of the Melanesian Webinar Series 2021. The webinar was held on 2 September 2021 as a follow up to the previous webinar where the inclusion of two more Melanesian countries, Fiji and Solomon Islands in the updated International IDEA's Global State of Democracy Indices (GSoD Indices) was announced and analysed.
The spotlight for this webinar was on Fiji and on the sub-attribute of Media Integrity which denotes the extent to which the media landscape offers diverse and critical coverage of political issues. As per the graph below, Fiji's performance has been on a rise after 2013 but it still lags behind other Melanesian countries. According to Mr Adhy Aman, Country Programme Manager Fiji, "the webinar was intended to explore this phenomenon further and for the speakers to unpack the reality behind the data or refute it."
Does the major print and broadcast media represent a wide range of political perspectives?
According to Mr Stanley Simpson, General Secretary for Fijian Media Association, people often read or watch only one media entity and start to over-generalize that media does not present a broad range of political perspectives. While explaining further, he adds that "the Fijian media provides a rich variety and wide array of views and perspectives and urged people to enjoy the range that is available." This was backed by Dr Shailendra Singh, Associate Professor in Pacific Journalism, the University of the South Pacific, who said that "Fiji's national media, like media anywhere, would cover a wider berth collectively, rather than as individual media organizations because individual media have obvious leanings and priorities."
In the Question-and-Answer session, a participant asked if the Fiji media is polarized and if it was common for media to be polarized in a small country like Fiji. Dr Sharp responded that the media in Fiji is polarized but the editors and their staffs are in the position to make their coverage more balanced by following national and international standards. The Pacific journalist in general struggle to access reliable data and the stonewalling of journalists makes it hard for media organizations to report in the public interest on political matters. Dr Sharp said that the reasons were explained at a forum of Melanesian editors held in Brisbane in November 2019. Its final declaration stated:
'The unwillingness of politicians and officials to engage in dialogue is undermining the media's accountability role: public figures are becoming more resistant to responding to direct questions from media, choosing instead to issue media releases, or statements on social media or to preferred media outlets.'  (Melanesia Media Freedom Forum (2019), The Melanesian Media Freedom Forum, 11-12 November, Griffith University, Brisbane)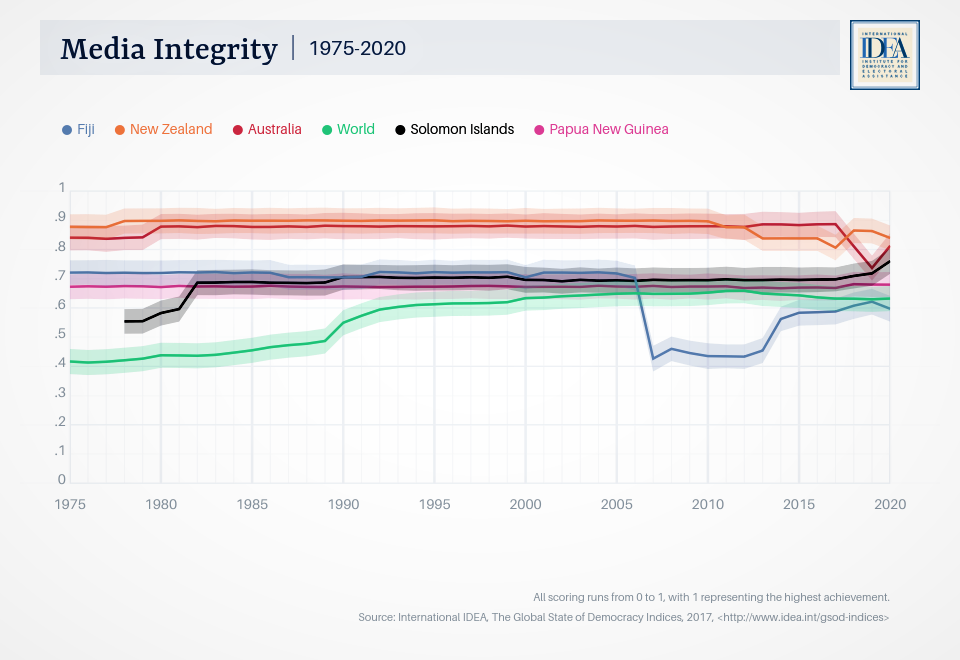 Does Fiji media exercise self-censorship and is criticism of the government a common and normal part of the political dialogue?
While giving his opinion, Dr Singh said that Fiji media exercise a greater level of self-censoring after the 2006 coup and the punitory 2010 Fiji Media Industry Development Act which can be attested with International IDEA's GSoD Indices data on Media Integrity. He added that the graph shows that the Fiji media have been bolder since 2013, marking depature from the past. Mr Simpson, as a seasoned journalist said that Fijian media has not been self-censoring but  is courageous, smart, and strategic given the circumstances that surround their work in Fiji. He further added that one needs to live in Fiji to understand the scenarios that exist around media and must be mindful of the implications of the decision one makes in terms of certain words or reports on certain issues which can trigger even national strife given the political history in Fiji.
Dr Sharp says that Fiji's journalists (with some exceptions) lack authoritative reporting which can lead to developing trusted platforms for leaders and citizens to engage in deliberative dialogue and build consensus on the key issues facing the nation. A participant asked if there are adequate training provided to journalists to tackle political issues in the news. Dr Singh claims that the students at the USP journalism are provided with all training possible. The students produce a newspaper, radio programs and TV programmes while studying which gives them first-hand experience. He added that the performance of journalists also depends on the leadership and the guidance that is provided in the newsroom. The newsrooms have their own priorities and those limit the journalist from carrying out their work as per the theories that they have learned.
How can Fiji perform better in the coming years?
Though Fiji has seen an increase in its performance since 2013, it is still performing below other fellow Melanesian countries and the World average. Dr Sharp suggests that media literacy should be developed from an early age. Media studies components should be incorporated in the school curriculum so the low status of the media sector in the eyes of the community can be improved. Low wages and high staff turnover is another factor that needs to be addressed if Fiji's media performance is to be improved. Journalists are joining corporate companies in media relations due to attractive salaries thus there are not many experienced journalists left which affects the quality of media. In the last webinar, University of Hawaii Professor, Tarcisius Tara Kabutaulaka, stated that the quality of media reporting is part of media freedom and Dr Singh also agrees with him and believes that "negative, overly-critical media is bad for democracy just as biased media."
Fiji media must contend with Media Industry Development Act (MIDA) amended in 2015. Mr Simpson stated that section 22 of the Act expects not to publish or print or broadcast, anything that's against the national interest, against the public interest or order, or that will create communal discord. He further says that almost everything a newspaper writes about includes national interest. If they infringe then the fines are set out in Section 24. Any breach of any of the provisions in or under sections 22 and 23 by a media organization shall constitute an offence and the media organisation shall be liable on summary conviction to a fine not exceeding $100,000 or in the case of a publisher or editor to a fine not exceeding $25,000 or to imprisonment for a term not exceeding two years or to both. According to Dr Steve, Fiji is not the only country in the world to have repressive media laws. There are strategies and international experience driven by journalists in countering the repressive laws.
Agreeing with Mr Simpson, Dr Singh said that "Fiji's lowest ranking in the region is simply because it has the toughest media law in the region." Dr Singh says that the improvement shown in 2013 was because of the 2013 Constitution and the 2014 General elections, but if the act is in place the ranking will not improve to the desired levels. Fiji can improve its ranking if issues concerning the MIDA Act is addressed. Dr Singh suggested a roundtable of stakeholders to review and update the act which should include government, the media and other interested parties to get together to find common ground.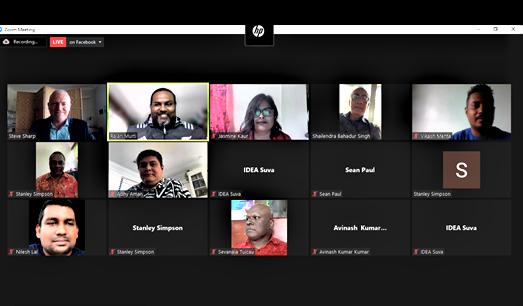 International IDEA strives to supply dialogue space on important democratic subjects and this webinar was one example of that effort. The webinar had other interesting discussions which can be viewed on the International IDEA Facebook page. Follow us on Facebook to learn about upcoming webinars in the Melanesian series.