Back to overview
Secretary-General receives parliamentary delegation of Gauteng Provincial legislature from South Africa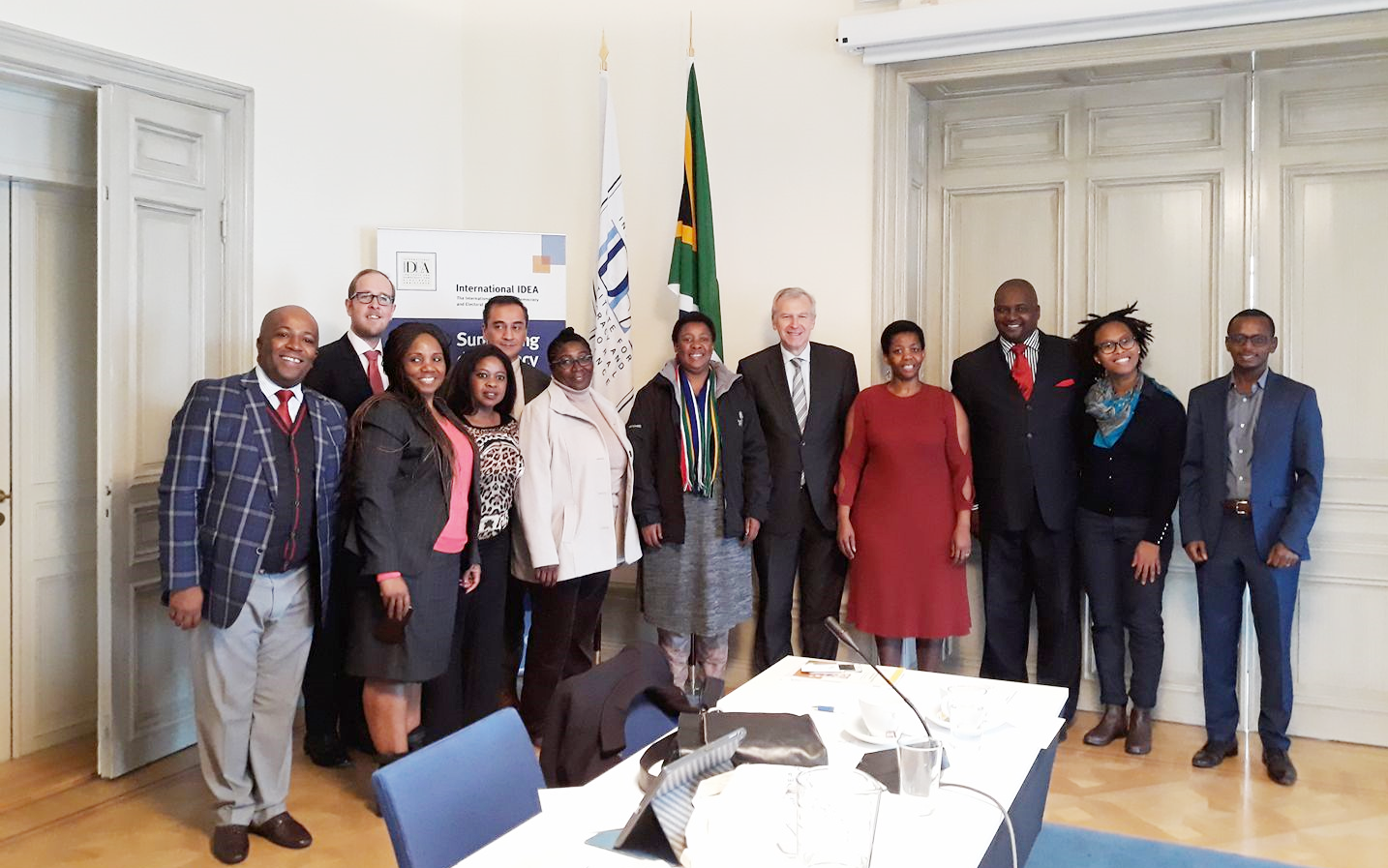 The Secretary-General with the Delegation of South Africa's Gauteng Provincial Legislature. Photo credit: International IDEA
On Tuesday 19 September 2017, the Secretary-General of International IDEA, Mr Yves Leterme, received a parliamentary delegation of South Africa´s Gauteng Provincial Legislature at International IDEA´s headquarters in Stockholm.
Gauteng is one of the nine provinces in South Africa, one of the 14 founding Member States of International IDEA. Gauteng Provincial Legislature is the legislative branch of the province´s government, and is constitutionally empowered to pass legislation that applies uniquely to its province, oversee the work of the province´s executive, and ensure citizen participation in the running of their province.  
During the meeting, which lasted for two hours, the Secretary-General introduced the seven-member delegation, which was headed by the Speaker of the Legislature, Ms Lentheng Helen Ntombi Mekgwe, to International IDEA´s work. Subsequently, International IDEA´s Director of Global Programmes, Ms Keboitse Machangana, and International IDEA´s Political Participation and Representation Team provided the delegation with an overview of the organization´s activities in the fields of parliamentary strengthening, political parties and citizen engagement.
The delegation, from their side, then brought up some of the difficulties facing democracy in their province, and South Africa as a whole, including the transformation of the political landscape in recent elections, the growing disconnect between citizens and traditional democratic institutions, growing inequality, and issues of oversight.
In response to this, International IDEA shared some of the organization´s insights regarding those issues, which it stressed are not unique to South Africa, but are present in democracies, old and new, all over the world. International IDEA´s representatives also encouraged the delegation to make use of the tools and publications that International IDEA as an international "think and do tank" makes available as a global public good, such as its Political Finance Database, the Digital Parties Portal, and its Facilitator´s Guide on Codes of Conduct for Political Parties.
The meeting ended with the screening of International IDEA´s teaser for its upcoming Global State of Democracy report, which will be launched in November 2017. Both parties stated their willingness for further, and deeper, cooperation in years to come, in particular through International IDEA´s regional office in Addis Ababa, Ethiopia.