Back to overview
Roundtable: The 2030 Agenda: Addressing corruption in support of democratic governance and sustainable development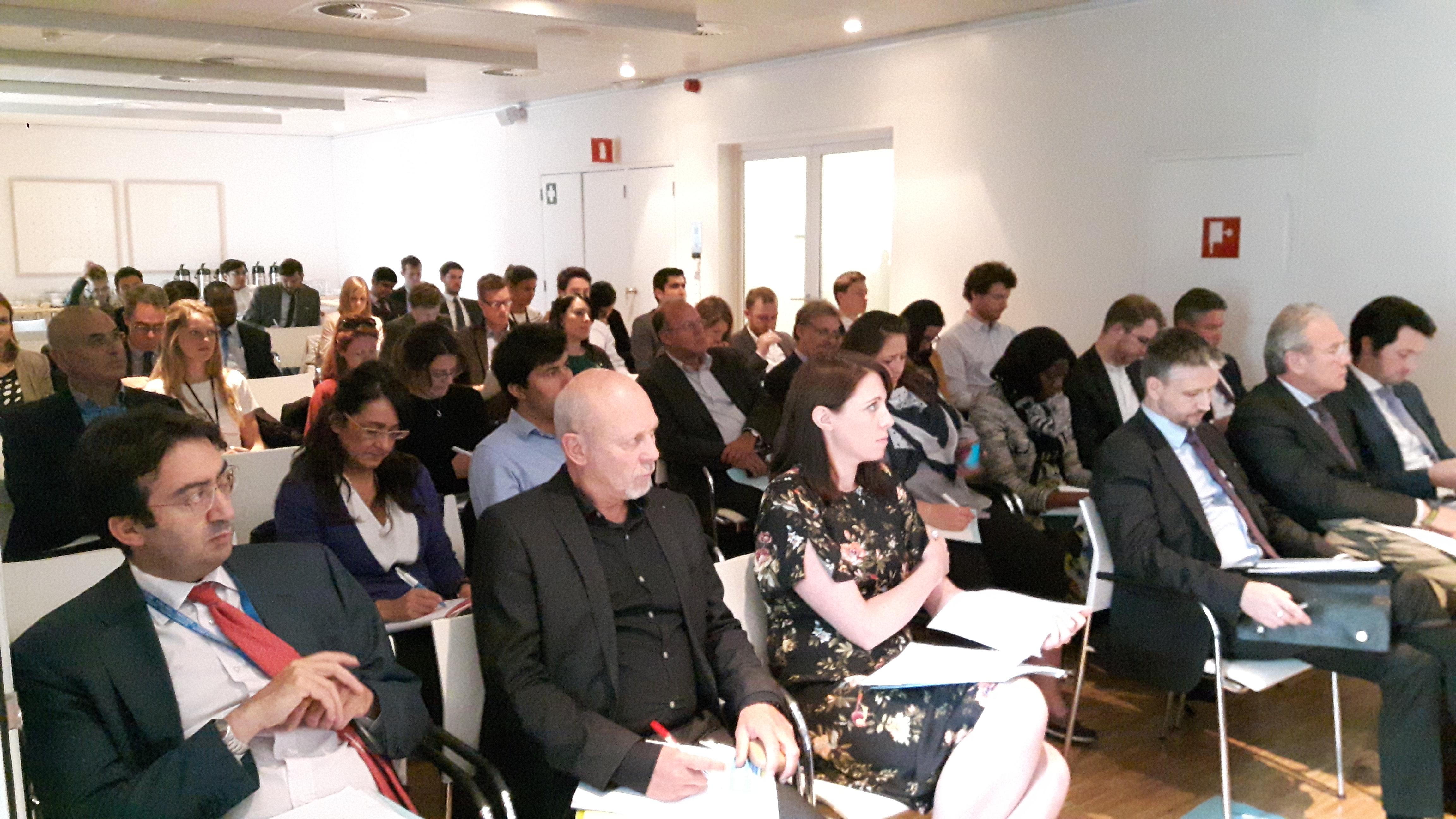 Participants and panelists at the event. Photo credit: Gosia Calabro
Is corruption always a constraint for development? Is there a universal means to tackle corruption? What impact does corruption have on the quality of democracy? These and other questions were raised during a Roundtable entitled, "The 2030 Agenda: Addressing corruption in support of democratic governance and sustainable development", organized by the Office of International IDEA to the European Union, with the support of the Permanent Representation of the Kingdom of the Netherlands to the European Union, on 4 October 2017.
Mr Lucien Kleinjan, Deputy Ambassador of the Kingdom of the Netherlands to the Political and Security Committee of the Council of the European Union welcomed the participants, and H.E.  Mr Gonzalo Gutiérrez, Local Chair of International IDEA's Council of Member States, and Ambassador of Peru to Belgium and Luxembourg and Head of the Peruvian Mission to the European Union opened the discussion. The panelist included Nadia Molenaers (Professor, University of Antwerp), David Johnson (Visiting Professor, University of Antwerp), Alison Coleman (Policy Officer, Transparency International – EU Office), Thomas Millar (Team Leader, DG International Cooperation and Development, European Commission), Jan Vanheukelom (Senior Advisor, European Centre for Development Policy Management) and Gianluca Esposito (Executive Secretary, GRECO, Council of Europe).
Political settlements and controlling corruption: a double-edged sword?
Nadia Molenaers and David Johnson, gave a basis for discussion with a presentation where they shared evidence showing that corruption is not necessarily a constraint for development nor a cause for undermining development. In some countries, where authoritarian regimes are the main form of government, development success is achieved, even when compared to democratic countries. "Corruption has been so persistent because it comes down to an individual and his choices", they explained. Therefore, mainstream approaches based on rules, regulations, inceptives and sanctions work as "toolkits" limiting the necessary political context to tackle specific corruption issues.
Corruption and sustainable development
Continuing the discussion, panelists agreed that it is problematic that the anti-corruption and institutional forms of aid are being replicated despite of being proven ineffective. Corruption is a symptom and not a disease, therefore donors need to avoid "fixing" it and to focus rather on underlying governance failures. Fight against corruption is essential for sustainable development as it helps to drive people out of poverty. Corruption becomes an easier target once it is contextualized and addressed in a more approachable manner by following four key elements: transparency, participation (checks and balances), integrity and accountability.
Corruption and democratic governance
Panelists highlighted the inevitability of making democracy accountable. Corruption can be reduced by promoting integrity and building trust in institutions, supporting political parties, strengthening civil society, and promoting independent media. The anti-corruption agenda is still rather new and for successful implementation, it should be followed by developing and developed countries. Panelists also mentioned that regulatory frameworks and enforcement tools are pre-requisites for the prevention of corruption, which is a sustainable approach to address its root-causes.
During the Q&A session, examples of contextualized anti-corruption strategies were discussed. It was admitted that background research of real causes of corruption are time- and money-consuming, however, it is the key to develop successful anti-corruption policies.
The outcomes of the conference will be used as a basis for a background discussion paper that will be disseminated during The International IDEA Annual Democracy Forum 2017, "Corruption: A threat towards a democracy of quality", which will take place in Lima, Peru on 21 November 2017. The Democracy Forum is co-organized by International IDEA and the Peruvian Government, the 2017 Chair of the International IDEA Council of Member States.