Back to overview
Recognition of the support of International IDEA to the Legislative Assembly of Beni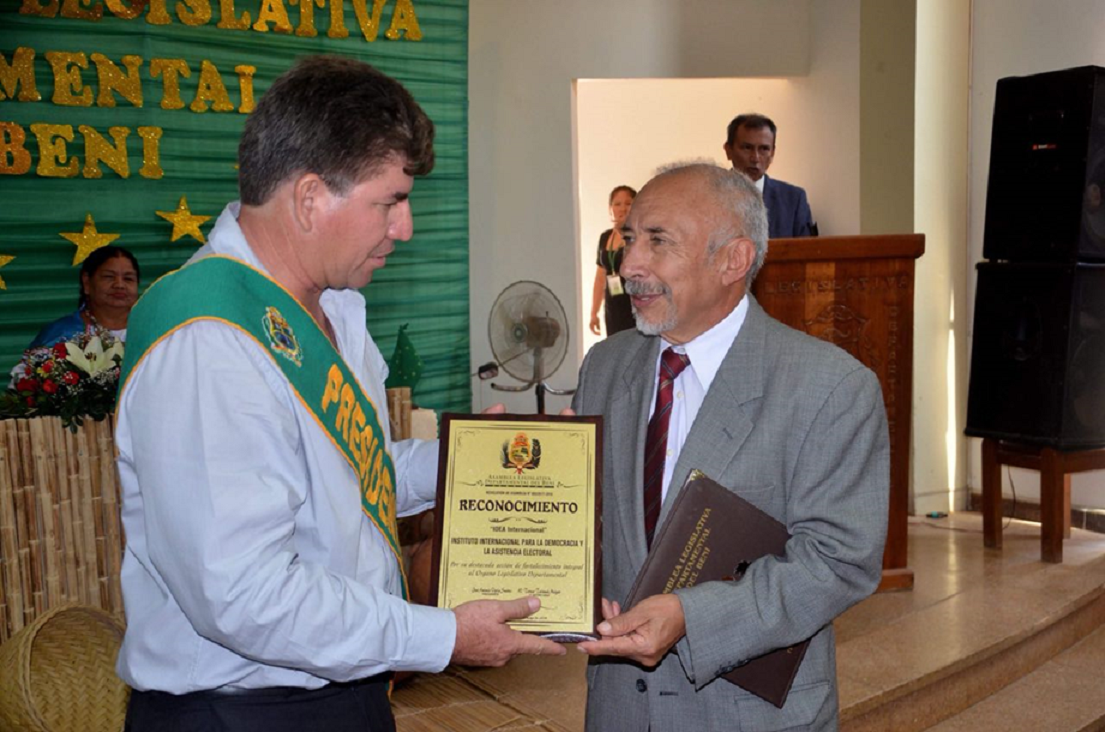 Photo credit: Carolina Floru
On 28 May 2018 in the city of Trinidad, capital of the Department of Beni, Bolivia, the session of honor of the Departmental Legislative Assembly (ALD) of Beni was held in which International IDEA was awarded a recognition plaque for its work in support of the Department.
For more than a year, International IDEA has provided technical assistance to the Government and the Legislative Assembly of Beni. As a result of this support, the President of the ALD, José Antonio Oyola, presented a Recognition Plaque to Alfonso Ferrufino Valderrama, Principal Advisor of International IDEA, for the constant support and technical assistance in tasks strategies developed by departmental autonomy.
President Oyola highlighted the training of human resources, work on legislation and public policies, particularly on youth and with gender perspective; he recalled that the Beninese government also benefits from the same collaboration on strategic public policies for the Department. Coinciding with the opinion of several assembly members, he referred to the needs for technical assistance for the immediate future and for the next steps of the legislative body.
For his part, Alfonso Ferrufino thanked the recognition, mentioning that International IDEA's mission is "to support sustainable democratic change by offering comparative knowledge and assistance to democratic reform, as well as influencing policies and politics" and, in the case specific to the project being developed in Bolivia in agreement with several departmental autonomous governments, the objective of the public management component is "to improve the effectiveness and efficiency of departmental public management with inclusion, transparency and citizen participation" to contribute to the strengthening of the institutionality of intercultural and parity democracy and the exercise of citizen rights.