Back to overview
Presenting the latest findings of the Global State of Democracy indices during Stockholm Evaluation Week at Sida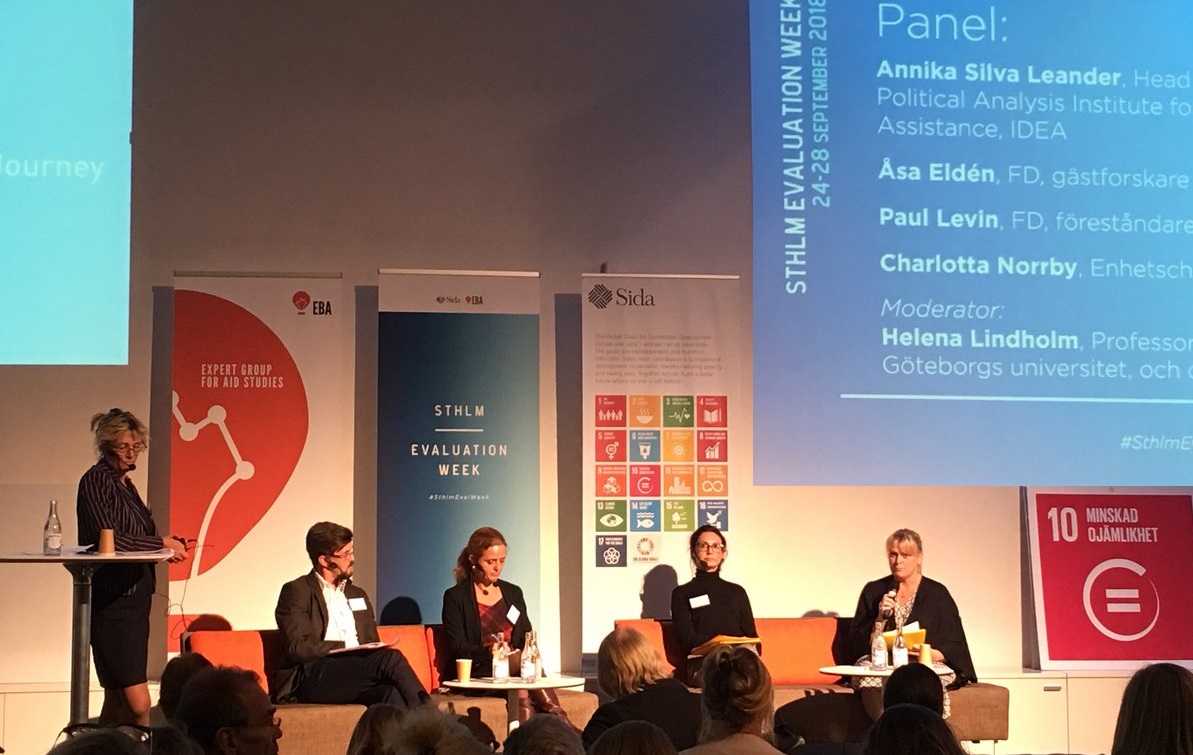 Image credit: EBA Committee
Annika Silva-Leander, Head of the Democracy Assessment and Political Analysis unit at International IDEA was invited to present the most recent findings of the Global State of Democracy Indices data, funded by the Government of Sweden, at the opening seminar "Swedish aid in shrinking democratic spaces" of Stockholm Evaluation Week (SEW) at the Swedish International Development Cooperation Agency (Sida).
The presentation focused on global and regional democratic trends in the past 40 years, zooming in on global developments in the past five years. She highlighted both opportunities for democracy, with recent transitions to democracy in Asia and Africa, but also the increasing challenges to democratization and worrying developments of democratic decline in some established democracies, which are contributing to closing the democratic and civic space in a number of countries. The seminar was organized by the Swedish EBA (Expertgruppen för Biståndsanalys, the Expert Group for Aid Studies), a Government committee with the mandate to evaluate and analyse Sweden's international development assistance.
The seminar also included a presentation on the preliminary findings from a study commissioned by EBA on challenges for Swedish development assistance in a context of shrinking democratic space in Turkey, held by Åsa Eldén and Paul Levin, from Stockholm University.
For the panel discussion, Sida's head of Civil Society Cooperation, Charlotte Norrby, joined in the discussion to discuss the implications of the findings for Swedish aid. The discussion focused on whether and how to provide development assistance in contexts of shrinking democratic space and which actors to work with in those contexts. Some of the key conclusions from the discussion were the importance of continuing to engage even in such contexts, but with careful analysis of the context and of which actors to support and cooperate with. The study on Turkey highlighted the key role that Swedish aid has continued to play in support of civil society organizations in Turkey in the context of closing political space, with links to the external world providing a lifeline for many Turkish NGOs and also academics. The presentation also highlighted that the space has not been closing equally for all types of civil society organizations in Turkey, with the ones most negatively affected being advocacy NGOs with a democracy and human rights focus, rights-based organizations and those working on LGBT rights.
Updated Global State of Democracy indices data up until 2017 will be published on the International IDEA website in October. In the meantime, you can explore the 1975-2015 data and indices on www.idea.int/gsod-indices.